What Is GameFi? How Play-To-Earn Games Work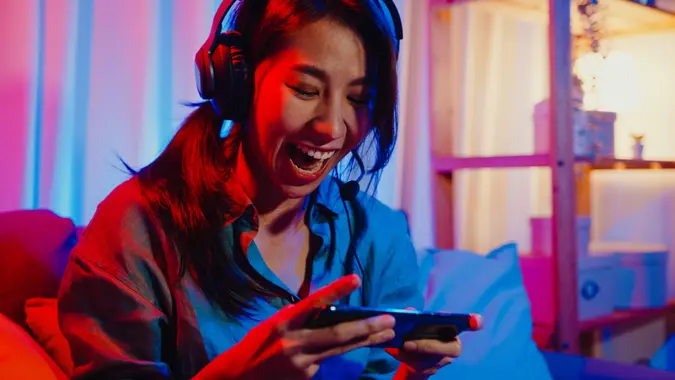 Tirachard / Getty Images/iStockphoto
Games that let players earn money while gaming, otherwise known as GameFi, have dramatically changed the cryptocurrency and gaming industries, opening up a whole new world for gamers and investors alike. But what is GameFi, and how do play-to-earn blockchain games work? This article breaks down the basics of GameFi, how blockchain technology has transformed gaming and how to get started with play-to-earn blockchain games.
Read: 3 Things You Must Do When Your Savings Reach $50,000
What Is GameFi?
GameFi is a term that combines the concepts of gaming and finance. It most often refers to play-to-earn blockchain games that combine various technologies, such as cryptocurrencies, non-fungible tokens and decentralization, to create a gaming system that allows players to earn assets.
Players can earn items such as avatars, upgrades, virtual land and other in-game items. These items may be obtained by completing levels, battling other players, mining resources or other specific tasks. Players can then either keep these items to use in the game or take advantage of the real-world value and sell them to other players.
Special game items are not a new concept. However, in the past, players never truly owned their in-game assets, and developers made it difficult to turn them into real-world income. Play-to-earn blockchain games have changed the gaming environment by providing a decentralized model that allows players to make more of their tokens and items.
How Play-To-Earn Blockchain Games Work
Play-to-earn blockchain games allow players to earn in-game items and, sometimes, cryptocurrency rewards. While each game will have its own economy and processes, most rewards are given in the form of NFTs, which players can trade or sell on NFT marketplaces. Other games may require players to convert their in-game assets to NFTs themselves before trading them.
Some in-game assets make it possible to earn more rewards, while other rewards are just for aesthetics or simple upgrades. Some players may profit by selling them; others may choose to earn income by staking or renting NFTs.
Good To Know

With traditional gaming, players must make an initial investment to buy the game, and then developers are responsible for storing the player's in-game assets and setting rules for how they can use them. Developers can even take away the in-game assets, because they don't truly belong to the player. However, the blockchain model uses smart contracts to dictate ownership of NFTs, so play-to-earn players have more ownership rights.
It's important to do your own research before you start playing a game to understand its individual policies and economy. Some games may require that you purchase NFTs or cryptocurrency before playing, but it may not be worth it if you are unlikely to earn large rewards.
Getting Started With GameFi
While each game has its own processes and requirements, there are a few general steps to start playing play-to-earn blockchain games.
First, you must set up a crypto wallet. Before making your selection, make sure you know which wallets are supported for the game you want to play.
After setting up your crypto wallet, you will need to connect it to the game you want to play. You should be able to complete this step easily by visiting the game's website.
Many games will require that you buy their cryptocurrency tokens or NFTs before playing. For example, Axie Infinity requires that you buy at least three Axies before playing.
Final Take
Play-to-earn blockchain games give gamers the opportunity to build crypto assets. Getting started with GameFi is relatively simple, but you should do your research beforehand to make sure you understand the risks associated with investing in cryptocurrency and NFTs. If you decide GameFi is for you, check out some of the best play-to-earn games, including Axie Infinity, Gods Unchained and Sorare.
FAQ
Here are the answers to some of the most frequently asked questions regarding GameFi .
Is GameFi part of the metaverse?

GameFi games are usually part of a metaverse that allows gamers to become more fully immersed in the economy and culture. A metaverse is the system that allows play-to-earn gamers to have ownership rights and the ability to control their assets.

What are GameFi tokens?

GameFi tokens refer to the cryptocurrency used in a play-to-earn blockchain game. These games use cryptocurrencies and NFTs to create an economy and allow users to earn assets. You usually have to buy GameFi tokens to begin playing the game, and you then have the opportunity to earn more as you play.

What is the point of GameFi?

While some investors may find it easier to simply invest in cryptocurrency or buy NFTs, GameFi allows those who enjoy gaming to earn as they play, essentially giving more value to their favorite hobby. In addition, it can often be more accessible to people who may want to get into cryptocurrency but can't afford to make large initial investments.
Our in-house research team and on-site financial experts work together to create content that's accurate, impartial, and up to date. We fact-check every single statistic, quote and fact using trusted primary resources to make sure the information we provide is correct. You can learn more about GOBankingRates' processes and standards in our editorial policy.