10 Ways To Get Paid To Play Video Games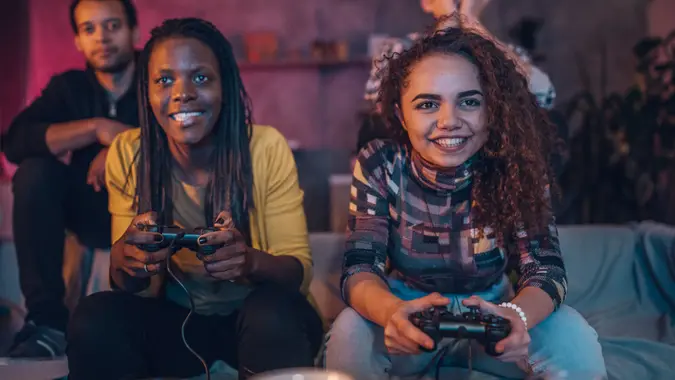 South_agency / iStock.com
If you've been told to put a video game away because you'll never get anywhere playing them, this article is likely to come as a surprise. That's because you can get paid to play games — and sometimes you can get paid a lot.
10 Ways To Get Paid To Play Games
Video games are a big business, not just for the people who make them, but also for the people who love them, talk about them, and spend time playing and analyzing them. If you've always wanted to get paid to work in the gaming field, here are 10 ways to join. 
1. Compete in Gaming Tournaments
One of the most popular ways for gamers to earn money is to enter an online gaming tournament. For example, CMG hosts a wide range of gaming tournaments for players of all skill levels, each with its own cash prize. 
If you work toward becoming one of the world's best gamers, you could earn multi-million dollar prize pots. Some of those prizes are as high as $40 million. 
2. Become a Game Coach
As with any other athlete, digital athletes, or gamers, often need a coach in their corner. A gaming coach's job is multifaceted. You'll need to:
Identify your player's strengths and weaknesses.
Strategize with your player to improve their overall gaming outcomes.
Analyze opponents to help your player win as many matches and tournaments as possible.
Make Your Money Work Better for You
This can generate meaningful income too. The average gaming coach earns over $43,000 per year. 
3. Become a Video Game Journalist
Are you an avid gamer? Are you the type of gamer who is dedicated to keeping up with new developments in the field? Are you also a writer with a knack for sharing your thoughts? If so, consider becoming a video game journalist. 
Video game journalists report on the video game industry as a whole, from upcoming games to tournaments, game reviews and more. They're responsible for planning, writing and, often, editing their content. In the United States, the average video game journalist earns over $56,000 per year. 
4. Host Group Video Game Classes for Kids
If you love video games and kids, combine your passions and teach video game classes for kids. There are plenty of ways to host a video game class. You can even sell your classes on Udemy.  
5.  Become a Video Game Tester
Wouldn't it be great if you could get paid to test the latest games before they became available to the public? With a job as a video game tester, that's exactly what you'll do.
Make Your Money Work Better for You
Video game testers play video games before they're released. As a tester, it will be your job to play through and identify glitches and bugs that the developer should fix before the game makes it to the public. In the United States, you'll earn an average of more than $60,000 per year for this job.   
6. Take Advantage of Play-to-Earn Games
If you're not interested in turning video games into a full-time job, but want to make money when you play them for fun, consider play-to-earn games. These games allow you to earn real-world money as you play. Some top play-to-earn games include:
Solitaire Cash
Dominoes Gold
Bubble Cash
Blackout Bingo
Pool Payday
7. Become a YouTuber
YouTube makes it possible to earn money when you have 1,000 subscribers and 4,000 watch hours in the past year. Although it may take some time to reach these stats, once you do, you could make money simply by streaming your gaming activity on the YouTube platform.  
8. Become a Twitch Streamer
Twitch has quickly grown to be the largest platform for live video streaming, and like YouTube, the platform shares its revenue with its creators. It's not surprising to see that video gamers are taking advantage of the opportunity. 
Make Your Money Work Better for You
Consider starting your own Twitch stream and streaming your gameplay through the platform. If your stream becomes popular, you could generate a meaningful income. 
9. Take Part in Crypto Gaming
Cryptocurrency is a relatively new form of digital currency. However, blockchain networks aren't just for digital currency. Blockchain networks also host non-fungible tokens, more commonly known as NFTs. 
Like cryptocurrency, NFTs come with verifiable ownership. People also use NFTs as characters and items in many pay-to-play games.
10. Build Your Own Video Game
This may seem like a stretch, but with tools like BuildBox, it's easier to build a video game today than ever before. Try your hand out as a mobile video game designer. Who knows? You might just surprise yourself with your success. 
Final Take
If you're a passionate gamer, there's no reason you can't make a living doing what you love. Consider one of the options above and start getting paid to play.
FAQ
Here are the answers to some of the most frequently asked questions about getting paid to play video games.
Can you be paid to play games?

There are many ways to get paid to play games. Although you will need experience and other relevant skills, there are options for every gamer from full-time positions to side hustles.

What games can you get paid to play?

If you want to get paid by the game itself, consider options like Solitaire Cash, Long Game and Blackout Bingo. However, you can also make money playing games before they are released as a tester, or play whatever games you want as a Twitch streamer.

Are paid-to-play games legitimate?

There is a wide range of legitimate paid-to-play games to choose from, but there are some bad apples in the bunch. It is wise to do thorough research before you begin gaming.

Which game apps pay real money?

Some of the best game apps for earning real money include Blackout Bingo, Solitaire Cube, 21 Blitz and Dominoes Gold.
Make Your Money Work Better for You
Information is accurate as of March 13, 2023. 
Our in-house research team and on-site financial experts work together to create content that's accurate, impartial, and up to date. We fact-check every single statistic, quote and fact using trusted primary resources to make sure the information we provide is correct. You can learn more about GOBankingRates' processes and standards in our editorial policy.