7 Best Mystery Shopping Companies To Work For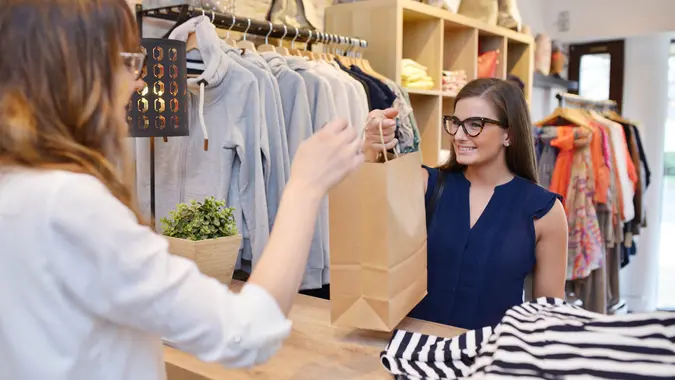 Csondy / Getty Images
There are plenty of ways to make some extra cash by taking on a side job. But some of the best gigs require you to have a car, specific skills or expensive equipment, such as cameras or computer software.
Becoming a mystery shopper often comes up as an easy way to make some supplemental income. If you like to shop, what better way is there to make some money than to get paid to shop? The trouble is that mystery shopping is sometimes just that — a mystery. Many people question whether it's even a legitimate job.
If you're curious about what a mystery shopper does and whether you need to go out and buy a wig and dark glasses to be one, here's everything you need to know about the side hustle to finally answer the question, "Is being a mystery shopper worth it?"
What Is a Mystery Shopper?
A mystery shopper is a person hired by a retailer or marketing research company to shop at one or several locations and report back on the overall customer experience. It's one of the few job opportunities in which you can bank on your shopping skills.
Make Your Money Work Better for You
Some things a mystery shopper may be asked to report on include:
How they were treated in person and/or on the phone
The in-person and/or online sales process
Store appearance and quality of the displays and merchandise
How Do You Get a Job as a Mystery Shopper?
To qualify for most jobs as a mystery shopper, you'll need to be at least 18 years old. You'll also need to have transportation so you can visit different mystery shopping locations to complete jobs.
Search for mystery shopping jobs online using the job search site of your choice. Look for those that are offered by reputable companies that have legitimate reviews from other mystery shoppers. (To save you the legwork, GOBankingRates has listed some legitimate mystery shopping companies below.) Once you find a mystery shopping opportunity you're interested in, go to the company's website and fill out the application to be a mystery shopper. You might need to submit to a background check or meet other requirements to be approved.
Make Your Money Work Better for You
How Much Money Can You Make as a Mystery Shopper?
According to Indeed, which uses job listings and third-party info to compile salary information, the average pay for a mystery shopping side hustle is $20.31 per hour. Indeed's figure is based on 68 salaries reported. Meanwhile, ZipRecruiter reports that the average pay is $24.20 per hour. The amount you might earn depends on your level of experience, the company hiring and whether you're a full-time, professional mystery shopper or just working on occasional projects.
7 Mystery Shopping Companies To Consider
After researching dozens of mystery shopper jobs, a closer look at some of the companies showed that many hires were disappointed with their jobs or were not paid as agreed. It's important to use caution when accepting a mystery shopping job. Do your research about the company and see what others have to say before you agree. Here's a look at seven legitimate mystery shopping companies.
Make Your Money Work Better for You
1. BestMark
Founded in 1986, BestMark is one of the largest and oldest mystery shopping companies around with over 600,000 mystery shoppers, intercept interviewers and compliance auditors. Pay ranges from $15-$35 per hour, according to Glassdoor, depending on the assignment. BestMark does not hire shoppers full time. Instead, you'll work for yourself as an independent contractor.
Applying for BestMark mystery shopper jobs is simple. You'll need to be at least 18, have internet access and have good written communication skills. Visit the website to set up an account and submit a job application.
2. IntelliShop
IntelliShop hires mystery shoppers for a variety of top brands. Once you're approved, you can find out about opportunities via email, via mobile app or by checking the job board. IntelliShop shoppers earn $15-$26 per hour, according to Glassdoor.
To increase your chances of getting hired for the best assignments, focus on earning the highest possible rating you can get. You will be scored after every job, based on whether you were on time, whether you followed the instructions and the thoroughness of your reports. You can also increase your rating to access the best jobs by accepting jobs that offer a Hero Citation, which is a note on your record that lets coordinators know that you're a reliable shopper.
To get started, visit the IntelliShop shopper hub and apply to join the team.
3. Market Force
Market Force is a good way to break up mystery retail shopping work. Many of its assignments are food-related, although it has a large client base. Some of the companies you may get hired for include those in the following industries:
Restaurants
Grocery stores
Gas station convenience shops
Health and wellness
Hotels
Fitness
Financial services
Pharmacies
To become a Market Force mystery shopper, you'll need to fill out an application. Shoppers earn $26-$44 an hour, according to Glassdoor.
4. Service Evaluation Concepts
Service Evaluation Concepts provides elite mystery shopping to brands, including Aveda, Cartier, Macy's, Kroger and Lego. SEC mystery shoppers undergo two levels of certification. Its brand agents are shoppers who have been tested and certified in SEC's policies and procedures. Certified brand agents also have demonstrated understanding of specific client engagements. As a result of their advanced training, certified brand agents receive privileged status for work and higher earning potential.
Uncertified mystery shoppers, referred to as research participants, can also carry out mystery shopping assignments, but they're unable to select assignments — they only work if an SEC project liaison specifically selects them.
SEC pays $10 to $50 or more per assignment. In addition, you'll receive free food or products related to the job.
As with any online job, you should never pay to get work first — don't sign up for certification until you've established a track record with the company on other jobs. Visit the SEC assignment page to preview the work in your area. To apply to become a research participant, you'll need to enter some basic information, including your contact info.
5. Secret Shopper
Secret Shopper has been providing companies mystery shopping services for over 25 years. Secret Shopper pays $15 to $25 per job on average. Some jobs only provide you with a free meal or reimbursement for the item you have to purchase. It may not be the highest-paying service, but it may still be worth your time to gain some experience in the mystery shopping world or get the opportunity to visit a casino resort for free or try lunch at a new cafe on someone else's dime.
To sign up as a secret shopper, choose your country and complete the online application.
6. Signature Worldwide
If you'd rather work from home, you can still make money as a mystery shopper when you work with Signature Worldwide. A recent opening on Signature's website indicated the job paid $10 per hour, paid bimonthly. Additionally, a post on the Glassdoor site from the company states that it does pay above federal and state minimum wages.
The company provides telephone mystery shopping services to companies in an array of industries, such as:
Construction and equipment rental
Hotels and resorts
Casinos and spas
Apartment leasing
Assisted living communities
Party rental
Medical offices
Government agencies
Restaurants
Diet centers
To apply, submit your resume and job application to humanresources@signatureworldwide.com.
7. Sinclair Customer Metrics
Sinclair provides its clients with in-person, phone and video mystery shopping services. You may be hired to mystery shop the client's location or one of its competitors to provide intelligence. Sinclair Customer Metrics focuses on banking, grocery stores, restaurants and retail. According to Indeed, Sinclair pays shoppers up to $14 per hour.
To apply, you'll need to fill out an online form for new shoppers, complete a survey and review the terms and expectations for your role as a shopper. You'll also need to take the Sinclair New Shopper Challenge, which is a questionnaire that confirms you have read and understand the terms.
Mystery Shopper Scams To Look Out For
As with all online job-related offers, there are scams you need to watch out for. Be wary of any online shopper jobs that promise you'll earn thousands of dollars per month or promise to send you a check upfront. In addition, any mystery shopping websites asking you to pay money upfront are also probably a scam.
The Federal Trade Commission has other good tips on what to avoid:
Before applying, search the mystery shopping company's name plus the words "scam" or "complaint."
Avoid companies that guarantee that you'll make a lot of money as a mystery shopper.
Don't deposit a check from a mystery shopping company that wants you to wire money back to it.
Avoid newspaper help wanted ads.
Skip companies that require you to pay for training first.
Don't pay fees to access mystery shopping job listings.
Avoid replying to job notices that claim to be from MSPA. MSPA Americas, formerly known as the Mystery Shopping Providers Association of North America, is a trade association; it does not offer or advertise jobs to mystery shoppers.
Are Mystery Shopper Jobs Worth It?
Working as a mystery shopper is a flexible way to earn some extra cash, but don't expect it to replace your 9-to-5 job. Opportunities and earning potential will vary among companies.
You can learn more about the businesses in your local area and hone your observation and customer service skills. You'll need to watch out for scams, but if you invest some time reading and researching the best mystery shopper websites, you could find a new way to earn some supplemental cash.
FAQ
Here are the answers to some of the most frequently asked questions regarding mystery shopping.
What is the best mystery shopping company to work for?

The best mystery shopping company is one that is legitimate and has a reputation for treating its mystery shoppers well and paying them as agreed. Another consideration is whether the company has mystery shopping opportunities in your area. Some of the best options to consider include the following:
— BestMark
— IntelliShop
— Market Force
— Service Evaluation Concepts
— Secret Shopper
— Signature Worldwide
— Sinclair Customer Metrics

Is being a mystery shopper a legitimate job?

Yes, being a mystery shopper is a legitimate way to earn some extra money. You can get paid by companies to shop and report back to them about your experience.
Other Ways To Make Money
Cynthia Measom and Daria Uhlig contributed to the reporting for this article.
Information is accurate as of Dec. 6, 2022.
Our in-house research team and on-site financial experts work together to create content that's accurate, impartial, and up to date. We fact-check every single statistic, quote and fact using trusted primary resources to make sure the information we provide is correct. You can learn more about GOBankingRates' processes and standards in our editorial policy.
Make Your Money Work Better for You