Your Complete Guide to Cashier's Checks
Learn what a cashier's check is, where you can get one and when you should use one.
Although the number of check payments has been declining for several years, it's still important to understand what your payment options are when making a purchase. Enter cashier's checks — financial tools valued for their secure backing by banks.
In this guide to cashier's check, you'll learn:
What Is a Cashier's Check?
A cashier's check works like a personal check except the funds are guaranteed and issued by the bank itself after the bank verifies that the account the check is drawn on has money to cover it, and then transfers that money from your account into its own. After drawing the funds, the cashier, or teller, signs the check. You pay for the cashier's check with money from your bank account, but because the bank guarantees payment, these checks will not bounce.
Cashier's checks have another advantage over personal checks — the funds might be made available on the next business day. But banks can place a hold on cashier's checks in certain situations, according to HelpWithMyBank.gov:
If the check is in excess of $5,000
If the bank deems the check uncollectible from the paying bank
If the check is made out to a new account
If the check is made out to an account with a history of overdraft fees
Learn: Can I Get a Cashier's Check at Walmart?
Sponsors of
When To Use a Cashier's Check
Because banks provide the funds for a cashier's check, the checks are considered guaranteed payments. This makes them valuable tools for paying for large purchases, such as real estate. Here are some instances where you should consider using a cashier's check:
Making a down payment on a house
Making a deposit for renting an apartment
Buying a car or a boat
Buying land
Purchasing items costing $5,000 or more
Rapid clearing of the funds makes cashier's checks especially useful when you need to transfer money quickly. In the event that your rent is overdue, for example, a cashier's check can mitigate the consequences of the late payment because your landlord doesn't have to wait long for the check to clear or worry about it bouncing.
How To Get a Cashier's Check
Getting a cashier's check is a straightforward process.
1. Make sure you have the necessary funds.
If you're purchasing a cashier's check from a bank where you have no account, make sure you have the funds in cash. And call before you go because some banks only allow account holders to purchase cashier's checks.
2. Pay the cashier's check fee.
This fee varies from bank to bank.
Related: What Is the Bank of America Cashier's Check Fee?
3. Give the teller your information.
You'll need the following:
A form of personal ID
The name of the check's recipient
The check amount
Any notes you'd like to add regarding the transaction
4. Pay for the check.
Although the check will be drawn from the bank itself, you'll pay the funds for the check-in cash or via a withdrawal from your bank account.
5. Get your receipt for the cashier's check.
You don't get a copy of the check itself, so a receipt is crucial for providing proof of purchase and information that can help you replace a lost check.
Where To Find a Cashier's Check
You can purchase a cashier's check at a bank or a credit union, in person or online.
One thing to note about cashier's checks: Fees. In the following table, you can see that cashier's checks fees can be as high as $15.
Cashier's Check Fees
Bank of America
$15
Chase
$8
Citibank
$10
Wells Fargo
$10
All fees accurate as of July 17, 2019
Find Out: When Do Checks Expire and How Do You Know?
Are Cashier's Checks Safe?
Cashier's checks are generally considered safe because of the bank's own guarantee of funding and verification. But you do need to watch out for cashier's check scams such as foreign lotteries, check overpayments and online auction ploys. The Federal Trade Commission offers the following advice on how to avoid scams:
Avoid anything that tells you to pay for a prize.
Never wire money to strangers.
If selling something, only accept the correct purchase amount, nothing higher.
Request that the cashier's check come from a local bank.
You can report suspected scams through the FTC, the U.S. Postal Inspection Service or your local government consumer protection services.
What Happens If I Lose a Cashier's Check?
Banks require that you purchase an indemnity bond if you lose a cashier's check, according to HelpWithMyBank.gov. Indemnity bonds ensure that you'll be financially responsible for the second check should anything happen to it. Additionally, you might be required to fill out a declaration of loss statement. If you lose a cashier's check given to you, you can either ask for another check or approach the bank yourself with an indemnity bond.
Purchasing an indemnity bond can be an arduous process, and you'll likely need to go through an insurance broker.
Check Out: What is the US Bank Cashier's Check Fee
How Long Is a Cashier's Check Good For?
There's no hard, fast rule about when a cashier's check expires. Most personal checks last six months, but cashier's checks expire after 60, 90 or 180 days, depending on whom you ask. "Cashier's checks are backed by the issuing bank and, theoretically, should be valid for as long as the bank is in operation," according to the Huntington Bank website, but some banks will put expiration dates on the checks themselves.
Find Out: How To Cancel a Check in 6 Steps
Sponsors of
Cashier's Checks vs. Money Orders vs. Certified Bank Checks
Cashier's checks aren't your only option for making large payments. A certified check is basically a personal check — the funds are withdrawn directly from your account — but with a "certified" stamp of approval from the bank. A money order, on the other hand, is a guaranteed check you can purchase with cash from a place other than a bank, such as a post office, supermarket or Walmart.
Of the three, cashier's checks provide the most security because the funds are withdrawn from the bank itself. But a money order offers more flexibility because it's easy to purchase and you don't need a bank account to buy one. Whichever you purchase, you will pay both the face value and the fee.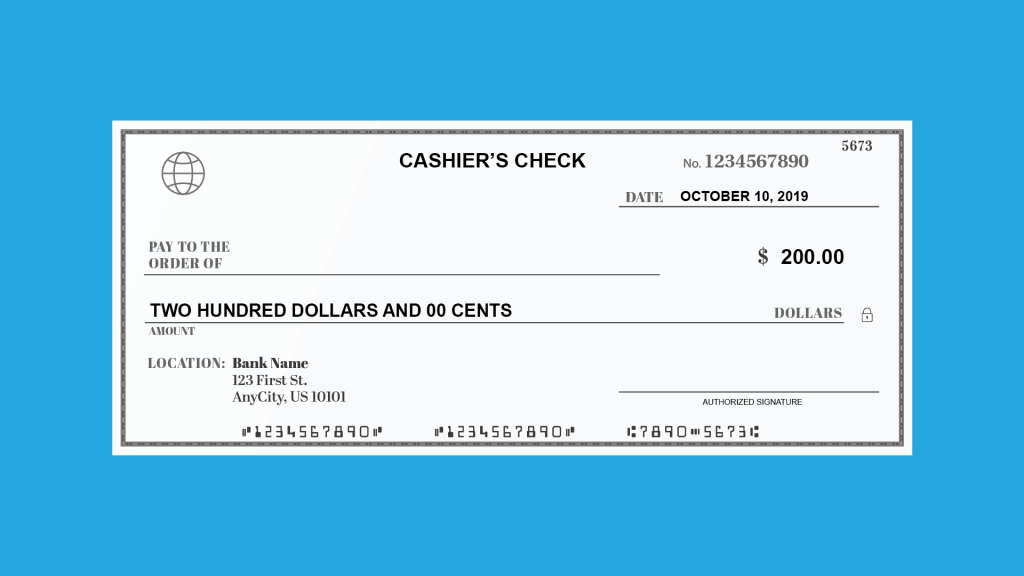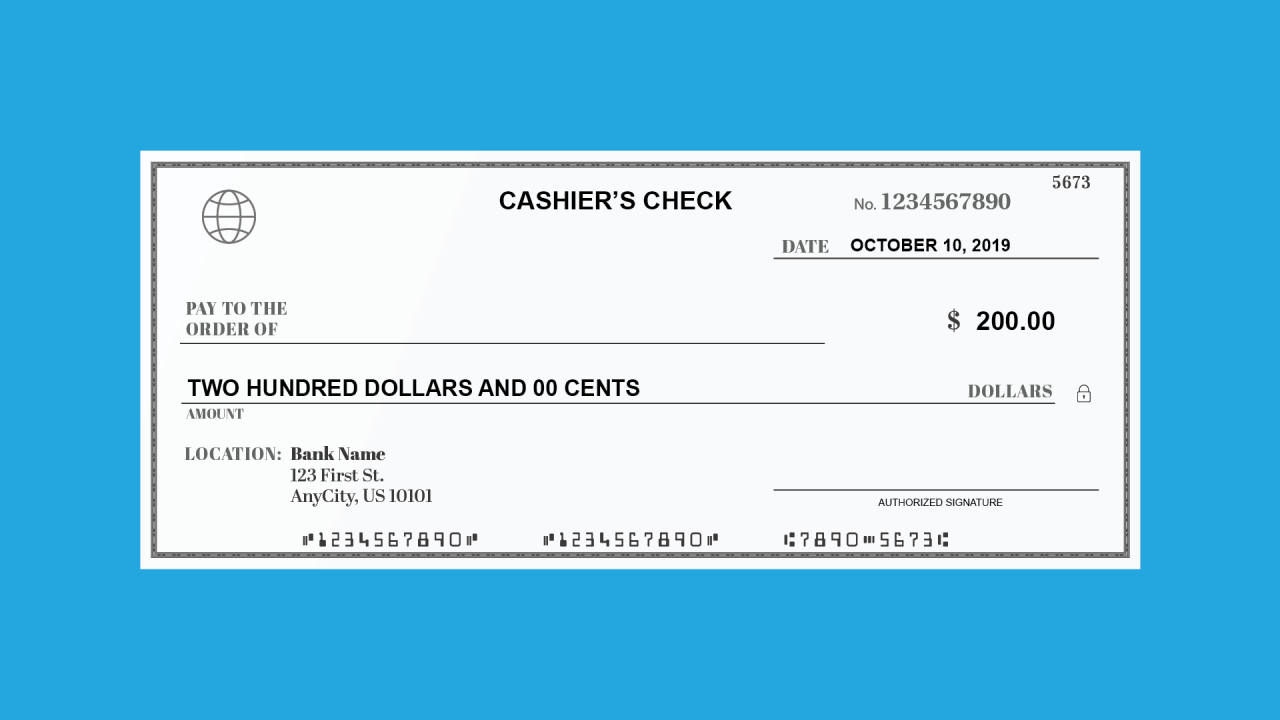 More on Cashier's Checks 
Sean Dennison has been writing about personal finance and consumer wellness since 2018.