Cashier's Check Near Me: Your Guide To Getting a Cashier's Check Nearby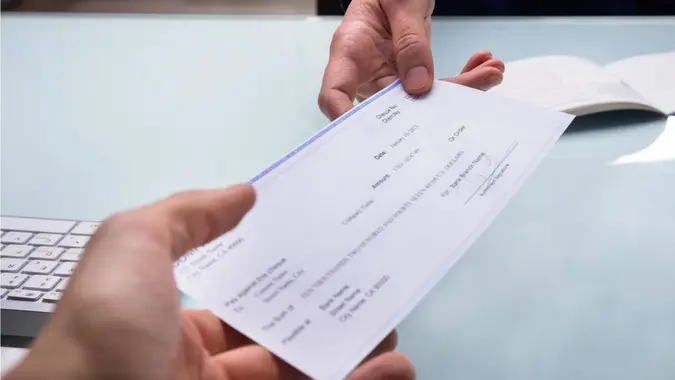 Cashier's checks are often the preferred payment method for large transactions because they are backed by bank or credit union funds and usually clear faster than regular checks. As long as the cashier's check is authentic, the risk of the check bouncing is nonexistent. However, if it does bounce, the bank, not you, is held responsible.
Cashier's checks are also considered safer than using debit cards or traditional personal checks, as the funds are guaranteed. Learn how much a cashier's check costs and where to get a cashier's check.
How To Get a Cashier's Check
When you request a cashier's check, you will not receive a blank check. Instead, the bank will fill it out with the information you provide.
To get a cashier's check, you will need to take the following items to your bank or credit union.
What You'll Need:

Personal identification: Driver's license or passport and bank account number or ATM card
Payment: Sufficient funds in your existing account at the financial institution, or funds to open a new account
Check recipient information: The person or company the bank should make the check payable to
Money for fee: Payment for the cashier's check fee as set by your bank
Where To Get a Cashier's Check
If you have a checking account or savings account, you can get a cashier's check at a local branch from a major bank or credit union. You may also request a cashier's check online if your bank allows.
Upgrade Your Checking Account
If you don't have an account at a financial institution, you might still be able to get a cashier's check by opening a new account with the necessary funds and paying a cashier's check fee. Cashier's checks are only available from financial institutions, unlike money orders, which can be purchased at gas stations, convenience stores and post offices.
How To Get a Cashier's Check Without a Bank Account
Some banks do not require you to have a deposit account to issue a cashier's check. For example, Huntington Bank will issue cashier's checks to non-account holders as long as they have insurance, a safe deposit box or a credit card with the bank.
If you don't have a bank account and don't want to open one, call different banks and credit unions in your area to see if any will issue a cashier's check to non-account holders. If you find one, be prepared to pay for the cashier's check with cash.
How Much Does a Cashier's Check Cost?
Most banks provide a cashier's check for a flat fee between $5 and $15. If you have a certain balance or type of checking account, cashier's check fees might be waived.
Unlike inexpensive store or U.S. Postal Service money orders, which have maximum limits of $1,000, cashier's checks are available from banks in much larger amounts, typically whatever is available in your account. Larger cashier's checks can be convenient for things like automobile purchases, and residential rental or real estate purchase deposits.
Upgrade Your Checking Account
Alternatives to a Cashier's Check
If you are unable to obtain a cashier's check, here are some alternative forms of payment to consider.
Certified Checks
A certified check is a personal check that's certified by your bank and drawn on your personal funds. During the certification process, the bank verifies the check, your signature and the availability of funds, which makes a more secure form of payment than a regular personal check. Depending on the bank, there may be a fee.
Money Orders
Money orders are similar to cashier's checks in that they're written by the issuer and they are guaranteed. However, they are more widely available and cheaper. You can find money orders at the post office, grocery store, convenience store, and other places like Western Union and Walmart. Money orders typically cost between $2 to $3, but can only be issued for up to $1,000.
Wire Transfers
Wire transfers are a way to move money quickly, either nationally or internationally. You can make a wire transfer using your bank or a service like Western Union. Within the U.S., funds may be available within a few hours or one business day. However, be prepared to pay a fee of $15 to $50.
Money Transfer Apps
Apps like Apple, PayPal, Zelle and Venmo are a way to make digital payments — sometimes instantly. Fees can occur, however, so be sure to check before sending a large amount. Additionally, money transfer apps do have limits on how much you can transfer, so if you're planning to make a large payment, verify the limit first.
Upgrade Your Checking Account
Cashier's Check Scams
The Federal Trade Commission has issued many warnings to consumers about scams involving the receipt of counterfeit cashier's checks. Here are three common types of scams:
Overpayment scam: Someone buys something from you online and then "accidentally" overpays for it with a cashier's check and asks you to refund the difference.
Secret shopper scam: You are "hired" to evaluate the customer service at a money transfer service and given a cashier's check. You are told to deposit the check at your bank, withdraw the amount in cash and send it to a person in a foreign city. By the time the forgery is discovered, the money is long gone.
Pay for prize scam: An official-looking notice comes in the mail, saying you won a fabulous prize but must pay taxes, shipping and handling, or processing fees. You might also receive a cashier's check to deposit, with instructions to wire a portion of the money back.
If you receive a cashier's check but doubt its authenticity — or the offer seems too good to be true — call the financial institution and verify the account and funds. Even though the bank, account and routing numbers listed might be real, the check could still be counterfeit.
What If You Lose a Cashier's Check?
If you lose a cashier's check, the bank that issued it will require you to purchase an indemnity bond in the amount of the lost check, which is essentially an insurance policy for the bank. Then, if the lost check is found and cashed, the bank won't be responsible for that particular check. Instead, you will.
You can purchase an indemnity bond through an insurance broker.Note that after you purchase an indemnity bond, the bank may have a waiting period of 30 to 90 days before it will issue you a replacement check.
Upgrade Your Checking Account
Final Take
Cashier's checks are guaranteed checks that are issued by banks or credit unions. People often prefer receiving a cashier's check over a personal check for large purchases. However, a bank usually will require you to have a deposit account with it to purchase a cashier's check. If you can't obtain a cashier's check, consider alternative forms of payment, such as a certified check, money order, wire transfer or payment app.
Our in-house research team and on-site financial experts work together to create content that's accurate, impartial, and up to date. We fact-check every single statistic, quote and fact using trusted primary resources to make sure the information we provide is correct. You can learn more about GOBankingRates' processes and standards in our editorial policy.