9 Best Job Search Sites for 2023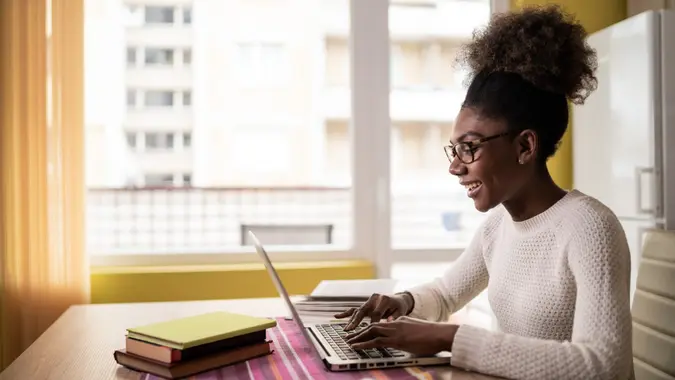 valentinrussanov / Getty Images
The internet increasingly has become a critical tool for finding employment. According to Zippia, 80% of all jobs are found online. And while 79% of people seeking jobs use social media as part of their job search, and 84% of organizations use social media to recruit candidates, approximately 50% of applications come through job boards.
Granted, as searching online for jobs has become more popular, so have the many job search sites and platforms boasting that they're the ones that will lead you to the career of your dreams. To help you choose the sites that best suit your needs, read on to learn about options you can consider.
9 Best Job Search Sites
There is no shortage of options when it comes to online job hunting. Here are nine of the best job search sites:
Indeed
LinkedIn
FlexJobs
Getwork
Monster
Ladders
Glassdoor
Snagajob
Wellfound
Indeed
Best for: Searching through millions of jobs without a fee
Pros
Free account for job applicants
Ability to save jobs you like
Ability to set up job alerts
Ability to apply on any device
Cons
Older jobs of 30-plus days are common
Competition is high due to user volume
Over almost two decades, Indeed has built itself up as a huge and expansive job-finding website. Boasting over 250 million users and new job listings every second, the site bills itself as the No. 1 job site in the world.
Make Your Money Work Better for You
The site is free for job seekers and lets users browse for openings without having to create an account. However, creating an account does allow for extra perks, including email notifications listing jobs that match what you're looking for. Indeed also has company reviews and salary information to help you as you consider various employers and available jobs.
LinkedIn
Best for: Job seekers who are interested in networking with professionals in their current field and beyond
Pros
No matter if you have a free or premium account, you can create an impressive profile.
Can directly connect with recruiting professionals
Can network with others to find out about available job openings
Cons
Access to some of the most helpful features requires a paid subscription.
Scammers utilize the platform and might reach out to you, so vigilance is key.
Launched in 2003, one year before Indeed, LinkedIn, a professional networking site, now boasts over 850 million users around the world. While it functions as a job search site, it also allows users to connect with other professionals and has an emphasis on conversations about workplace culture. It's free to sign up for a basic account, though LinkedIn offers premium Career and Business tiers ranging from as little as $39.99 per month to $44.99 per month, or the equivalent of $539.88 per year when you opt for annual billing.
While you can set up an account for free and post your resume, paid tiers give you access to more features, including a look at recruiters who have been clicking on your profile and job and applicant insights. Additionally, you can add other users to your network, similar to a Facebook friend request, as a means to help expand your reach in the professional realm. 
Make Your Money Work Better for You
FlexJobs
Best for: Finding jobs that are thoroughly vetted, which can save time
Pros
Jobs are screened, which means that you won't have to wade through junk.
Combination of remote, hybrid and flexible jobs
Offers job and career events and webinars
Cons
Must pay a membership fee to apply for jobs
A job search site with an emphasis on remote, freelance and contract work, FlexJobs has become a leading resource in the industry in the years since it launched in 2007. The more than 27,000 job listings from over 5,800 companies are all vigorously screened before they are posted. However, you'll pay for this extra care because FlexJobs relies on membership fees instead of ads for its operating costs. 
Subscriptions allow users to apply for listings as well as unlock other benefits. Membership prices are $9.95 for one week, $24.95 for one month, $39.95 for three months and $59.95 for a year. For anyone hesitant about paying, sister site Remote.co offers the same experience with a scaled-back list of job openings. 
Getwork
Best for: Job listings that are updated daily
Pros
Yields quick results without the outdated listings
No membership or subscription fees required
No profile required to search for jobs unless you want higher-tier features
Cons
Filtering options for searches are somewhat limited.
Additional features such as salary data or educational webinars are nonexistent.
Unlike other platforms, Getwork scrapes employers' jobs pages for their newest listings and reposts them. Updating its listings daily, Getwork tries to give job seekers a better experience by offering only the most current openings. It's free to use, though a paid membership will unlock the ability to save jobs and receive email alerts for new openings as they become available. 
Make Your Money Work Better for You
Monster
Best for: One-stop job prep and searching
Pros
Free resume assessment
Monster app with one-touch apply
You can search and apply to some jobs without an account.
Free for job seekers
Cons
Potentially lots of competition for jobs
Salary information might not be available for posted jobs.
Monster offers the same types of search filters as other platforms, ranging from full time to part time, temporary and contract positions. It even has a search filter for work-from-home jobs. A free account is required to view and reply to job listings that don't redirect to the employer's site.
Monster also offers a salary search tool and career advice. It also offers three premium service options, which include writing a resume for you; writing a resume and a cover letter; or writing a resume, cover letter and completing a LinkedIn makeover.
Ladders
Best for: Job seekers looking for high-paying positions
Pros
Exciting premium features
Curated job listings
Cons
Not relevant for all job seekers due to narrow scope
Some of the best features require a paid membership.
Most job platforms try to cast as wide a net as possible, but Ladders focuses on careers that start at the six-figure mark. Touting itself as the "#1 job search site for $100K+ jobs," it functions as a job site, networking forum and source of career advice. The site claims to have over 25,000 verified recruiters using the platform to find candidates who have their pick of over 250,000 job listings.
Though the careers are all high-paying, it offers the same diversity in job listings, ranging from tech and software to finance and human resources. Like the other job search sites, there's a free tier, which allows you to apply for any jobs marked "free" and upload your resume.
Make Your Money Work Better for You
There are also premium memberships that unlock more listings, curated listings in your inbox, as well as top placement when searched by recruiters. Plus, with a premium membership, you get access to Apply4Me, which allows you to click on jobs you want to apply for and have the Ladders team complete your applications for you. And you'll be able to see the salaries, qualifications and experience level of other applicants who apply to the same listings you do.
Glassdoor
Best for: Job-related research and salary data
Pros
Offers a wealth of information about employers and workplaces
Insider employee reviews give job seekers a unique perspective
Accounts for job seekers are free.
Cons
Must create an account to search for jobs or research companies
In most cases, you must post a review or salary information for your job to gain access to Glassdoor data.
You can search for jobs on Glassdoor, but it's more valuable in other ways. Essentially a Yelp for job seekers, the site allows employees to rate their current (or previous) places of employment. The companies are then rated on everything from work-life balance to company culture and compensation, among other factors, giving job seekers a better idea of a prospective employer.
Snagajob
Best for: People looking for part-time or full-time jobs that pay hourly
Pros
Free for job seekers
Wide variety of ways to search for jobs
You don't have to sign up for an account to search for jobs.
Once you create a profile, you can apply for jobs instantly.
Cons
Not relevant for all job seekers due to hourly pay listings
Make Your Money Work Better for You
Snagajob bills itself as "America's #1 hourly work marketplace" with 100 million job seekers registered and job listings at over 700,000 employer locations in the United States and Canada. Job seekers will find job listings in the hospitality, healthcare, business and industrial sectors.
Snagajob uses matching technology to recommend the right workers to the right employers, which streamlines the hiring process. The site also has an "Urgently Hiring" filter, which might be useful if you're looking to get hired sooner rather than later, and a "Teen" filter for younger job seekers.
Wellfound
Best for: People seeking tech jobs at startups
Pros
Free for job seekers
Allows you to set salary and company culture expectations in your profile
Salary and stock option information available before applying
Cons
Competition vs. number of job opportunities is somewhat daunting
Not relevant to all job seekers
Join over 8 million other job seekers in the search for the perfect tech job. Wellfound (formerly known as AngelList) claims to have over 130,000 job listings, and it's made over 6 million matches between job seekers and employers since its inception. The difference is that you can apply privately and directly to tech jobs you won't find anywhere else — for free. Plus, you won't have to wonder if you're wasting your time because information about salary and stock options is available upfront.
To get even more exposure to top job opportunities, you can sign up for the platform's Featured option for free. If you're approved, your profile will be showcased to recruiters and companies that are looking for employees with your skill set. Interested employers will then pitch you job offers — you don't even have to apply.
Make Your Money Work Better for You
More From GOBankingRates
Christian Long contributed to the reporting for this article.
Information is accurate as of March 16, 2023.