What Is a Fiduciary Financial Advisor?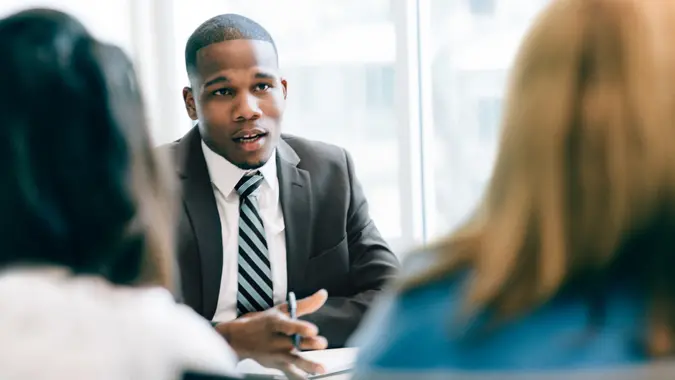 Ferran Traité Soler / Getty Images
A fiduciary financial advisor is an investment professional who is legally obligated to put their clients' interests ahead of their own. Investment advisors registered by the Securities and Exchange Commission and certified financial planners are fiduciary financial advisors. Other financial advisors are only obligated to make suitable recommendations for clients.
Although this might not seem like a big difference, it's enormous. Keep reading to find out why you should consider working with a financial advisor who adheres to the fiduciary responsibility standard.
What Is Fiduciary Duty?
Fiduciary duty requires a financial advisor to always act in a client's best interests, even if those interests conflict with the advisor's own. It came into effect under the Investment Advisers Act of 1940, which regulates investment advisors under the auspices of the Securities and Exchange Commission.
What's the Difference Between a Fiduciary and Other Types of Financial Advisors?
A fiduciary financial advisor is governed by the Investment Advisers Act of 1940, but traditional financial advisors fall under the auspices of the Securities and Exchange Commission and FINRA Rule 2111. These regulations require that financial professionals must provide recommendations that are "suitable" for a client. "Suitable" recommendations might or might not be in the best interest of a client, marking a distinct difference from the fiduciary standard of care.
Fiduciary Duty vs. Suitability Standard
Registered investment advisors and certain financial professionals, such as certified financial planners, are held to the fiduciary standard of care. Others, such as registered representatives or stockbrokers at major firms, are only held to the suitability standard of care.
Here's an example to highlight the difference. Say you're working with a stockbroker at XYZ brokerage firm. You've indicated that you are 60 years old and you want guaranteed income in your retirement. Your broker might recommend that you buy an annuity. This would carry a high surrender fee if you needed to sell it and would provide the broker with a 5% commission.
This could be viewed as a "suitable" recommendation, but it might not be in your best interests. Annuities can carry high costs and restrictive withdrawal properties. A different investment option could be available that would be more in your best interest, and a fiduciary financial advisor would be required to present that option even if he or she doesn't earn a stellar commission.
Here's a quick look at the differences between fiduciary duty and suitability standard:
| Fiduciary Duty | Suitability Standard |
| --- | --- |
| Must act in client's best interest | Must provide suitable investment recommendations |
| Must disclose conflicts of interest | Not required to disclose conflicts of interest |
| Duty of care and loyalty | No legal requirement for duty of care and loyalty |
As you can see, financial advisors who are fiduciaries are legally bound to always act in their clients' best interest and disclose any conflicts of interest that may arise.
How To Find a Fiduciary Financial Advisor
Many options exist to find a fiduciary financial advisor. Here's what you need to know.
Talk to Friends, Family Members and Colleagues
A good starting point to obtain recommendations for a trustworthy financial advisor is within your network of friends, family members and colleagues. Ask these people for their honest opinion on any financial advisors they recommend. Be aware that recommendations may not necessarily lead you to a fiduciary, so you'll need to check things out further if you hear about a financial advisor who seems to be a good fit for your financial goals.
Do Online Research
The quickest way to find out if a financial advisor is a fiduciary is to check online databases that maintain listings of those professionals. Here's where you can find more information online:
The National Association of Personal Financial Advisors: Financial advisors who are NAPFA-affiliated are fee-only fiduciary advisors. Search the online database at NAPFA to find one of these professionals near you.
CFP Board: All certified financial planners — aka CFPs — are required to be fiduciaries. Visit the CFP Board to verify a financial planner's CFP certification.
The Financial Planning Association: The FPA also maintains listings for certified financial planners. Visit FPA PlannerSearch to begin your search.
Are Robo-Advisors Fiduciaries?
Robo-advisors are automated, online investment advisors that offer limited to no human interaction with investors. They can be considered fiduciaries if they are registered as investment advisors with the Securities and Exchange Commission. According to the SEC, "As registered investment advisors, robo-advisors should be mindful that they are subject to the fiduciary and other substantive requirements of the Advisers Act." The SEC's Division of Investment Management and Office of Compliance Inspections and Examinations is tasked with monitoring robo-advisors for compliance.
A Final Word on Fiduciary Financial Advisors
There are different times in life where seeking the advice of a financial advisor may be to your benefit.
This doesn't mean that all clients should only invest with fiduciary financial advisors. Financial advice is relationship-based, and if you're working with a professional you are certain you can trust, there might not be a need to switch to a fiduciary financial advisor.
Good To Know

At the end of the day, no one "needs" a fiduciary financial advisor. Any registered representative can enter the same trades as any other financial advisor, and many of them share the same basic knowledge of markets and investments. That said, should a situation arise in which a broker's best interests might collide with your own, you could end up on the short side of the encounter.
With a fiduciary financial advisor, however, you can rest assured that the person on the other end of the phone or table is always acting in your best interest and that this fiduciary relationship is a legal requirement. If nothing else, this provides peace of mind that you will not be taken advantage of. For many investors, that is a priceless investment in and of itself.
Cynthia Measom contributed to the reporting for this article.
This article has been updated with additional reporting since its original publication.
Our in-house research team and on-site financial experts work together to create content that's accurate, impartial, and up to date. We fact-check every single statistic, quote and fact using trusted primary resources to make sure the information we provide is correct. You can learn more about GOBankingRates' processes and standards in our editorial policy.