The Ultimate Financial Planning Guide — Do It Like the Pros in 8 Steps
Planning for the future is easy and doable with this guide.
It's often been said that no one plans to fail, they just fail to plan. This is particularly true when it comes to your finances. Having a financial plan — and sticking to it — can mean the difference between achieving your financial goals and living paycheck to paycheck.
You can create your own financial plan, without having to pay an expensive financial advisor by following these steps:
Step 1: Write Down Your Goals and Expectations
Step 2: Figure Out What You Have
Step 3: Understand Your Income
Sponsors of
Step 4: Figure Out Your Expenses
Step 5: Put a Price Tag on Your Goals
Step 8: Adjust Your Plan as Needed
Step 1: Write Down Your Goals and Expectations
It may be tempting to rush headlong into figuring out where your money is going and how much you can save. But before you get to that, take some time to think about what financial goals you want to reach. Maybe you want to buy a house or fund your children's college education, even if you don't have those children just yet. You may want to retire early and spend your later years traveling. If it's important to you, write it down.
If you have a spouse or significant other with whom you share finances, make sure they are included in the conversation and that they buy into the idea of having a financial plan. Talk about what is important about money to each of you. No one works all their life in order to have a big pile of cash to look at. You earn, save and invest your money so that you can later reap the benefits of what that money can do for you. Write down what those benefits mean for you.
Related: What is a Fiduciary Financial Advisor?
Step 2: Figure Out What You Have
The next step is to determine what you have now (your assets) and what you owe (your liabilities). Subtracting your liabilities from your assets will give you your net worth. Even if you're just starting out, you probably have assets. You may own a car, perhaps some furniture or even a baseball card collection from when you were a kid. Write all of these things down and try to estimate their value. Put down the value of the item itself, regardless of whether it's fully paid for or not.
Liabilities include your mortgage if you have one, your car loan, your student loans, any credit card debt you might have and any other loans. Don't include rent, utilities or other ongoing monthly costs — those are expenses.
See: The No. 1 Thing You Should Do to Boost Your Net Worth
Step 3: Understand Your Income
Write down the amount of income you have coming in. If being precise is important to you, use your gross income (before any deductions). When you calculate your expenses, you'll need to account for the taxes and anything else that is taken out of your paycheck, like health insurance and retirement plan contributions.
If you're less of a stickler for the detail and more concerned with getting it done, use your net income, which is the amount in your paycheck. Just don't count taxes and insurance in your expenses or you'll be counting them twice.
Step 4: Figure Out Your Expenses
Get out your bank and credit card statements and categorize everything you spend. This includes monthly bills like your rent, car payment, student loan payments, utilities and cellphone bill. It also includes other things you regularly buy, such as food and clothing. Be sure to add on annual expenses, like vacations. If you go through a year's worth of statements, you should have a pretty good idea about where your money goes.
You can divide these expenses into nondiscretionary and discretionary to figure out where you may be able to reduce your spending. You probably can't shave anything off your monthly mortgage payment, but shortening that vacation or buying your clothes on sale could free up some cash.
Sponsors of
Your income should be greater than your expenses. If it's not, it's time to cut back on what you spend or find a way to pick up more income. A budgeting app, like Mint or You Need a Budget, can help with this.
Get: 9 Apps Every Type-A Person Needs to Organize Their Finances
Step 5: Put a Price Tag on Your Goals
In Step 1, you identified some goals that you want to achieve in the future. Now you'll need to dust off that crystal ball and try to figure out how much you'll need to have saved to accomplish all you want to do. This is not an exact science, but estimating and planning will get you closer than wishing and hoping.
The tricky part here is figuring out how much things will cost in the future, but there are some tools that will help you out. If one of your goals is paying for college for your children, the College Board has a calculator on its website that will help you.
If one of your goals is a comfortable retirement, you need to determine what that looks like. Think about how much money you'll spend per year compared to your current spending. You may want to add in extra money for travel or hobbies. Then, use a calculator to figure out how much this will cost when retirement rolls around, and how much you should be saving to get there. CalcXML has a good one that factors in rates of return and Social Security.
Look at each goal individually to see how much you need to be saving to reach it. Then talk with your spouse or significant other about prioritizing the goals so that you can reach the most important ones. Use a savings calculator to account for interest.
Make It Fun: Treating Finances Like a Game Will Make You Rich
Step 6: Invest
It's unlikely you'll get to where you want to be if you keep your money in the mattress or even in a certificate of deposit at the bank. You'll need to invest if you want to really increase your wealth and overcome inflation. Investing involves risk, so you'll need to determine how much risk you want to take. You can use a risk calculator to figure out how much risk you're comfortable with.
Understanding your risk tolerance will help you diversify your investments. You don't want to invest all your money in a single investment or even a single type of investment since it could lose value. Spread your investments around between cash, stocks and bonds, and between different asset classes within those broader categories.
Step 7: Implement Your Plan
Start by automating your income, expenses and savings as best you can. Have your paycheck direct deposited into multiple accounts if you can. Have one account for regular expenses, and have enough money deposited into that account to cover your monthly bills. Have the amount you have earmarked for savings deposited into a savings account. And have some deposited into an emergency fund, if you don't already have three to six months' of expenses put aside.
Set up an investment account if you don't already have one. Your savings can go directly into this account or you can move money from your savings account periodically. Buy stocks, bonds and mutual funds as determined by your asset allocation. Set up automatic purchases so that you are investing the same amount every month. This is called dollar cost averaging, and it means that you're purchasing more shares when the price is low and fewer shares when the price is high, giving you a better cost per share on average.
Start Now: 10 Easy Ways to Reset Your Finances in 2019
Step 8: Adjust Your Plan as Needed
Remember that your financial plan is a work in progress. Go back and revisit it at least once a year, or whenever something significant happens in your life. Go over your calculations again and make adjustments where necessary.
Pay particular attention to your investments. If you want to maintain your asset allocation, you'll need to rebalance your portfolio. You'll end up selling some high performing investments and buying more of what hasn't performed as well. This may seem counterintuitive but remember the old adage: Buy low and sell high. Investments are cyclical, so those that have done well in the recent past may decline in the near future, and vice versa.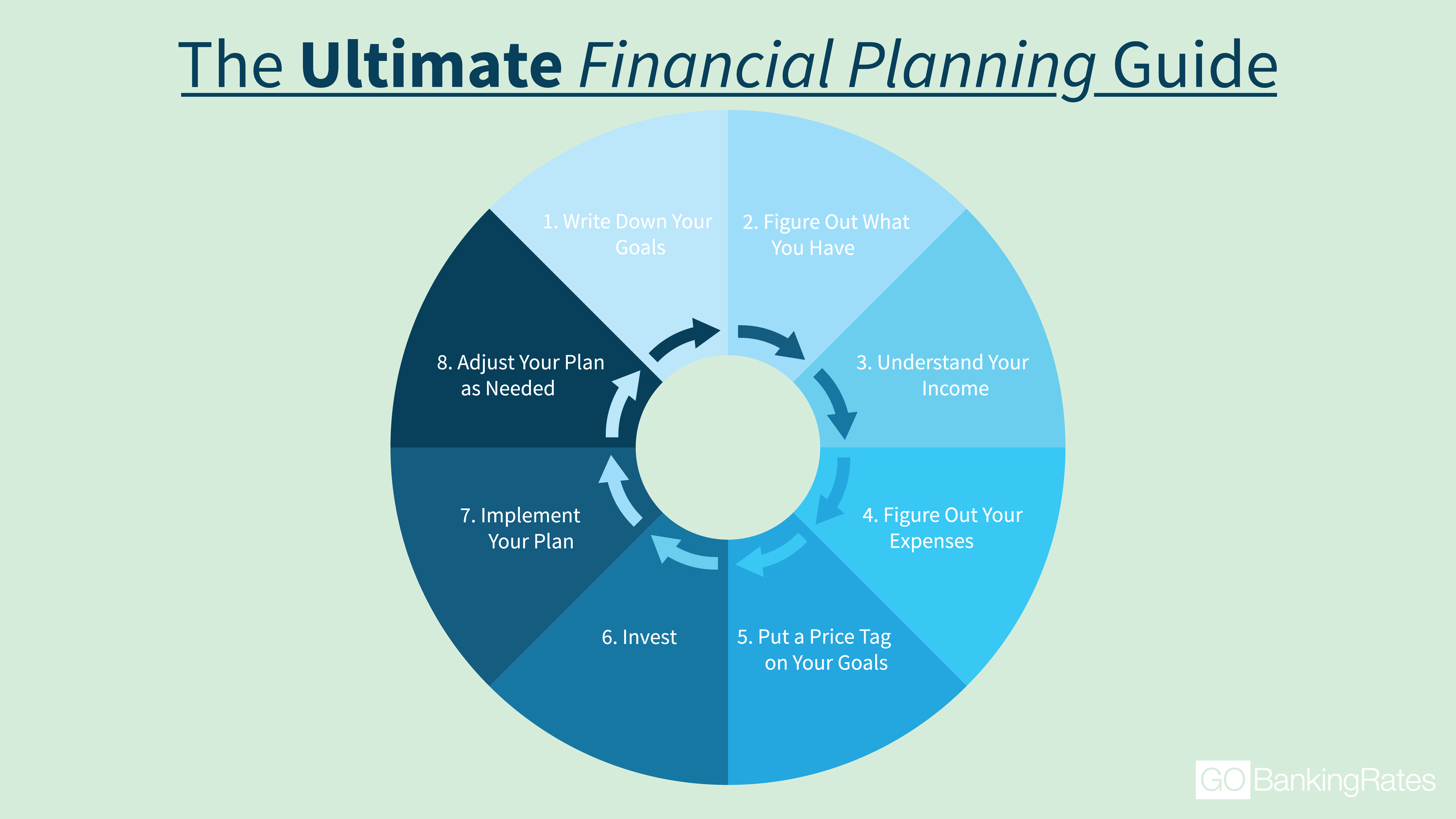 Keep These Things in Mind
Take advantage of your company's 401(k) plan, especially if it offers a company match. Be sure you contribute at least enough to get the full match. For example, if your company matches 50 cents on the dollar up to the first three percent of your salary, contribute at least three percent. If you don't, you're leaving free money on the table.
Sponsors of
As you're planning, think about what will happen to your wealth after you die. Estate planning is not just for the super wealthy, and even if leaving a legacy is not one of your specified goals, you want to be sure that your money goes where you intend once you've passed away.
Click through to read more about how your finances measure up to the typical American's.
More on Financial Planning