6 Best Banks for Car Loans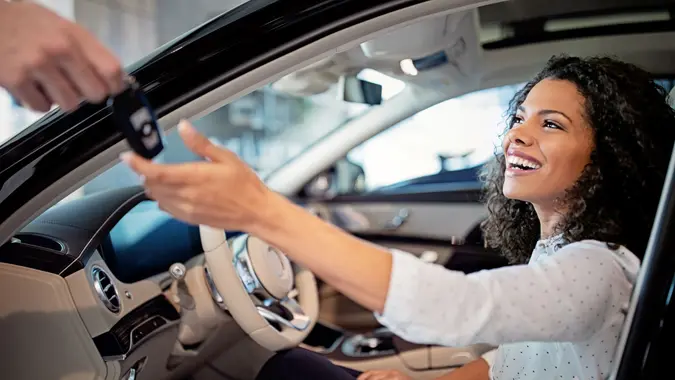 praetorianphoto / Getty Images
Whether you're in the market for a new or used car, choosing the right bank for your car loan is vital. After all, this is a lender you'll be dealing with for several years to come — provided you don't refinance your loan with a different lender later on.
The best banks for auto loans are those that make the lending process as seamless and affordable as possible. They also typically offer good customer service, the convenience of managing your loan online or via your mobile device, and competitive rates and terms.
Best Banks for Car Loans
Since not all banks are created equal, it's important to compare several options — and their individual benefits or drawbacks — before choosing one. GOBankingRates reviewed multiple options and chose the following six best banks for car loans:
PNC Bank
Wells Fargo
Bank of America
Ally Bank
Capital One
Chase
1. PNC Bank
PNC Bank offers auto loans for new and used vehicles. To get a loan, you must purchase the vehicle from a dealer or an eligible private party. Alternatively, you can get a lease buyout loan or refinance an existing auto loan.
One area in which PNC Bank stands out is its Check Ready auto loans. With this option, you can get the financing you need before visiting the dealer. This can save you time at the dealership. You can apply online and get approved within minutes. Check Ready auto loans come in amounts ranging from $7,500 to $75,000.
What's convenient about PNC Bank is that you can manage your loan online, in person or via phone. The lender also has over 2,600 storefront locations throughout the United States, so there's a good chance there's one near you.
2. Wells Fargo
Wells Fargo is a traditional bank that offers auto financing to approximately 11,000 dealerships nationwide. The details of these loans may vary, but a typical repayment term is 36 to 72 months. Other details, such as the average APR or loan amount, are not specified.
That said, Wells Fargo excels in terms of convenience. As a borrower, you have several ways to manage your loan and make payments. This includes manual payments online, phone payments and automatic payments.
3. Bank of America
Another traditional bank, Bank of America makes the list of best banks for a car loan for several reasons. For one, you can apply online and receive a response quickly. You can also get the financing you need — whether it's for a new or used vehicle — throughout the United States.
Bank of America's car loan rates start at 6.29% (new cars) or 6.49% (used cars). Repayment terms range from 48 to 72 months. The minimum loan amount depends on your state but is typically $7,500.
Not only that, but Bank of America offers a 30-day rate lock. What this means is that you're guaranteed the rate you get for up to 30 days after being approved. In addition to this, if you enroll in the Preferred Rewards program, you could receive an additional rate discount of up to 0.50%.
If you're someone who prefers an all-in-one experience, you can use Bank of America's online car shopping feature. This allows you to find a vehicle you want to buy and secure financing at the same time.
4. Ally Bank
Ally Bank offers many financing options, including auto loans. This digital-only bank comes with many modern conveniences, such as autopay, online bill payment and title tracking.
With Ally, you could qualify for financing with around 18,000 auto dealerships nationwide. Terms range from 12 to 84 months, while loan amounts range from $1,000 to $300,000.
5. Capital One
Capital One is another established institution and one of the best banks for a car loan. It offers a pre-qualification option that won't affect your credit score but will give you an idea of what you qualify for. The bank also lets you search for different vehicles online, making it a one-stop shop for your auto financing needs.
The annual percentage rate isn't specifically listed online. However, loan terms range from 36 to 72 months. Loan amounts vary, too, but may be as high as $75,000. The bank does not charge a prepayment penalty or other fees.
6. Chase
Chase offers auto financing with a 30-day rate lock and a quick online approval process. You can apply for a loan before going to the dealership to save you time and paperwork.
Although the exact rates and terms aren't listed online, you can use Chase's online calculator to see what you might get. Say, for example, you have very good credit (between 680 and 739) and are buying a new Ford car for $35,000 in Alaska. Your APR could be as low as 7.24% with a 72-month term.
Bottom Line
Ultimately, it's a good idea to shop around and compare several banks when searching for your next auto loan. That way, you can find the right one for you — ideally one with the most competitive rates, best terms, lowest fees and top-notch customer service. Take some time to review your options before choosing one.
FAQ
Which bank offers the best vehicle loan?

Finding the bank that offers the best car loan for you depends on several factors, such as customer service, availability, cost (e.g., lender fees and APR), convenience and other features.

Which bank has the best car loan rates?

If you have excellent credit, Bank of America offers auto loans for new vehicles with a starting rate of 6.29%.

Is it better to get an auto loan from your own bank?

In some cases, it might be better to get a car loan through a bank where you're already a member. For example, Bank of America offers an interest rate discount for members of its Preferred Rewards program. It's still a good idea to shop around, however, as other options might offer better rates or terms.

How can I get the best car loan from a bank?

Start by pre-qualifying online to see the terms and rates you might get. Then, check your credit score to make sure it qualifies you for the best rates. Once that's done, reach out to a couple of dealerships in your area for a list of their preferred lenders. Compare several options and choose the one with the more favorable terms.
Information is accurate as of July 31, 2023.
GOBankingRates is a personal finance and consumer interest rate website and an online marketing company serving top-tier banks, credit unions and other financial services organizations. Some companies mentioned in this article might be clients of GOBankingRates, which serves more than 100 national, local and online financial institutions. Rankings and roundups are completely objective, and no institution, client or otherwise, paid for inclusion or specific placement. Any opinions, analyses, reviews or recommendations expressed in this article are those of the author alone and have not been reviewed, approved or otherwise endorsed by the companies included in the article. All fees and rates are subject to change at the issuers' discretion. Some interest rates might be short-term or promotional offers only, and it is possible additional terms and conditions must be met to obtain the interest rates listed. Rates and availability might vary by region. Verify terms and conditions before opening an account.
GOBankingRates bases its assessment of "best" and "top" products on the above-stated parameters to create a baseline for comparison. This assessment is an approximation of "best" and "top" designed to help consumers find products that might be appropriate for them. There could be other options available as well. Consumers should consider various options appropriate for their circumstances.
Editorial Note: This content is not provided by any entity covered in this article. Any opinions, analyses, reviews, ratings or recommendations expressed in this article are those of the author alone and have not been reviewed, approved or otherwise endorsed by any entity named in this article.
Editorial Note: This content is not provided by Chase. Any opinions, analyses, reviews, ratings or recommendations expressed in this article are those of the author alone and have not been reviewed, approved or otherwise endorsed by Chase.