How Long Does Direct Deposit Take?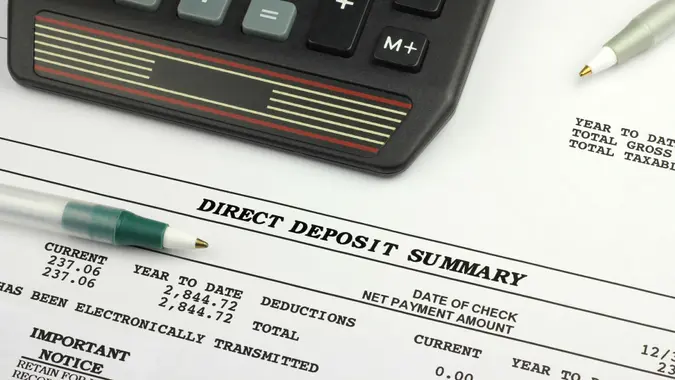 GaryPhoto / Getty Images
When it comes to getting paid for your hard work, the faster you receive your funds, the better. Even so, the hassle of driving to the bank to deposit a check every time you get paid can be tiresome. The process also entails that you set aside the time to physically deposit your paycheck.
If you're looking for a more convenient way to receive your income, direct deposit could offer a solution. Once the transfer is initiated, your money will arrive in your bank account within one to three days. Keep reading to learn how long a direct deposit takes and how to set one up.
What Is Direct Deposit?
Direct deposit is the automatic electronic deposit of funds into a bank account that takes the place of issuing a check. It is a safe way to receive your paycheck and other benefits. When you receive funds this way, your account balance automatically updates.
Advantages of Direct Deposit
Whether you're an employer or employee, using direct deposit can make payday a breeze.
Earn Perks With A New Checking Account
Here are some of the benefits:

Faster pay: You can access your funds much faster than paper check deposits.
No paper check: Eliminate the hassle of printing a paper check and traveling to the bank to deposit it.
Convenient and secure: Direct deposits eliminate the risk of losing paper checks or having them stolen.
Saves time: It saves the employer's time and money processing payroll and mailing checks.
Grow your savings: Several banks allow you to split your direct deposit between more than one bank account — for instance, between a checking and savings account. Splitting the amount between accounts can grow your savings over time.
How Does Direct Deposit Work?
Your employer or pay issuer deposits a paycheck directly into your account through an electronic network called the Automated Clearing House. ACH transfers money between banks and financial institutions, simplifying the transaction process. This allows you to skip waiting to receive a check and going to the bank to deposit it.
Many people, including employers, associate direct deposit with payroll because of the ability to process payment much faster without the need to issue physical checks. This is a popular way to receive payment faster from your employer, but that isn't the only use. You can also use it for:
Earn Perks With A New Checking Account
While most direct deposits are done using ACHs and banks, these payments can also be made using online banking and mobile apps. For example, if you want to send money to your friend or family member, you only need their banking information. In the same way, they can access the funds as soon as they are available.
How Long Does Direct Deposit Take?
On average, direct deposit usually takes one to three business days to clear. The process is fast, but the actual time frame for the funds to hit your account depends on when the issuer initiates the payment. Several other factors can also cause delays.
For instance, employers use payroll software to ensure that employees get paid according to their set pay date. Once your employer processes and deposits your paycheck, you can expect the money to arrive in your bank account at midnight the day before the pay date. Since this method never holds funds, you can use the money as soon as it arrives in your account.
Earn Perks With A New Checking Account
Is Direct Deposit Instant?
Although direct deposit is nearly instantaneous, you might not have access to the funds immediately. You can typically withdraw the money the same day it hits your account, but in some cases, you may not be able to access it until the following business day.
How To Set Up Direct Deposit
The setup process is pretty simple. Here are the steps to help you get started:
1. Fill Out the Form From Your Employer
Request a direct deposit form from your employer or download one directly from your bank. Here are links to forms from some of the top banks.
If you receive social security or other federal benefits, you can sign up for a direct deposit form from GO Direct or through the U.S. General Services Administration.
2. Enter Your Account Information in the Form
You'll need to provide the following personal and bank details:
Some authorization forms may require you to specify the type of account — usually a checking or savings account. Certain employers or banks may ask you to attach a voided check to verify the information you provided.
3. Submit the Form
Once you've filled out the form, sign and give it to your employer, and then wait for it to go into effect. You may also need to keep a copy of the form so that you can confirm with your employer once they have set up the direct deposit.
Processing Time
The actual time frame for direct deposit to take effect depends on when your employer processes your initial request, which may take several weeks.
Is It Safe?
Direct deposit is a far more secure method of payment than a paper check. It lowers the risk of fraud and lost or stolen checks.
Good To Know

Direct deposit is a popular and convenient way for people to receive payment in lieu of paper checks. When setting up, it is a good idea to avoid sending your account number and other sensitive information via email. Handling this one-on-one or via phone with authorized personnel will ensure that your information is secure.
Direct Deposit Alternatives
Direct deposit requires you to have a bank account. If you don't have one and still need a convenient mode of electronic payment, here are a few great alternatives:
More on Checking Accounts
Compare Checking Accounts
GOBankingRates' Best Banks 2023
Cynthia Bowman contributed to the reporting for this article.
Information is accurate as of Nov. 16, 2022.
Our in-house research team and on-site financial experts work together to create content that's accurate, impartial, and up to date. We fact-check every single statistic, quote and fact using trusted primary resources to make sure the information we provide is correct. You can learn more about GOBankingRates' processes and standards in our editorial policy.
Earn Perks With A New Checking Account