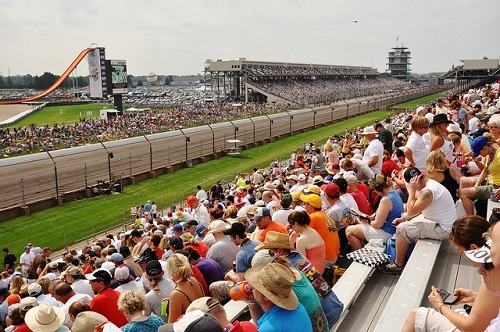 The 2015 Indianapolis 500 Mile Race will take place on Sunday, May 24. This year marks the 99th Indy 500 competition, in which 33 racers take to the track in the hopes of winning the Borg-Warner Trophy. Racing at speeds exceeding 200 mph for 500 miles, the race is a several-hours long event that attracts spectators from around the United States and even abroad.
Related: 7 Ways to Save Money on Last-Minute Travel
How Much Does a Ticket to the Indy 500 Cost?
General admission tickets for race day are priced at $40; however, depending on where you want to view the race, the price can go up to $186 for the nicest penthouse seating. In addition to the main race, there are a variety of optional activities that will make the total cost of attending the race dramatically higher.
Here's a list of all of the Indy 500-associated events you could choose to attend:
Event Prices
Practice: $15 for entry per day
Qualifying: $20 for entry per day
Coors Light Carb Day (May 22): $30 for general admission
Firestone Legends Day Concert (May 23): $40 for general admission
Snake Pit (May 24): $25 for general admission
With the $40 general admission ticket for the race itself, and assuming you want to make the most of your experience and partake in each of the events above for one day of entry, your total bill will already run $170. If you upgrade your snake pit admission ticket to VIP, your bill will increase by $60, to $230.
If you drive to the venue, you'll have to pay $50 for a three-day parking permit, or either $40 or $75 for race-day parking, depending on which lot you select.
Also, depending on where you choose to view the main race, you might realize you'd benefit from FanVisionPlus, a portable device that will help you see the race from the palm of your hand. FanVision rentals are available now for preorder at a cost of $39.99, and will go up to $59.99 the weekend of. If you already own a FanVision device, you'll need to purchase a weekend subscription to stream the event for $19.99.
On top of this all, you'll still need to buy food, obtain lodging and get yourself to the race, which will increase your Indy 500 budget substantially.
Related: 7 Secret Fees Cutting Into Your Travel Budget
Total Cost to Attend the Indy 500
Depending on how far you're traveling for the event, your cost to attend the Indy 500 can vary greatly. If you already live in Indianapolis, your total costs might reach $300 after food, gas and parking are included. However, if you're trekking from the coasts, you'll have to add some high airfare and hotel costs to your budget.
If you're looking for a flight for Friday, May 23, and are traveling from Los Angeles for the race, Expedia is pricing your airfare at around $970, round trip. If you're flying from New York City, you'll be shelling out between roughly $500 and $730, depending on who you book through.
(And these are just the prices about 10 days before the event — they'll only rise as May 25 gets closer.)
When it comes to hotel rooms, lodging within 10 miles of the Indianapolis Motor Speedway averages $201 per night. If you're staying in a hotel for Friday, Saturday and Sunday night, you'll rack up a pretax hotel bill of $603.
Spectators are allowed to camp at the venue at a major savings when compared to hotel accommodations. Tent camping with your vehicle costs $40 for a two-day permit and $70 for a four-day permit, which can be split with whomever you're camping with. If you bring an RV, a four-day camping permit starts at $150, while race-day parking for an RV runs at $50. Glamping options are available as well, with tent packages ranging from $650 to $1,100.
Assuming you're not an Indianapolis native and will be flying in from approximately three states away, your airfare as of now will cost roughly $730, making your total travel, hotel, parking and cost of attendance to the Indy 500's events total a whopping $1,543.
Related: How to Create and Stick to a Travel Budget
Tips for Saving Money at the Indy 500
It's a little late to save up for the Indy 500 through a high-yield savings account or CD, as the event is only a week away. With flights and hotel rooms increasing in cost with each passing day, acting sooner to secure your arrangements is in your best financial interests.

If you're lacking the funds to make your purchases now, think about establishing a savings pool with your friends, if you're attending the event as a group. Each of you can contribute available funds now and worry about IOUs later, saving money that would be lost if you keep putting off your purchases.
One way to cut your food and beverage costs is to bring your own. Unlike most sporting events, the Indianapolis Motor Speedway allows spectators to bring their own food and beverages into the venue. When compared to other sporting arenas, however, the Indy 500 offers affordably priced food options, with volunteers manning booths and portions of proceeds supporting local charities.
If you're attending the event with a large group of people, think about using a service like Airbnb to rent a larger space at a lower cost to each individual. If you're traveling solo or with just one or two companions, think about using Couchsurfing. With such a large sporting event taking place in their city, Indianapolis residents will likely use this opportunity to open their doors to visitors to make some extra cash, hopefully to the benefit of your savings account.
Note: Prices are accurate as of May 14, 2014, and could have changed.
Photo credit: momentcaptured1