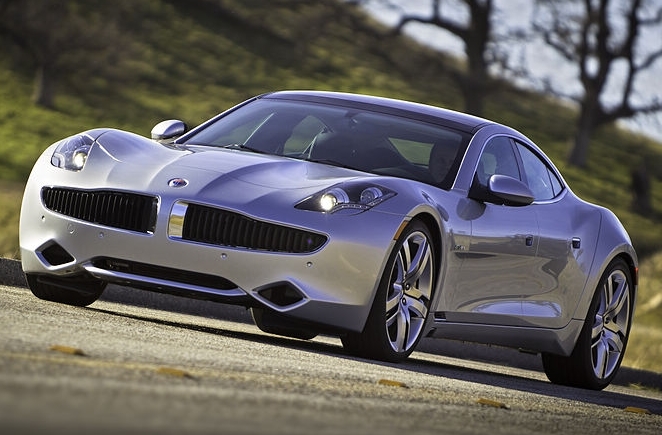 The words celebrity and luxury seem to go hand-in-hand. Whether we've watched our favorite celebrities flash the latest jewelry or wear the most up-to-date fashion, it's never a surprise to see them show off their wealth.
In fact, it's more of a surprise to encounter a celebrity who is just as worried about saving money as having luxury, particularly when it comes to their cars. But there are some who are marry luxury and function to drive fancy celebrity cars that are simultaneously cost efficient.
Feature Image: Bruce Benedict via Wikimedia Commons
Expensive Celebrity Cars that are Surprisingly Cost Efficient
There are some celebrities who have found that they can have both luxury and cost efficiency. They love a beautiful vehicle but want it to benefit them (or the environment) at the same time. Here is a list of celebs you know well who have beautiful luxury cars that are surprisingly cost efficient:
1. George Clooney's Tesla Roadster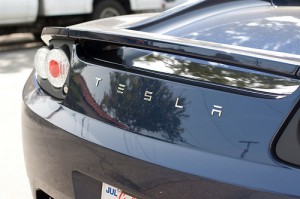 George Clooney garners attention for more than just his good looks. In the past few years, he has also turned heads when driving his gorgeous 2008 Tesla "Signature 100" Roadster. While the vehicle doesn't come cheap — it's valued at around $109,000 — it saved at the pump. Part of the reason for the savings could be that Clooney only put about 1,700 miles on the odometer; however, the fact that the car is electric does cut the cost of gas.
Motivated by the fear that he wasn't giving enough to those in need, Clooney decided to auction his beloved vehicle off for charity last year. All proceeds were to benefit the Satellite Sentinel Project, co-founded by him and human rights activist John Prendergast.
Photo: andyrusch
2. Prince Charles' Aston Martin DB6 Volante MK II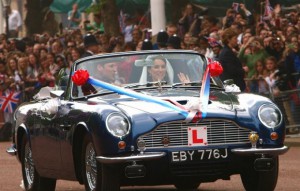 The Aston Martin DB6 Volante is not traditionally known for being among the most cost efficient of luxury cars. But when placed in the hands of someone who is big on being kind to the environment, this all changes.
The British royal family's Prince Charles was given this classic vehicle on his 21st birthday, and has since made some impressive changes, including converting it to run on bioethanol from surplus wine in 2008. As Prince William and Kate Middleton took the incredibly-rare convertible for a spin during the royal wedding in April 2011, onlookers probably didn't know it was saving money, as well.
Image: sorrentolens.wordpress.com
3. Justin Bieber's Fisker Karma
It's no secret that Justin Bieber attracted a lot of attention when he drove his Fisker Karma last year. Maybe the all-chrome exterior encouraged onlookers to look at themselves in the mirror-like finish.
But while the car was gaining Bieber tons of publicity, it was also saving him money at the gas pump. The luxury sedan, which has a price tag in the ballpark of $102,000 for the base model, comes with an all-electric range of 32 miles along with another 20 miles per gallon after the battery has been depleted.
Other celebrities have been known to enjoy driving the cost-efficient Fisker Karma, including Matt Damon, Taylor Lautner and Ashton Kutcher.
4. Paul McCartney's Lexus LS600h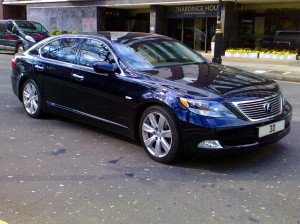 In 2008, Beatles legend Paul McCartney purchased a beautiful all-wheel-drive long-wheelbase Lexus sedan to get around town. But he didn't just think about luxury when making his purchase. The $110,000 car boasted a gas-electric powertrain that gave it a 20-percent boost in city MPG compared to its gas-fueled counterpart — which of course meant making fewer trips to the pump. It was also certified as a Super Ultra Low Emission Vehicle, which means it's even better for the environment.
Image: Ed Callow
Celebrities Driving Plain Old Fuel-Efficient Cars
While some want cost-efficient vehicles that are still a bit luxurious, other celebrities are just fine with buying everyday fuel-efficient cars that get them from point A to point B:
1. Larry David's Toyota Prius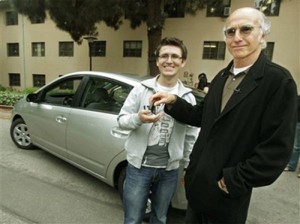 Most people didn't know Larry David's name until he played himself in Curb Your Enthusiasm. Before that, he was the co-mastermind of wildly successful show, Seinfeld. But despite his tremendous success as a TV producer and actor, he keeps his life away from Hollywood quite simple. He is among a host of celebrities who have driven the Toyota Prius.
The hybrid vehicle starts at $24,200 and boasts an amazing 51-highway, 48-city estimated MPG. Along with Larry David, Cameron Diaz, Sarah Jessica Parker, Gwyneth Paltrow, Leonardo DiCaprio and Julia Roberts have all been spotted in their own.
Image: izismile.com
2. Jay Leno's Chevy Volt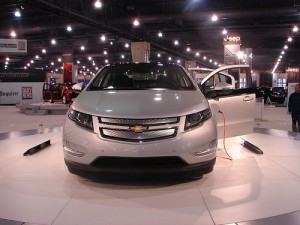 Jay Leno is known for two things: living a frugal life and having an amazing car collection. By purchasing his Chevy Volt in 2010, he was able to make the most of both worlds.
The Chevy Volt costs a bit more than the Prius with a 2013 starting price tag of $31,645. But it's advanced lithium-ion battery not only allows owners to drive gas-free for an EPA-estimated 38 miles, but the onboard gas generator produces electricity so that drivers can travel more miles on a full charge and full tank of gas.
The car is so impressive that Jay Leno announced in 2011 that he'd driven over 11,000 miles on the same tank of gas. Now that's a great way to save big at the pump!
Image: DrivingtheNortheas
3. Britney Spears' Mercedes-Benz Smart Car
Britney Spears surprised everyone just a few weeks ago when she went out and purchased a new Mercedes-Benz. What's so surprising about that, you ask? The luxury car also happened to double as a tiny Smart Car.
Britney used a portion of a substantial $200 million net worth to buy the economy-level car for just $14,000. The good news is she'll be saving even more at the pump thanks to the miniature car's estimated gas mileage of 34-city and 38-highway, according to the U.S. Environment Protection Agency.
Many people dream of becoming rich celebrities so that they can finally afford the best that money can buy. But as you can see, not everyone feels the same way. Whether they're going for luxury with a bit of a cost break, or the most cost efficient cars on the road, some celebrities know that making the big bucks doesn't have to mean spending an arm and a leg to drive the car of their dreams.