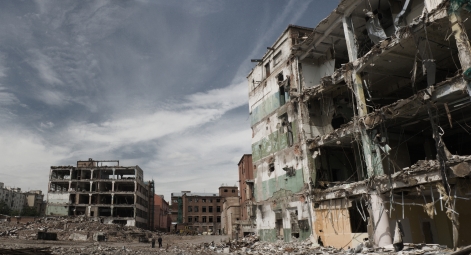 Picture this: You're fast asleep one night when suddenly, you're abruptly woken up by the sounds of a raging Martian attack on Planet Earth. The aliens have raided the world's banks and obliterated every ATM with their radioactive lasers, so you have no access to your savings account.
To make matters worse, there's also a zombie apocalypse happening at the same time, and you're forced to flee your home, on the run in the dark night, with little in the way of resources to stave off the monsters. How much physical currency would you need to survive?
Okay, so the only time we'll likely experience a national catastrophe on that level of Michael Bay proportions is at the movies. But in real life, emergencies do happen, and having money in your pocket makes a big difference. If you live in a certain part of the country, a hurricane, flash storm, blizzard or flood isn't uncommon and could knock out local power lines in your area. Electricity could be down for days — stores won't be able to accept debit or credit cards, and neither will banks. Or maybe you've discovered that your credit card has been stolen.
After alerting the bank, all your accounts are frozen — so using cash is your only option until a new card arrives in the mail. Part of being prepared for any contingency, big or small, is having a reserve of emergency cash at your disposal at all times.
When you can't rely on accessing your funds electronically, you'll need some legal tender to buy food, gas or other necessities. The questions are: What amount, and where to put it all? Many people are understandably reluctant to keep large amounts of money in their homes for fear of theft or misplacement. But naturally, there are several easy ways to build up some disaster relief cash, and a safe place or two to hide it should the unexpected ever arise.
Here's what Suze Orman has to say about emergency fundamentals (hint: have enough to cover eight months of expenses on hand):
Emergency Funds: How Much Is Enough?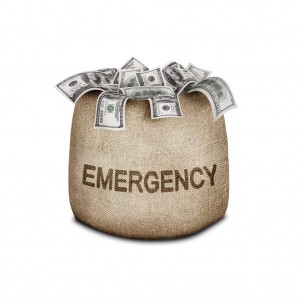 Despite what many sources say, there's no magic amount you should have nestled away in your emergency fund. Some say $500, others $1,000. Still others suggest three to six months of pay. Suze Orman's magic number is eight months of living expenses. You might aim for a conservative $10,000, or more.
You should do what feels right to you. No matter the amount, an emergency fund is absolutely necessary — make it a priority. In fact, financial gurus like Jim Wang of Bargaineering and Dave Ramsey say to build up your own reserves fully expecting an emergency.
"It's not a matter of if these events will happen," Ramsey says, "it's simply a matter of when."
An emergency fund isn't meant to be dipped into, or spent like disposable income, and creating one takes the very same approach for any other savings, rainy day fund or nest egg. How much can you afford to save? And how much do you think you'll need for an extreme catastrophic event?
Keep reading: 5 Easy Steps to Set Up an Emergency Fund
Starting Your Fund
Ramsey and many others suggest the first step to beginning an emergency fund is to start small. Let's say you're looking to set aside $3,000 in one year. That would mean you'll have to save $250 per month over the next 12 months. Extend your savings goal to 18 months, and that's $166 per month. If you've already got some money saved up elsewhere, is there a portion you can transfer to your emergency fund? Don't forget that as you build up your emergency fund in the bank, those funds can be invested, too.
Depositing your savings into an interest-bearing checking account or high-yield CD can help multiply your savings over time. Entrepreneur magazine, however, says to keep your emergency fund investments simple — they're not meant to earn much interest or sit on the stock market for long, but be liquid and available when you need them. In an emergency, your personal safety, not interest rates, is what's important.
Let's say that over time you've managed to save up $15,000 in emergency money. Now, it might not be a prudent idea to have $15,000 in cold, hard cash sitting around your house — one, because it's unsafe, and two, because it might actually be more than you need. Here's a scenario: The president declares a national emergency, and you know that you won't have access to your bank account for one full week. You'll need immediate cash on hand for the cost of a week's worth of groceries and emergency supplies. If authorities should order an evacuation, gas and motel costs come into play. Two thousand dollars should cover those costs, with a little extra just in case.
Related article: 5 Smart and 3 Stupid Ways to Establish Emergency Funds
How to Hide Money at Home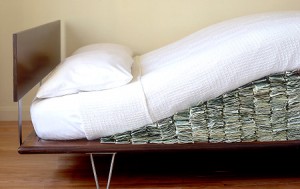 Keeping cash at home is risky, especially when it's in large denominations. A home break-in is the type of emergency you won't have money for if your cash supply is stolen — physical money isn't insured and it's unlikely to be recovered. Finding safe, secure and clever places to hide your emergency fund (with easy access, of course) can safeguard the security of your assets — think of it like making a bank within your home.
Common advice is to keep enough cash at your house, but not too much. Opt for lower denominations, like tens and twenties, since many retailers might not accept $100 bills. However, when looking to store your money in a compact fashion, larger bills in fewer quantities take up less space — it's up to your discretion. Stash your cash away in a practical, yet unorthodox way. (Keep in mind — under the mattress is the first place they'll look.)
Here are some clever places to stash your cash around your house:
Places to Hide Money
Freeze Your Finances. Frugal Dad suggests placing your emergency cash in a plastic baggie sandwiched inside a used meat tray. Place it in the freezer among your other frozen meats, and a burglar won't find it appetizing to rifle through each one.
The Old Dig-a-Hole-in-the-Backyard Trick. A foolproof way of protecting your money, unless some shady pilferer comes ready with a shovel to dig up your entire backyard, which is unlikely. Just remember where you buried it. Wisebread recommends encasing your funds in a weather-proof material, like PVC piping, to withstand the elements. If the great outdoors of your yard doesn't feel safe enough, you can always bury the money in the soil of a potted plant.
Keep Your Money on the Books. Those old spy movies with the tape recorder hidden in a hollowed out book aren't far from the truth. Find an old, deep hardcover and cut the middle section of pages out carefully with a pen knife or razor blade. There will be ample room to store a stack of cash inside for easy reference.
The Big Picture. Taping cash to the back of a picture frame is the one trick that never works. Frugal Dad says to take it one step further — hide your emergency money between the cardboard backing of the picture and the photo itself.
That's No Ordinary Jar of Mayonnaise. It's a decoy safe! Also called diversion safes, they look just like any other can of beans, aspirin or shaving cream, but hollowed out to hold money and valuables, making a would-be thief none the wiser, Just hope he or she doesn't stop to make a sandwich.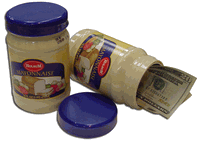 Cash can be your biggest protection against a national emergency or disaster if circumstances prevent you from withdrawing cash from the bank. It's kind of like insurance — we pay into it hoping we never need it. These places to hide money should keep your money safe just in case that emergency should pop up unexpectedly.
Keep as much money in your home as you think you'll need — not too much that you can't afford to lose, but enough to sustain you through several days to several weeks of cash-only situations. Just remember that if you deplete your emergency fund, replace it as you would any savings account. You never know when you'll be thankful to have some green on you when we're invaded by little green men.