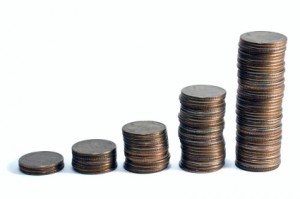 Have you ever noticed that the only way to get a decent CD rate is to tie up your money for several years? Depositors in search of competitive CD rates are often lured into locking their money in long-term certificates of deposit for as long as five years to even ten years. However, at some point, a CD's term can be too long, even if the interest rate is higher, as excessively long-term certificates of deposit prevent account holders from investing their money should interest rates increase in the future.
That's why we have surveyed current CD interest rates on 6-month, 1-year and 2-year accounts to find out which banks and credit unions are currently offering the best interest rates on CDs that don't require a commitment of five years or more.
Top CD Rates Findings
The highest CD rate in our rates database is 1.76% APY, offered by three different institutions:  Goodyear-Danville Family Credit Union for a 1-year term, as well as Encompass Credit Union and Kauai Government Employees Credit Union for 2-year terms.
In fact, 36 of the 50 financial institutions with the current best CD interest rates are credit unions. The rest of the list is comprised of community banks — no national banks made the list.
Additionally, of the 50 top CD rates in the U.S., 90 percent are for 2-year terms. The rest are 1-year CD account rates — except for one: G.I.C. Credit Union currently pays 1.50% APY on all of it's share certificate products, which means their 6-month CD rate made it into the top 50 best CD interest rates as well.
Top 50 Best Interest Rates on CDs

See a Map of the Top 50 CD Rate Locations
How Are Top CD Rates Determined?
Go Banking Rates manually collects interest rate data from community banks and local credit unions throughout the entire country, as well as from national and online banks. This allows us to populate our Rates Table with the most comprehensive database of savings and CD rates available today.
The CD rates used in this study are accurate as of September 28, 2012. Please note that interest rates are subject to change at any time in the future — anyone who chooses to open a certificate of deposit account from any of the above mentioned institutions should verify rates with the individual bank or credit union first.
Note: A previous version of this article incorrectly stated 1st Alliance Credit Union as having the highest CD rate. While the credit union's website is still active, the institution itself is closed.