How Much Will a $10,000 CD Earn?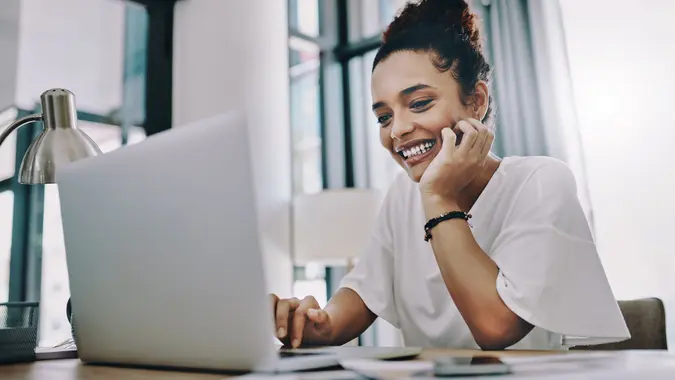 Delmaine Donson / iStock.com
A certificate of deposit will typically offer higher interest rates than savings or money market accounts. In general, longer-term CDs pay higher yields, because your money is tied up longer. But many banks and neobanks offer the highest rates for 12-month CDs, either as special promotional offers or as their regular rates.
What Is the Current Interest Rate on CDs?
CD interest rates have increased dramatically in the past year along with the prime interest rate set by the U.S. Federal Reserve. As of June 2023, the national average interest rate for a 12-month CD is 1.72%. The average rate for a five-year CD is 1.22%, according to Bankrate.
CD rates are based on the term, as well as the bank where you choose to open your CD. Interest rates may vary depending on the size of the CD, but that typically only applies to higher savings amounts over $50,000, called jumbo CDs.
How Much Will a $10,000 CD Earn?
How much your $10,000 CD will earn depends on the term and rate you secure when you open your account. Here's a look at a few different rates and terms.
At the national average of 1.72%, a one-year CD with a $10,000 opening deposit would be worth $10,172 when it matures.
A five-year CD with a $10,000 opening deposit, earning the average rate of 1.22%, would deliver a return of $625 after 60 months.
However, it is possible to find rates of 5% or more. This would put $500 in your pocket with a $10,000 CD after a year. These rates can be found at several banks and credit unions, so it pays to shop around before opening a CD.
Good To Know

If you are saving for a house, wedding, vacation or a new car, opening a $10,000 CD is a great way to set money aside. Your money will earn interest at a higher rate than you might earn with a traditional savings account.

Additionally, you won't be tempted to withdraw funds from the account because you might face penalties and fees. When you are ready to make your purchase, you can close out the CD when the term ends and easily access the money you need.
What Is the Highest Paying CD Rate Right Now?
Right now, the highest paying CD rates can be found at Workers Credit Union. Their 36-month flex rate CD offers APY. In addition to Workers Credit Union, there are several banks and credit unions offering 5% or more on $10,000 CDs with various terms.
Workers Credit Union
To open a CD with a APY at Workers Credit Union, you'll need a $500 minimum opening deposit and an active account. To open an account, you must meet one of a few requirements.
You can live work, worship or attend school in Lowell or Worcester, Massachusetts.
You can work for a specific participating employer.
You could have a roommate or family member who is already a member.
You can also join by donating to the United Way of North Central Massachusetts.
WCU's APY flex rate CD is a 36-month CD that changes based on the federal funds rate. If the Fed votes for another interest rate hike, you could earn even more on your CD. But if the Fed opts to lower interest rates, your yield won't be as high.
If you'd rather have the stability of a guaranteed APY, you can open a special 10-month CD at WCU with a fixed rate of APY.
Bellco Credit Union
Bellco Credit Union, based in Colorado, offers APY on a 6-month CD with a balance of $500 or more. That means you'll earn $271 on your $10,000 deposit at the end of six months. Check with the credit union to find out about any early withdrawal fees or penalties. After the CD matures, you can choose to renew for another six months at the day's current rates.
You can join Bellco even if you aren't a Colorado resident. This can be done by donating at least $10 to join the Bellco Foundation, a non-profit organization providing financial support for charitable causes in the Colorado communities it serves.
U.S. Alliance Financial
U.S. Alliance Financial has a 12-month certificate with a promotional APY of and an 18-month certificate with an APY of . You can open a CD with as little as $500.
Benefits of CDs
Unlike many bank accounts, CDs typically don't have monthly maintenance fees. Because your money is locked in for a fixed time period, you won't face as much temptation to tap into the savings housed in CDs. Early withdrawals may result in penalties or fees.
Also, because you are keeping your money in a CD for a fixed time period, known as the term of the CD, you know exactly how much you will earn on your CD when it's time to cash it out. For instance, you can count on earning $500 from a 12-month, $10,000 CD at a rate of 5.00% APY.
CDs are also a safe option. When you open your account at an insured bank or credit union, your money will be covered up to $250,000 by the FDIC or NCUA.
Final Note
With CD rates higher than they've been in decades, it's a great time to invest some of your short-term or even longer-term savings into a high-yield CD. CDs offer the benefits of high interest rates, no monthly fees and guaranteed returns.
FAQ
Here are the answers to some of the most frequently asked questions regarding interest rates.
Can you get 6% interest on a CD?

Right now, no bank or credit union offers 6% APY on a CD account. However, if you open a 36-month flex rate CD at WCU and the Fed raises the funds rate by another 0.25% at any of the upcoming meetings slated for this year, your variable rate CD could earn close to -- or even more than -- 6%.

Which bank gives 7% interest on savings accounts?

Although interest rates are high right now, interest on savings accounts has not yet reached 7%. You can find savings account interest rates of 6% and CD interest rates of 5% or more.
Rates are subject to change; unless otherwise noted, rates are updated periodically. All other information on accounts is accurate as of June 14, 2023. 
Editorial Note: This content is not provided by any entity covered in this article. Any opinions, analyses, reviews, ratings or recommendations expressed in this article are those of the author alone and have not been reviewed, approved or otherwise endorsed by any entity named in this article.
Our in-house research team and on-site financial experts work together to create content that's accurate, impartial, and up to date. We fact-check every single statistic, quote and fact using trusted primary resources to make sure the information we provide is correct. You can learn more about GOBankingRates' processes and standards in our editorial policy.