What Is an Add-On CD?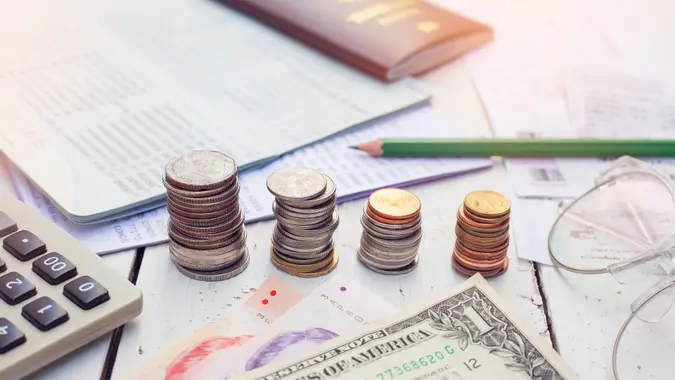 Mamphotography / Getty Images
It isn't difficult to find CD offerings with very attractive APYs right now. But what if you don't have enough money saved up to take advantage of these higher interest rates? Can you continually add to a CD as you save more? Traditional CDs do not have this feature, but add-on CDs allow you to add more funds beyond the initial deposit.
Before committing to an add-on CD, it is essential to fully understand how add-on CDs work and how the APYs for these accounts compare to other savings options.
What Is an Add-On CD?
An add-on CD is a type of certificate of deposit that allows you to make additional deposits throughout the account term beyond the initial deposit. When you make the initial deposit, you lock in the interest rate for the entire CD term. However, you might face early withdrawal penalties if you need to access your money before the CD matures.
Pros of Add-On CDs
Good option if you are working toward a specific savings goal, like a down payment for a home.
Can make contributions toward your goal whenever you have extra funds.
The early-withdrawal penalty may dissuade you from dipping into your savings for another purpose.
Cons of Add-On CDs
Could have a lower APY than standard CDs or savings accounts.
You will face a fee if you need to withdraw funds before the end of the term.
Which Financial Institutions Offer Add-On CDs?
Few financial institutions offer add-on CDs, but Bank5 Connect, Fairwinds Credit Union and First Horizon Bank are three institutions that do. The following is a quick overview of the add-on CDs offered by these banks and credit unions.
Bank5 Connect
One of the better add-on CDs you'll likely find right now is with Bank5 Connect. It offers a 24-month add-on CD with a APY. However, it requires a $500 opening deposit.
Fairwinds Credit Union
Fairwinds offers two add-on CD options that you can open with as little as $100. Fairwinds' six-month CD has a APY and its 12-month CD has a APY.
First Horizon Bank
With an add-on CD from First Horizon Bank, you can make one penalty-free withdrawal every six months. However, it only has a APY and transfers to the CD can only be made from another First Horizon deposit account.
Add-On CD Savings Alternatives
Unless you can find an add-on CD option with a higher APY and longer term, such as the one offered by Bank5 Connect, you might want to consider another savings option that will allow you to build savings faster.
High-Yield Savings Account
If you want to access your savings at any time without worrying about an early-withdrawal penalty, you can find some exceptional interest rates on high-yield savings accounts right now — in the range of 3.40% and higher. Some of these high-yield options come without monthly fees or minimum balance requirements. Just keep in mind savings account interest rates aren't fixed and could go down.
Traditional CD
You might consider buying multiple traditional CDs with higher APYs rather than a single add-on CD with a low APY. Some financial institutions are offering traditional CDs with an APY of 4.50% and higher and low minimum deposit requirements. The interest rate will be locked for each CD for the full term.
Final Take
Add-on CDs aren't offered by many financial institutions, but they do allow you to add money to your balance throughout the CD term, much like a savings account. However, most don't have APYs as high as those you can get from traditional CDs and high-yield savings accounts. Before choosing an account type and a financial institution, carefully compare account requirements, terms and interest rates to determine which option is best for your savings habits and financial goals.
FAQ
Here are the answers to some of the most frequently asked questions about add-on CDs.
Who offers add-on CDs?

You can currently find add-on CDs at Bank5 Connect, Fairwinds Credit Union and First Horizon Bank.

How much will a $10,000 CD earn?

How much you will earn on a CD will vary by term and APY but here are a few examples for 24-month CDs:

-You can make about $878 with a traditional 24-month CD that has a 4.30% APY.
-If you deposit $403 per month for 24 months into an add-on CD with a 3.30% APY, your total will be just shy of $10,000 during the CD term and will earn about $312.
Miriam Caldwell contributed to the reporting for this article.
Data is accurate as of March 15, 2023, and is subject to change.
Our in-house research team and on-site financial experts work together to create content that's accurate, impartial, and up to date. We fact-check every single statistic, quote and fact using trusted primary resources to make sure the information we provide is correct. You can learn more about GOBankingRates' processes and standards in our editorial policy.