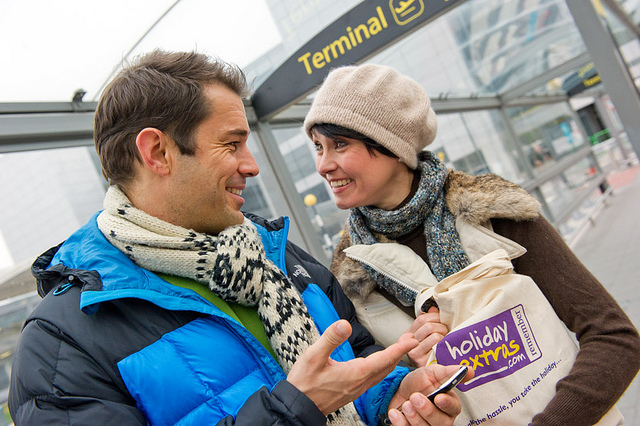 With the holidays just one week away, procrastinators leaving town to meet family are in a panic to find deals on last-minute flights. Typically, the best airfare prices are found 3-4 months before the departure date, but with the high demand of the holiday travel season, airlines know that travelers are willing to get where they need to be, regardless of the cost.
Learning how to save money after you've let your feet drag in booking airfare arrangements is essential to getting to your final destination and surviving seasonal travel expenses. And with the AAA 2011-12 Year-End Holidays Travel Forecast expecting 5.4 million Americans to travel by air over the holidays, there will be greater competition to snag the best last-minute travel deals.
"If you are only booking your travel now, don't be surprised if rates are high," says Mark Drusch, Chief Supplier Relations Officer of CheapOair.com.
Saving money on airline tickets takes a lot of quick thinking and stealth, so here are seven ways to save money on air transportation costs this year.
How to Save Money on Last-Minute Flights
1. Keep Travel Details Open
"Be flexible with your travel plans to find the best deals," suggests Drusch. Peak departure days at airlines are on days surrounding the weekend, and that's more true than ever this year with Christmas Eve falling on a Monday. Expect to see the highest prices on airfare on flights leaving cities on Friday and arriving back the day after Christmas.
Expedia.com prices on a non-stop, round-trip flight from Los Angeles to Miami, departing to Florida on Friday, December 21st and arriving to California the day after Christmas, Wednesday, December 26th costs a jaw-dropping $1,343 per person. Even connecting flights with two planned stops costs last-minute travelers $1,002 on American Airlines.
However, a shorter trip — one aimed specifically on spending time with family on Christmas Day — cuts the price of airfare in half. A similar non-stop, trip as the example cited above that departs on Monday, December 24th and returns Wednesday, December 26th only costs travelers $593 per passenger, according to Expedia.
2. Subscribe to Airline E-mail Alerts
With time running short, it's important to keep a pulse on promotions being offered by various airlines. E-mail alerts can help clue you into remaining last-minute flights at discount prices. While the selection of flights between cities is, at times, minimized on these promotional rates, travelers may strike savings gold by being aware of flash deals.
3. Travel Alone
You won't get by with a little help from your friends, when it comes to last-minute travel, as booking a large group in such a short period of time is not only hectic, it's nearly impossible. When searching for available seating, airline availability tools search for seating that can hold your stated party number, and plane seating can range by about 10 different price points. Depending on where the most available seats are for your large group (likely the area of the aircraft that's most expensive at this point in the game) you can see ticket prices soar.
For this reason, agree to part with family members and friends temporarily during the flight to save hundreds, and meet at a predetermined location afterward.
4. Turn in Frequent Flyer Miles
Have you accumulated frequent flyer miles during your home visits away from college, or while on business trips throughout the year? Now is the time to reward yourself by saving money on peak holiday travel prices.
According to the AAA Holiday Travel Forecast, Americans are expected to spend an average of $718 on air transportation this year, which is up 3 percent compared to last year's $694 — to further put a sting on consumers' bank accounts, procrastinating until the last minute increases prices dramatically.
Turn in your frequent flyer miles for a boarding pass and pay less out-of-pocket during one of the most expensive times to fly in the year.
5. Book through Cash Back Websites
A double-whammy when it comes to earning rewards is to not only use frequent flyers miles when booking passage at a major airline, but also to reserve your spot using a cash back website, like FatWallet.com or Ebates.com.
Simply search for the airline of your choice on each website, and identify which site offers the highest cash back percentage on purchases. Once you've determined that, click on the airline's link provided on the page and book your desired flight. Don't forget to use your frequent flyer credit card or debit card to further reduce costs on future airfare as well.
6. Pack Light
When traveling on a budget, it's especially important to ensure that you don't get hit with additional, unnecessary fees. Saving money on baggage fees can go a long way to reducing the overall cost of your holiday trip, so don't bring your entire bathroom cabinet along for the ride.
Drusch shares that typical holiday traveler trends include, "a surge in families traveling, unaccompanied minors, lots of on-board bags with wrapped gifts, and travelers that don't travel much. It means that security lines will be longer than usual and planes, including the over head bins, will be even fuller."
Save yourself cash and frustration by bringing only essential clothing, and even consider purchasing travel-sized toiletries at your destination to reduce baggage weight and risk having to pay extra for more packages.
7. Avoid Big Airlines
If flying on a major airline is something your finances simply can't stomach this season, consider avoiding big names in lieu of smaller airlines.
According to Michael McColl, publisher of TravelInsider.com, "checking smaller, low fare airlines seems most promising" for last-minute flights for less.
Allegiant Air is an example of a smaller airline that offers incredible deals for procrastinating travelers. A departing flight from Los Angeles on Friday, December 21st, for example, costs $330; the return trip scheduled for Wednesday, December 26th is at a doable $153 — in total, this last-minute travel option is just $483 for the peak holiday weekend.
McColl continues, "It is wise to watch out for hidden fees, no matter who you fly. These days you can be hit with fees for checking a bag, for carrying on a bag, or even for not printing your own boarding pass."
Scrambling to find out how to save money on last-minute travel can be stressful, but by implementing these simple strategies into your air travel search you can prevent inflated airfare costs from being a turbulent factor in your budget.
(Photo: HolidayExtras)