Are You Utilizing 'Mistake Fares' To Find Cheaper Flights? What They Are and 3 Ways To Find Them With Ease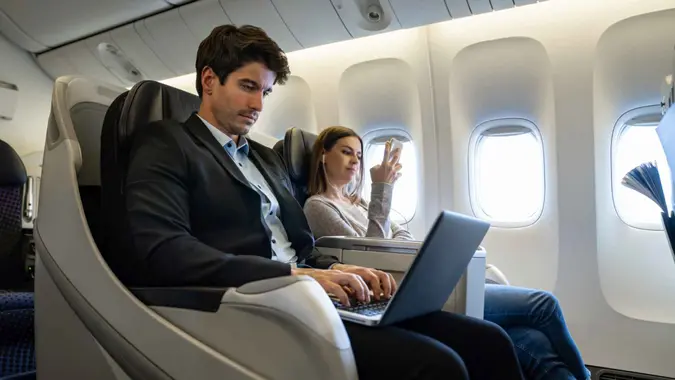 andresr / Getty Images
Flight prices have been trending downward since the beginning of the year, but it's still one of the biggest expenses when it comes to travel. According to the Bureau of Transportation, the average U.S. domestic flight was $382 in the first quarter of 2023. Luckily, there are plenty of options to save money when flying, including mistake fares.
Mistake fares are seats priced incorrectly in any airline class — either by error and/or a glitch — and if you catch them before they're fixed, you could save hundreds of dollars, according to Explore.
In most situations, airlines will take the loss and honor the ticket, but it's not a guarantee.
The Department of Labor allows airlines to deny the validity of mistake fares. According to Explore, between 10% and 20% of tickets booked with mistake fare prices are canceled. Explore suggested waiting at least two weeks to see if your ticket is canceled — or you can confirm with the airline directly that they'll honor the ticket. Another drawback is that you don't have control over the destination.
If you're a spontaneous traveler and want to start searching for mistake fares, Explore indicated you can find them using the following methods.
Sign Up for Newsletters and Notifications
Sign up for newsletters and notifications from websites like Fly4Free, Skyscanner or Secret Flying. These websites allow you to compare cheap flights and set up price alerts to book when the price is right. You can also set up price alerts for specific routes on Google Flights and Kayak.
Make Your Money Work for You
Secret Flying specializes in mistake fares or error fares and searches through millions of flights each day. When they find one, they send you an alert to let you know a mistake fare is available.
Receive Exclusive Deals by Email
Some websites, like Going, offer memberships where you can receive exclusive membership deals. Going said mistake fares aren't rare, but they only pop up once every four to six weeks on average. Notable mistake fares Going has sent to members include a business class ticket from Chicago to Rome for $249 and San Francisco to Buenos Aires for $233 roundtrip.
Follow Flight Deal Twitter Accounts
According to Explore, you can follow accounts like @TheFlightDeal and @FareDealAlert on X, formerly Twitter, and turn on your notifications to see their newest deals. New deals drop throughout the day, so make sure you're on the lookout. When you see a good price, make sure to book directly with the airline.
More From GOBankingRates