How To Best Save Money (and Time) If Your Flight Is Cancelled or Severely Delayed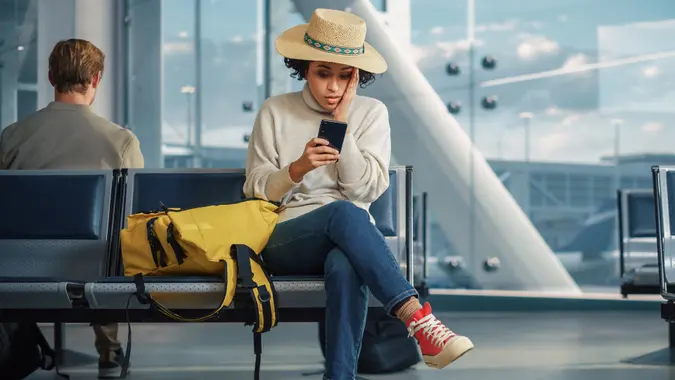 gorodenkoff / iStock.com
As we gear up for the holiday travel season, airlines' track records for on-time flights are improving slightly. Research from Cirium.com shows that Delta, the leading airline in North America for on-time performance, improved its performance by four points between August and September, with an OTP of 86.40%.
Alaska Airlines jumped to 83.81% and United Airlines had an OTP of 82.54%. However, experts told Fortune.com that delays and cancellations could become the new normal.
Severe delays can lead to missed connections. Cancellations may cause travelers to miss important events, miss hotel check-in deadlines, get stuck paying cancellation fees, and disrupt travel plans in ways that have a ripple effect.
According to experts, what is the best thing to do in this situation? "Stay calm," said Shreya Patel, marketing manager at Lowest Flight Fares. "Keeping it cool during flight disruptions is very difficult. Especially when you miss a connecting flight due to delays or cancellations."
But if you approach the airline grounds crew with a smile and calm demeanor, they will more likely accommodate your requests and work their hardest to get you on the next flight.
Here are the steps you can take if your flight is severely delayed.
Speak to the Ground Crew
According to Patel, the first step is to get in touch with someone within the airline, either on the phone or at the airport, who can provide insight. "The most practical thing to do is to contact the airline's ground crew, ask them the length of the delay, and let them know the troubles you are facing due to the delay," she said.
Make Your Money Work for You
Depending on their answer, you can decide on your best course of action. If you need help reaching someone at the airport, try the airline's app or call their customer service number. If you still have no results, take your complaints to social media. You may get a response more quickly.
Know Your Rights
If the airline staff has given you a few options, such as a connecting flight, a comped hotel stay, and food vouchers, you can decide your best course of action. If you want to change the choices, review the airlines' website to determine their policies and what else you can request.
You can also reference the DOT Cancellation and Delay Dashboard to see what you are entitled to since policies vary by airline.
Decide If It's Better to Rent a Car and Drive
While your vacation plans may not have involved initial hours on the road, in some cases, it's cheaper (and faster) to request a refund of your flight, rent a car from the airport and drive to your destination. If you take this route, remember to factor in fuel costs and lost time.
While an airline may compensate you for a hotel if you decide to take a connecting flight the next day, they won't cover the cost of a rental car or gas to get to your destination. 
Book Another Flight
If driving won't work, try to book another flight immediately. If you've booked through a travel agent, they can help you find an alternate flight. Otherwise, ask your carrier's representatives at the airport. You should negotiate that they waive any change fees, even if you are booking with another airline.
Make Your Money Work for You
Book a Hotel, If Needed
Don't delay booking your hotel if you decide to wait it out. If a busy flight is canceled or significantly delayed, hotels near the airport may book up quickly. Don't be afraid to splurge within reason, as the airline should cover the hotel costs for overnight delays.
"In terms of flight cancellations or delays, airlines have a 'Duty of Care' towards their affected passengers. This includes a reasonable amount of food and drink, accommodation for overnight delays… and transportation to and from the airport to the hotel or your home," Patel said.
Seek a Refund
If you can't book an alternate flight and opt to drive – or cancel your trip altogether – you are entitled to a complete flight refund. This law applies "regardless of the reason and if the customer chooses not to travel on an alternate flight booked by the airline," Patel told GOBankingRates in an email interview. "This law is also applicable in case of schedule changes or significant delays."
However, don't be surprised if the airline tries to push back. "[A]irlines try as much as possible to avoid paying a full refund and instead offer food vouchers, future travel credits, or provide you with an alternate flight," Patel said. "If the voucher or future travel credits or the alternate flights are not suitable to you, you can ask them for a complete refund."
The law applies even if you booked with a third party, Patel said.
If the airline or third-party booking agency doesn't comply, you should file a complaint with the Department of Transportation at https://secure.dot.gov/air-travel-complaint. You'll need the name of the airline, flight date, and cities or flight number.
Sit Back And Relax
If you opt to wait for a connecting flight on the same day, try to make the most of your time. "Once you are done with the basics and have nothing to do except for sitting or roaming around the airport, then scroll your phone, watch Netflix, listen to music, interact with the people, or try some good food at one of the food counters," Patel recommended.
However, she said, "Don't spend money on food at the airport or in the duty-free section. You have already paid enough for the ticket… Airlines offer food vouchers if the flight gets delayed by three or four hours.
"You may even try to relax in style, with complimentary food and beverages, in an airport lounge. "Airlines generally provide lounge access to those who are either members of airline frequent flyer programs, have elite status, a day pass, or airline's co-branded credit cards. But depending on the length of delay, if a passenger requests lounge access owing to the inconvenience they are facing, the airline can give you access to their airport lounges."
Patel added, "If you have lounge access, you can freshen up, relax, and get access to their WiFi."With laws established to protect passengers who face delays, travel disruptions don't have to ruin your trip. Staying cool and knowing the right steps to take when your flight is severely delayed or canceled can help you appreciate, and maybe even enjoy, every moment of the journey, even if it takes a bit longer than you expected."
More From GOBankingRates