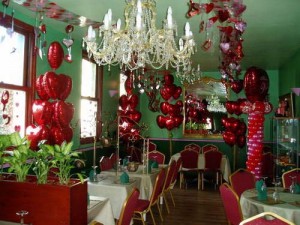 They say you can't place a price on love, though you'd never think so this time of year. The best Valentine's Day gifts are full of well-placed sentiment, but often seem to break the fragile hearts of our savings accounts.
After years of national overspending on this holiday — in 2012, total spending was estimated at $18.6 billion(!) —  it seems Americans are finally getting a bit of the V-Day sticker shock. The National Retail Foundation predicted that consumers will celebrate slightly more modestly this year, especially after such a robust holiday shopping season. The NRF found that only 54 percent of Americans will celebrate the holiday with a loved one this year, down from 60 percent in 2013.
If you've been struck by Cupid's arrow, the act of giving a present for your betrothed or beloved is one of the best feelings in the world — if the gift is worth it. But when your heart, and not your head, rules your spending habits and ignores your budget, you could fall the unfortunate victim to one of many overpriced, overrated Valentine's Day rip-offs.
From some of the simplest-looking fruit or flower arrangements, down to the most ostentatious and just plain bizarre gift ideas, all carry premium price tags. Take caution before buying or you and your wallet could be headed for trip down the aisle to Breakup City.
Valentine's Day Rip-Offs to Avoid
1. Edible Fruit Bouquets
They're impeccably arranged, mostly fresh and a somewhat healthier, low-calorie alternative to candy (minus the chocolate-dipped strawberries).
However, the average fruit basket bouquet from sites like ediblearrangements.com will set you back $100. And that's just to start.
Upgrade to party or banquet sizes, still very modest in scale, and this gift idea — normally just the "appetizer" of your romantic evening — will reach into the upper $200 range.
2. One Dozen Red Roses
Not overly expensive as much as overdone. No Valentine's Day would be complete without flowers, especially 12 crimson roses, the unofficial trademark of Valentine's Day.
If you're considering Valentine's Day flowers as just one part of a multi-staged gift idea, or if V-Day slipped your mind completely and an emergency midnight run to every local florist is in order, you could pay big bucks.
You get what you pay for with flowers, and cheap bouquets wear their (lack of) value in every petal and short shelf life. Local florists are the most economical way to buy flowers, sans the shipping and packaging charges found in online sources, but the high demand of roses for V-Day drives up the cost of one bouquet, which can run $100 and up, vase not included.
And if your love can't be summed up in less than two or three dozen flowers, ask your checking account if they're feeling the chemistry in this relationship.
Out of money for Valentine's Day gifts? Try one of these DIY ideas:
3. Expensive dining out and V-Day menus
That 4-star, 3-course, Zagat-rated prix-fixe dinner might be harder to swallow than you think. In 2012, the NRF projected that the total dinner check for lovebirds eating out on Valentine's Day would be about $3.6 billion — gratuity not included.
Apart from making a date night out of inventive, novel ideas like heart-shaped, deep-dish pizzas hailing from Chicago, stay home on Feb. 14 and prepare a romantic meal for two together (or opt for breakfast in bed in the a.m.). Plus, you can shop for the ingredients together, light some candles and avoid the headaches of making reservations, waiting in line and underwhelming service for overpriced fare.
Related: A Cheapskate's Thoughts on Romance, Love and Other Affairs of the Heart and Wallet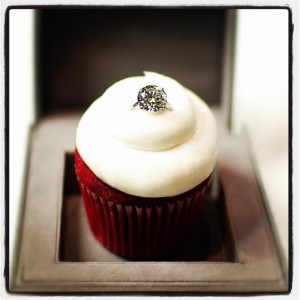 4. Jewel-encrusted desserts
Is it the cut of the diamond or just one hell of a tasty pastry to demand $55,000?
That's the going price of the world's arguably priciest cupcake. Baked by Cupcake Gourmet, atop the frosting of this gourmet red velvet treat is an 8-carat engagement ring. The message? Maybe that love is eternal, but dessert lasts only a few indulgent bites?
Vosges-Haut Chocolat gives sweet-toothed lovebirds something more substantial, but no less accessible, to chew on. At $1,095, their "Travel the World Steamer Trunk" contains a sampling of every chocolate, truffle and bonbon in the company's collection –almost as much as a plane ticket to circle the real globe.
And at $95, a pair of edible, yet wearable "Chocouture Heels" for your lady friend aren't quite as expensive as those Manolo Blahniks, but that's understandable because they can't be worn anymore once eaten.
There are other, cheaper alternatives to the generic box of candy, like a jumbo-sized Hershey bar on the market for only $39. But like anything perishable, most of these gift ideas won't last and can't be purchased by the average person on a budget without a credit check, MSRP and financing plan.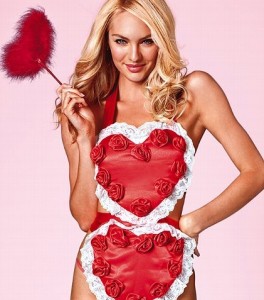 5. Lingerie
Guys can score points for the effort, but should ultimately leave it up to their spouses and girlfriends to choose their own jewelry and lingerie.
Apart from making some questionably dubious stylistic choices on the Victoria's Secret floor — like that cone-shaped Madonna bra on sale — underwear and intimate wear can financially rip off the purchaser when not bought wisely.
Designers like La Perla, Wolford and Agent Provocateur may create chic products, but when considering that some lingerie pieces are only part of a complete ensemble, you could be spending upwards of $1,000 or more for completist's sake.
6. Valentine's Day
It's not about boycotting Valentine's Day, but downplaying the overpriced, commercialized aspect of the holiday that can be so cost-prohibitive for many.
Some of the most sincere, thoughtful ways to tell your loved one that you love them is to find creative and unique ways to spend time together without the obligation of breaking the bank. If you're both fiscally frugal, it's probably one of the admirable qualities that brought you together to begin with.
Before getting set back on Valentine's Day, substitute your special day with frugal ideas your significant other will appreciate more than any bauble or trinket could ever say.