Five Below Hours: Full Hours and Holidays When You Can Find the Best Deals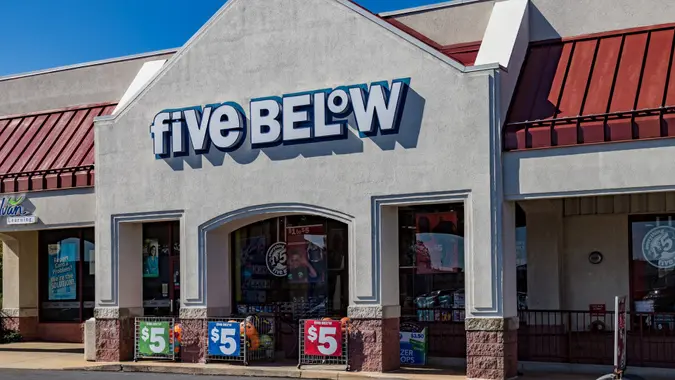 gsheldon / iStock.com
Known for year-round deals, Five Below originally only sold items costing $5 or less but has expanded to selling fancier items for all ages. Whether you're looking for clothes, electronics, toys or home goods, the chain is a popular choice this holiday season, especially since you can expect special sales events. Five Below's best deals can sell out fast, so you'll want to know the full store hours and some helpful shopping tips to not miss out.
When You Can Shop at Five Below
While you can shop on Five Below's website 24/7, you'll need to visit a local store to buy items in person or take advantage of certain promotions. The retailer is open every day except Thanksgiving, Christmas Day and Easter. 
According to the Krazy Coupon Lady, here are the typical hours for different times of the year:
Mid-November to mid-December: 9 a.m. to 10 p.m. every day
Mid-December to April: 10 a.m. to 7 p.m. Monday through Saturday and 11 a.m. to 6 p.m. Sunday
May to September: 10 a.m. to 9 p.m. Monday through Saturday and 11 a.m. to 7 p.m. Sunday
October to mid-November: 10 a.m. to 8 p.m. Monday through Saturday and 11 a.m. to 7 p.m. Sunday
There are exceptions for certain holidays. On Black Friday, stores will be open from 8 a.m. to 10 p.m. The retailer usually closes at 6 p.m. or 7 p.m. on these holidays:
Christmas Eve
New Year's Eve
Memorial Day
Independence Day
Make Your Money Work for You
Keep in mind that these times are just guidelines and that some stores may have different hours. You can use Five Below's store finder tool or call your local store to get the exact times.
When Five Below Holiday Deals Take Place
Five Below usually offers special sales on both Black Friday and Cyber Monday. These may not only include discounts on certain products but also some exclusive items for the holidays. In the past, some deals have been online-only or in-store only, while others were available through both shopping options.
Additionally, the retailer will likely have more Sunday Squishmallow release events in stores and online. These are worth checking out for inexpensive, trendy gifts. You can usually buy them online as early as 5 a.m. ET.
You can check Five Below's website or social media pages for information on upcoming holiday deals and Squishmallow release events. Even better, join the retailer's email list to get alerted quickly and increase your chance of getting the items you want before they sell out.
Follow These Five Below Shopping Tips
When shopping, aim to save money and hassle. Since the retailer usually doesn't offer free shipping, you might use the in-store pickup service to secure in-demand items and avoid shipping costs and delays. This gives you three days to pick up your order. Five Below also works with Instacart for quick deliveries, but this can get expensive with delivery fees and tips.
Make Your Money Work for You
More From GOBankingRates