Starbucks' Holiday Hours for New Year's Eve and New Year's Day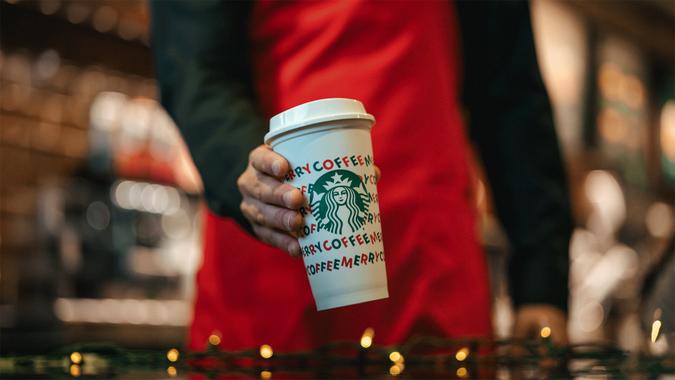 ©Starbucks
Starbucks needs no introduction — the ubiquitous coffee franchise can be found all over the world. Whether you need a pick-me-up as you tackle your holiday to-do list or want to treat yourself after all the gift wrapping is done, your nearby Starbucks may be just what you're looking for.
Like many retailers, Starbucks typically has different hours during the holidays than it does during the rest of the year. This year, hours may be even less predictable than usual as stores in some areas may have to close earlier or limit their capacity. Here's what you need to know if find yourself looking for a Starbucks store that's open on New Year's Eve or New Year's Day.
Starbucks' Holiday Hours
Some Starbucks locations are open 365 days a year, but not all of them. For those locations that are open year-round, the company does not keep a universal holiday schedule. So if you're wondering whether Starbucks is open on Christmas Day, the answer is that Starbucks' holiday store hours vary by location. As the holidays approach, stores update their hours. Call your local Starbucks store directly to find its exact holiday hours.
Make Your Money Work for You
The pandemic may mean that Starbucks stores have to make unexpected changes to their opening hours this year, so it's more important than ever to call ahead to make sure you can get that Caramel Brulée Latte when you need it. Or use one of the following ways to determine the operating hours of your favorite Starbucks or find the nearest open store.
Starbucks Store Locator
You can find specific hours stores are open by using the company's store locator tool. The tool will search based on your current location, or you can find Starbucks stores anywhere.
To find stores in a certain area, all you have to do is type the city and state or ZIP code into the tool and select the "Filter" button. Then, click on the information symbol to view hours of the location you're interested in. The store locator will also tell you if that store offers mobile ordering, mobile payment, a drive-thru or other amenities.
Starbucks Mobile App
The Starbucks app makes it easy to find the nearest store that's open on Christmas Day — or any other day, for that matter — right on your phone. For many stores, you can also order ahead on the app, so your latte or Frappuccino will be waiting for you when you arrive. You can download the Starbucks app for iPhone at the App Store or for Android at Google Play.
Make Your Money Work for You
To find out if there's a store near you that's open when you need that caffeine fix, open the app and tap "Stores." The app will show you the stores nearest where you are, sorted by distance. If a store is closed at the time you're checking, the app will indicate when it will reopen. The store listing will also indicate whether or not you can order ahead at that store.
Starbucks Locations at Target Stores
If your favorite Starbucks happens to be located inside a Target store, you should know that Target locations will typically be open until 8 p.m. on Christmas Eve, so you can grab yourself a caffeine pick-me-up as you finish that last-minute shopping. They are closed on Christmas Day, however.
Target stores generally close at 9 p.m. on New Year's Eve and are open regular hours on New Year's Day.
Keep in mind that hours may vary by location, so you'll want to use Target's store locator to find your local store's exact hours.
How To Contact Starbucks If You Need Help
Starbucks help is available seven days a week. You can reach customer service in a couple of ways, including the following:
By phone: Call 800-Starbuc (800-782-7282) anytime between 5 a.m. and 8 p.m. PT.
Via live chat: Assistance is available from 4 a.m. to 10 p.m. PT.
Note that the customer contact center will be closed on Christmas Day and New Year's Day.
Information is accurate as of Nov. 11, 2021.
Cynthia Measom contributed to the reporting for this article.