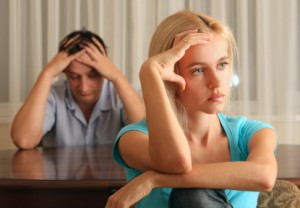 For many once happily-married couples, going through a divorce is one of the most emotionally difficult processes ever. The idea of tearing a family apart and dissolving a great love can undoubtedly be a devastating experience.
But another part of the process that can be just as heart-wrenching is the price of divorce. In fact, for some, the costs associated with the divorce process are so high that couples actually reconsider going through with the decision. Let's look at the real price tag for divorce and why some people choose to avoid the process rather than deal with the costs:
The Cost of a Standard Divorce
There is no doubt that a standard divorce can be a costly affair for both parties involved. Whether you're deciding how to pay for lawyers or who will pay for child care after you've split up, there are a ton of divorce costs to think about.
As estimated by Brette Sember, the author of The Divorce Organizer and Planner who was interviewed by SheKnows.com in 2010, "It's safe to say the cost falls between $2,000 (for an uncontested pro se divorce) to tens of thousands of dollars for a hotly litigated divorce."
For a couple that is just scraping by, these average costs could seem astronomical. Let's take a look at some actual costs and losses a couple could face that might make divorce sound like even more of a bad idea:
Divorce lawyers: One major cost of divorcing a partner is paying for a lawyer. As noted by Sember, middle class families "can expect to spend between $10,000 and $30,000″ on lawyers by the time the divorce process is complete. These figures do not include the actual assets settled and divided.
Court costs: When the party has to show up in court, the costs begin to increase even more. Assuming that lawyer costs have already been calculated, the court costs alone would average $2,000 depending on how long the process takes.
Split assets: Dividing up assets becomes a major hindrance if both parties feel that they've made substantial financial contributions to the marriage. From deciding how to split up the bank accounts to choosing who gets the cars and even Fido, the process could be very costly. If one or both decide to hire an accountant, the fees for required financial statements could average $250 per hour, which means each party could spend upwards of $5,000 for assistance.
401(k) loss: In many states, a person's 401(k) is falls into the category of split assets. This means, depending on where you live, half of the money you worked hard to invest on the job (as well as your company's matches) could become the property of your ex-spouse if you didn't properly safeguard your portfolio.
Credit issues: If your spouse had credit issues, you could still be saddled with a portion of their debt.
There are plenty of other costs that arise with divorce. Between the unexpected additional costs that could include having to purchase a new car, find a new place to live and furnishing a new home, plus the costs associated with the stages of court-based divorce (pleadings, financial statements, motions, examination, case conference and trial), a divorce could easily cost upwards of $50,000.
Of course, depending on whether someone is required to pay child support or alimony, that amount could increase substantially. Further, the costs could stick around for years to come.
Due to High Costs, Some Try "Nondivorce"
There's no doubt that divorce statistics are high, but after looking at how much the entire process could cost, it's no wonder that many couples choose not to make their decision legal.
In fact, a new term has been coined for those who would like a divorce, but can't afford it. It's called the "nondivorce." A few in this situation are able to separate into different households, but most live under one roof as passionless roommates.
Of course, the pros of this arrangement include avoiding excessive divorce fees and taking on two separate households. However, the cons are often more detrimental in that they confuse the children who watch their parents engage a loveless partnership and it prevents the parents from being able to move on to new, meaningful relationships.
The MSN article that explored the concept of nondivorce examined a couple that had been married for 26 years and in nondivorce for six years. After realizing that they're disagreements over their children's education strained their marriage too mich, they decided it was time to part ways. Unfortunately, neither of them made enough money to make on their own, so they decided to remain under one roof.
There are a growing number of couples who decide to take the nondivorce, or de facto marriage, route. While the statistics regarding this type of arrangement are few, the 2010 Census has determined that 2.3 percent of married couples are currently separated but not fully divorced.
Cheap Divorces Are Becoming Commonplace
For those who have found it difficult to pay for divorce, cheaper options have provided affordable alternatives. Here are a few:
Self-negotiating: This is deemed the cheapest and simplest way to handle a divorce. By utilizing websites like Divorce.com, you could do all of the negotiating on your own. These sites offer a lot of information and services, including downloadable divorce kits to guide you through the process. By taking this route, the divorce could cost as little as $50 to $250.
Mediation: Another cheap divorce option is mediation, which allows the couple to hire a mediator trained in conflict resolution and family law to oversee negotiations. Because mediation reduces billable attorney hours, the cost of divorce reduces to an average of $5,000.
Collaborative law negotiations: This option is becoming increasing popular because while both parties are allowed to hire lawyers, no litigation is allowed to resolve difference, cutting down costs to an average $3,000 per spouse.
Some couples have also found that a prenuptial agreement creates a simple financial understanding from the beginning of the marriage. However, some have found that such a discussion forces issues of trust that many don't want to face. So before placing this type of agreement on the table, it's good for the couple to feel confident that their understanding of its benefits is crystal clear.
There's no doubt that divorce is the end result for many marriages; unfortunately, it's something over 50 percent of married couples have had to face. If you find that you and your spouse could head down this path, it's good to first look at its real price tag before making any serious decisions.