What Is a Prenuptial Agreement and How Do You Get One?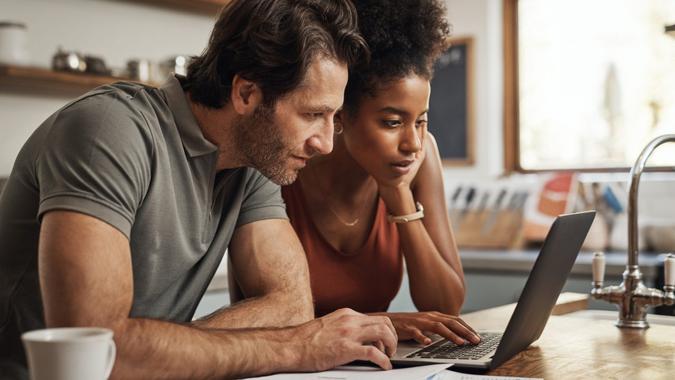 PeopleImages / Getty Images
Whenever a high-profile couple's impending divorce makes headlines, there's often discussion of a prenup. A prenup, short for pre-nuptial agreement, is a legal document that describes what will happen to finances and assets during the marriage, and how the couple's assets will be divided in the event of a divorce. It's created before the wedding, which can make it a bit of an emotional tinderbox. Before you tie the knot, here what you need to know about a prenup.
Who Needs a Prenup?
While the divorces of billionaire couples like Bill and Melinda Gates and Jeff and MacKenzie Bezos are the ones that get people talking about prenups, they're not just for the super-rich. There are a number of circumstances that could make getting a prenup a smart decision. Here are just a few.
Make Your Money Work for You
When You Should Get a Prenup

Prior marriage. If you've been married before, and particularly if you have children from your previous marriage, a prenup may make sense. You may want to specify what will happen to the assets that you bring to the marriage, especially as they may impact your children.
Higher or lower net worth. If you have a significantly higher – or lower – net worth than your intended, a prenup can help ensure that, should the marriage go south, you won't lose half of what you came into the marriage with.
Business owner. If you own a business or have a stake in a business, you may have more equity than cash, and therefore think you don't need a prenup. Think again – if you get divorced and have to split the business equally, you may find yourself not only working alongside your ex-spouse but having to agree on business decisions 50/50.
Stay-at-home spouse. When a couple decides that one spouse will stay home with the children while the other provides for the family financially, a prenup may be in order. Otherwise, the stay-at-home spouse may find themselves with few resources and no ability to earn a living in the event of a divorce.
What Does a Prenup Cover?
A prenup outlines what will happen in the event of a divorce. While it's often associated with the division of a couple's existing financial assets, it can also cover things like child visitation and support, spousal support, future inheritances and more.
It can also cover what will happen if the marriage ends for a particular reason or at a particular time. For example, a prenup could have a provision that, if one partner is unfaithful, the other partner gets a larger share of the couple's assets than they would otherwise. Or it may specify that one spouse gets a certain amount if the marriage lasts for a specific number of years.
Make Your Money Work for You
If you're thinking about a prenup, think about the decisions that will be made in the event of a divorce, and answer those questions as best you can in the prenup.
Who will live where?
Who will the kids live with?
How much will be paid in child support or alimony, etc.
The difficulty, of course, is that no one has a crystal ball, so there's no way to tell before the wedding what life will be like at the time of divorce — if there is one. So you can try to plan for every eventuality, but there may still be surprises.
How Much Does a Prenup Cost?
The cost of a prenup can range from $1,500 to $10,000 or higher, depending on how complicated the estate is. If the agreement is simple, then only a flat fee would be charged, but if matters are more complicated than that, most couples will need to hire an attorney, who can charge by the hour.
How Do You Get a Prenup?
A pre-nuptial agreement is a legal document, so you can have a lawyer draw it up for you. You can also do it yourself using legal software. Keep in mind that a good divorce attorney will scrutinize a prenup that does not favor their client, so if you have complicated or unusual circumstances, you may want to hire an attorney to make sure it gets done correctly.
Make Your Money Work for You
If you have an attorney draw up your prenup, you will, of course, have to pay them to do so. How much it will cost will depend on how complex your situation is. But paying an attorney to write a prenuptial agreement that both parties agree on when they are in love and planning to marry will almost certainly be cheaper than paying two attorneys to split up the assets of a couple who have decided to divorce.