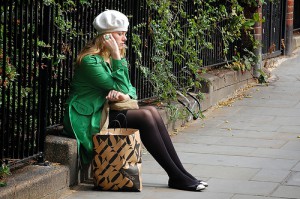 How many times has this happened to you: You go into a store with a certain amount of money in mind for holiday spending, but you end up leaving having spent way more on holiday shopping than you intended?
This isn't entirely a question of will — stores make an effort to get you to spend more than you originally budgeted. If you're not wise to their ways, it can be a lot easier to part you with your hard-earned savings. We spoke to a few financial experts to get the inside scoop on the ways stores get you to spend more.
5 Ways Stores Get You to Spend More
1. Teaser Items
This is when a store puts out an item that's cheaper than the rest to get you in the store. Once you start spending, it's easier to get you to keep spending. "Once they get you to feel good about one purchase," says Ted Jenkin, co-CEO and founder of oXYGen Financial, "you lose perspective and they get you to part with more money." This is likely related to the endorphin rush gained when you purchase anything.
2. Appeal to Emotion
The holidays can be a very emotional time. Big corporate marketers are aware of this and have no shame about tugging at heartstrings to achieve their goal of getting you to spend more.
Steve Siebold, author of How Rich People Think, points out, "Stores are decorated like the North Pole and a beautiful Christmas Village." In addition to that, deals like "Buy it today pay for it tomorrow," have people thinking they're getting a good deal when they aren't. "People forget how to think about money logically."
3. Upsells
James Krewson CEO of FindersCheapers.com, a price comparison website, points out the various ways that retailers — online and brick and mortar — upsell customers.
For example, you might buy a DVD and then have the website trying to get you to buy a t-shirt or a toy related to it. In the digital age, there are also "premium cables," which Krewson says aren't necessary unless you're a serious audio/visual fanatic. Finally, there's the old workhorse of add-on warranties, most of which are completely unnecessary.
4. Sales, Sales, Sales
You know how it is: You go in planning to only buy certain things, but then see deals on things that weren't on your shopping list and just can't resist. Because you're in spending mode, it's easier to get you to keep purchasing once you've got your wallet out already. This creates a spending momentum, the deals pile up and before you know it, your shopping cart is filled with things you never intended to buy in the first place.
5. No-Interest Deals
Some stores will offer no-interest deals on credit card purchases. This is to entice you into buying now and paying later. However, as with most "no interest" deals, you'll be paying interest if you fail to pay off the entire balance during the grace period.
Beating the Holiday Retail Scams
The best way to avoid spending more than you intend to during holiday shopping is just simple common sense: Make a list of the things that you need and don't buy the things that you don't. Set a firm limit on what you're willing to spend when you step out for holiday shopping and don't spend a penny more.
While the retailers might have tricks to get you to spend more than you want to during the holidays, you are the one ultimately in control of holiday shopping.
Image: Christiano Betta