Is Lowe's Open on Thanksgiving for Shopping?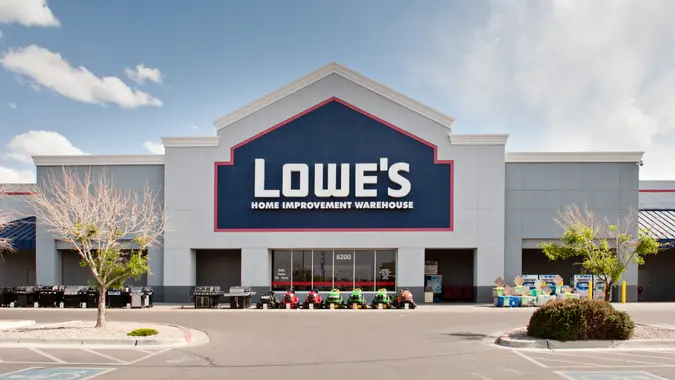 ivanastar / Getty Images
Lowe's has become a favorite store for many as the first stop for home improvement. You can find nearly everything at Lowe's to complete a kitchen remodel just the way you've envisioned it, finish up that project you've been working on or get to work on a do-it-yourself fix.
This Thanksgiving, if you are looking to take advantage of the long weekend by getting a jump start on some house projects, it's good to know if your local Lowe's is open.
See: How To Get Cash Back on Your Everyday Purchases
Is Lowe's Open on Thanksgiving?
Lowe's will not be open Thanksgiving 2023, which is on Thursday, Nov. 23. Lowe's has not usually been open on Thanksgiving Day, so if you've got some gifts to buy or home improvement projects to ready your home for the big day, it's best to head in before the store closes.
Lowe's will reopen again for Black Friday, at its usual hours, from 6 a.m. to 9 p.m. Be sure to check with your local store, though, to be sure when the doors open again on Black Friday.
What Time Does Lowe's Open?
Lowe's is usually open from 6 a.m. to 9 p.m. Monday through Saturday. On Sundays, Lowe's is open from 7 a.m. and closes at 8 p.m., though the exact hours will vary based on the location. Here's a detailed breakdown of the various holiday closures and hours.
Lowe's Holiday Hours
Holiday
Date
Is Lowe's Open or Closed?
New Year's Day
Sunday, Jan. 1
Open from 7 a.m. to 8 p.m.
Martin Luther King Jr. Day
Monday, Jan. 16
Open from 6 a.m. to 9 p.m.
Presidents Day
Monday, Feb. 20
Open from 6 a.m. to 9 p.m.
Good Friday
Friday, April 7
Open from 6 a.m. to 9 p.m.
Easter Sunday
Sunday, April 9
Closed
Memorial Day
Monday, May 29
Open from 6 a.m. to 9 p.m.
Juneteenth
Monday, June 19
Open from 6 a.m. to 9 p.m.
Independence Day
Tuesday, July 4
Open from 6 a.m. to 9 p.m.
Labor Day
Monday, Sept. 4
Open from 6 a.m. to 9 p.m.
Indigenous Peoples Day
Columbus Day
Monday, Oct. 9
Open from 6 a.m. to 9 p.m.
Veterans Day
Saturday, Nov. 11
Open from 6 a.m. to 9 p.m.
Day Before Thanksgiving
Wednesday, Nov. 22
Open from 6 a.m. to 9 p.m.
Thanksgiving Day
Thursday, Nov. 23
Closed
Day After Thanksgiving
Friday, Nov. 24
Open from 6 a.m. to 9 p.m.
Christmas Eve
Sunday, Dec. 24
Open from 6 a.m. to 6 p.m.
Christmas Day
Monday, Dec. 25
Closed
Day After Christmas
Tuesday, Dec. 26
Open from 6 a.m. to 9 p.m.
New Year's Eve
Sunday, Dec. 31
Open from 7 a.m. to 8 p.m.
Make Your Money Work for You
What Holidays Does Lowe's Close?
During major holidays, many other stores and shops stay closed, with Lowe's being no exception. However, the store does maintain at least some open hours that you can work into your schedule. 
On Christmas Day as well as Thanksgiving Day, Lowe's closes its doors completely. Lowe's also closes on Easter Sunday. However, you'll still be able to do your shopping on the days before and after these holidays.
Lowe's Return Policy
If you're not satisfied with a product, you can return it to Lowe's within a specific time frame. Lowe's has a refund policy for products returned within 90 days of the original date of purchase, provided that you have proof of purchase. Items such as TVs and electronics, major appliances and outdoor power equipment have a 30-day refund policy.
For holiday items, you can return them on or before the holiday. Lowe's doesn't accept returns if you purchased the items after the holiday sales.
Final Take To GO
Acquainting yourself with popular stores' holiday schedules will save you some hassle and help you plan accordingly.
Most stores close on major holidays, but Lowe's puts customer satisfaction above all else. The specific operational hours may differ from store to store, so you should confirm with your local store.
Lowe's Hours FAQ
Do Lowe's employees work on Thanksgiving?

No, Lowe's employees get Thanksgiving day off since the store is closed.

What holidays does Lowe's close for?

Lowe's closes for Thanksgiving and Christmas Day.

Is Lowe's closed on Christmas Eve and Christmas Day?

Lowe's is closed on Christmas Day and is open on Christmas Eve, although hours may vary by store.
Make Your Money Work for You
Holiday Hours
Lydia Kibet, Caitlyn Moorhead and Elizabeth Constantineau contributed to the reporting for this article.
All holiday hours were confirmed as of Nov. 16, 2023. Check with your local retailer to confirm specific hours. Hours and policies are subject to change.
Editorial Note: This content is not provided by any entity covered in this article. Any opinions, analyses, reviews, ratings or recommendations expressed in this article are those of the author alone and have not been reviewed, approved or otherwise endorsed by any entity named in this article.