Ulta's Return Policy: What To Know Before You Go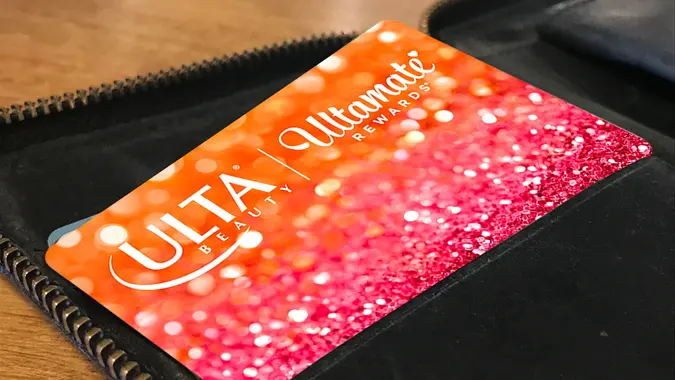 GOBankingRates / iStock.com
Ulta Beauty is the largest beauty retail chain in the U.S. Many Ulta locations also offer salon services. Aside from the company's popular online presence, it operates 1,308 stores across the country, with at least one location in each of the 50 states.
Learn: 3 Ways Smart People Save Money When Filing Their Taxes
The company offers a broad range of high- and low-end cosmetic products, so it's not surprising if you've shopped at Ulta in the past. However, what if you purchase something at the company's store or online that doesn't meet your satisfaction? In that case, Ulta offers a reasonable return policy that's relatively easy to navigate.
Breakdown of Ulta's Return Policy
The Ulta return policy is relatively simple. Here are the basic rules for returns:
Time: You have 60 days from the date of your purchase to return items to Ulta Beauty for a full refund. You may still return items after 60 days, but you'll receive store credit rather than a cash refund.
Used: Ulta doesn't make any statements surrounding the acceptance of used items. Of course, the company will likely reject significantly used items, but you can return an opened item to Ulta.
Shipping: Ulta doesn't pay for shipping on returns. If you don't want to pay for shipping, you'll have to return your item to a brick-and-mortar store.
Original Items: You must return the item with all original parts.
Purchase Location: Ulta Beauty brands purchased from other retailers are not accepted for returns. You must return the product to the retailer you purchased it from.
Make Your Money Work for You
Overall, the Ulta return policy is pretty straightforward. If you're unhappy with your purchase for any reason, bring it back to an Ulta Beauty store. You'll get a full refund if you do so within 60 days. If not, you'll get store credit for the item's value.  
Can You Return an Opened Item to Ulta?
Ulta Beauty's return policy allows you to return any products you purchase from the store, new or used. So, you shouldn't have any problem returning something if it's not quite what you expected when you get it home. 
However, that doesn't mean they'll accept anything in any state. For example, the company would probably reject someone trying to return a half- or entirely-used product. Use reasonable judgment when you return used items. 
As with most retailers, Ulta has a key statement in its return policy: "Ulta Beauty reserves the right to limit returns if we have any reason to suspect misuse of our generous Return Policy."
Does Ulta Require Manufacturer Packaging?
Ulta Beauty does not require you to return products in their original manufacturer packaging. As long as you bring the product back to the store, provide proof of purchase and an Ulta Beauty staff member approves the return, you'll get your money back.  
Make Your Money Work for You
Can You Return Products to Ulta Without a Receipt?
Joining Ulta's reward program, Ultamate Rewards, simplifies returns. It can also mean the difference between a return being accepted or not when you lose your receipt:
Rewards Members: The company logs your purchases in their system if you're an Ultamate Rewards member. Therefore, you don't need to keep receipts, because you can prove your purchase with your rewards account.
Non Rewards Members: If you're not a rewards program member, you need a return receipt.
Note that if you do need an Ulta staff member to find your purchase in your rewards account, it may take a little extra time — so give yourself a few extra minutes or come back another day if you're in a hurry.
Can You Return an Item After 60 Days?
Ulta accepts returned items after the 60-day mark for store credit or exchange. So, if you need another one of the same product or you're interested in using the value of one product toward another, you're in luck. However, Ulta's return policy states that if you want a refund to your original payment method — cash or card — you'll need to return your items within 60 days of the original purchase date.
Make Your Money Work for You
The Ulta return policy doesn't place a time limit on returns for exchanges or store credit. You may be able to return products you didn't like even if you bought them years ago — but remember that Ulta reserves the right not to accept your return if they believe you're misusing the return policy.
Does Ulta Throw Away Unused Returns?
Ulta Beauty never puts returned items on the shelf to protect its brand integrity. Its policy strictly prohibits the resale of used, damaged or expired products. Instead, the company's guest services webpage suggests that it trains its employees to inspect and properly dispose of any used, damaged or expired returns. 
On the other hand, there's nothing stating whether or not Ulta Beauty considers any product that leaves their store used or if there is a policy surrounding what constitutes a used product, like open packaging. So, the company may throw away or otherwise dispose of unused products. If you're concerned, look for items with a protective seal.
How Do Returns Affect Rewards Points?
Ulta Beauty offers the Ultamate Rewards program. If you sign up, you'll earn points every time you shop that you can redeem for products. However, returns may impact your rewards. Here's how:
Ulta Beauty will deduct the rewards points you earned from purchasing an item when you return it.
Ulta refunds reward points used to make purchases when the customer returns those purchases.
You only lose rewards points for the items you return, not the total rewards for the purchase.
Final Take: To Return or Not To Return?
Ulta Beauty has a generous, no-questions-asked return policy. If you're unhappy with a product you purchased from the company, bring it back to the store for a full refund within 60 days or store credit after that. 
Editorial Note: This content is not provided by any entity covered in this article. Any opinions, analyses, reviews, ratings or recommendations expressed in this article are those of the author alone and have not been reviewed, approved or otherwise endorsed by any entity named in this article.
Make Your Money Work for You