Sephora's Return Policy: What To Know Before You Go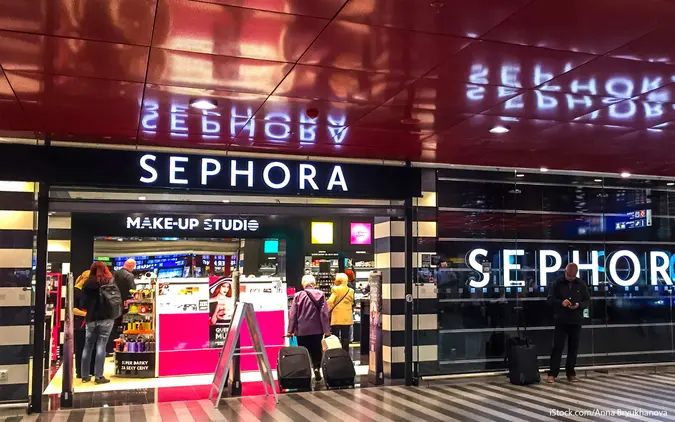 Sephora is famous for high-end makeup, hair, fragrance and skincare products. But what about returns? Beauty products are often tailored for specific traits — dry skin, allergens, color-treated hair, etc. — so a sterling return policy is key to ensuring customers can purchase confidently.
Read: 3 Ways Smart People Save Money When Filing Their Taxes
If you ordered something online or in a Sephora store that didn't meet your expectations, you'll want to acquaint yourself with Sephora's return policy. 
Sephora Return Policy Overview
At first glance, the Sephora return policy seems to have four basic rules:
Returns must be new or gently used. 
Sephora provides refunds to your original payment method for items returned 30 days or less after purchase. 
You may be eligible for online or store credit if you return a product on days 31 to 60 after the purchase date. 
You must have proof of purchase to complete your return. 
However, these basic rules aren't necessarily set in stone. The Sephora Return Policy page on its website states that you can return items without a receipt as long as a Sephora representative can find the item in their system — giving wiggle room to rule number four above.
Sephora's Return Policy for Used and Open Items
According to Sephora's return policy, you can return open items, as gently used returns are acceptable in most cases. Unfortunately, Sephora doesn't define "gently used" on its website, which leaves some grey areas, but use your common sense with these returns. For example, an empty bottle of concealer isn't defective, but a compact with a cracked mirror necessitates a refund or replacement. Consider some other examples of eligible returns:
A perfume that you've sprayed one or two times.
A curling iron you might have used once.
A shower gel you tried once but didn't like or had an adverse reaction to. 
Make Your Money Work for You
On the other hand, the company isn't likely to accept:
A perfume with half or most of the contents missing. 
A curling iron with noticeable wear and tear from use. 
A half-used lipstick. 
At the end of the day, it's all about intentions. Is your newly purchased product defective or otherwise not as you expected or wanted? If so, return it. If the product is in near-new condition, you can get a refund. In any other case, Sephora might reject your refund request. Like any business, they have to balance supporting their customers and preventing anyone that might abuse a return policy.
Is a Receipt Required for Returns at Sephora?
Sephora clearly states at the top of its public return policy that "you must have proof of purchase" to complete a return. So, you're better off having your receipt in hand when you attempt to return a product to the store. 
On the other hand, a receipt may not be completely necessary. 
The company's policy also states that it will accept "new or gently used items returned without a receipt." However, Sephora must be able to find the product in their system to process the refund. If the company can't verify that the product belongs in its system, it will not provide a refund.   
Make Your Money Work for You
Members of Sephora's Beauty Insider program would have an easier time if they lost their receipts. If you use your Beauty Insider card for points during your purchase, an associate could likely look up your receipt at the time of your return.
Finally, remember to keep your store receipt if you order Sephora from DoorDash. You can return Sephora purchases that were DoorDashed in-store with the receipt.
Are Sephora Returns Accepted by Mail?
Yes, Sephora does accept returns by mail. Follow these steps to process your return:
Go to the Sephora website. Request a return label on the Sephora website.
Pack the shipment. Use the manufacturer's packaging if it's available.    
Include the original packing slip. Pack your items up and include the original packing slip in the package. 
Get a label or return code. Print a prepaid return label on the website or ask Sephora for a FedEx Mobile Return Code.
Ship your return. Drop the package off at FedEx. 
Although the process is simple, it's essential to remember that mail-in returns can take up to 30 days to complete. 
Be Sure Not To Abuse Sephora's Return Policy
Refund policy abuse is a major issue in the retail industry, and it's becoming more prevalent by the day. This abuse affects everyone. When stores become less profitable due to refund abuse, they must raise their prices, making everyone who shops pay the price for their losses. 
Make Your Money Work for You
Sephora actively protects its company and customers by monitoring return requests for abuse. 
Sephora validates and approves all refunds, and if the company recognizes return policy abuse, it may ban the customer from being able to process returns in the future. As part of their active attempts at hindering return policy abuse, Sephora may ask you for a government-issued ID when they process your refund. 
Hot Take: Sephora Has a Generous Return Policy
If you've recently shopped at a Sephora location or online and are not completely satisfied with your purchase, don't worry. It's easy to return items to Sephora by mail or in person. Simply return the item for a full refund to your original payment method or store credit. 
FAQ
It takes six pages of paper to print Sephora's return policy. With such a lengthy policy in mind, it's normal to have a few questions. Find the answers to some of the most common questions about the company's return policy below.
Can you return opened items to Sephora?

Yes, you can return opened items to Sephora, but it's up to the company to decide whether or not they'll provide a refund. Keep in mind Sephora only provides refunds for opened items that are "gently used."

What is the Sephora return policy?

The Sephora return policy is simple. The company offers a full refund for new and gently used items if you return them no more than 30 days after your purchase. If you return items 31 to 60 days after you purchase them, Sephora may give you a store credit.

Does Sephora accept returns after 60 days?

No, Sephora doesn't accept returns requested more than 60 days after the date of purchase. If you want a cash refund, you'll need to return the item within 30 days.

How long do you have to return Sephora makeup?

Sephora doesn't have specific return policies for specific categories of products. All products, including makeup, are subject to the company's overall return policy.
Information is accurate as of Jan. 26, 2023. 
Editorial Note: This content is not provided by any entity covered in this article. Any opinions, analyses, reviews, ratings or recommendations expressed in this article are those of the author alone and have not been reviewed, approved or otherwise endorsed by any entity named in this article.
Our in-house research team and on-site financial experts work together to create content that's accurate, impartial, and up to date. We fact-check every single statistic, quote and fact using trusted primary resources to make sure the information we provide is correct. You can learn more about GOBankingRates' processes and standards in our editorial policy.
Make Your Money Work for You