Kohl's Return Policy: How To Return Gifts for Things You Actually Want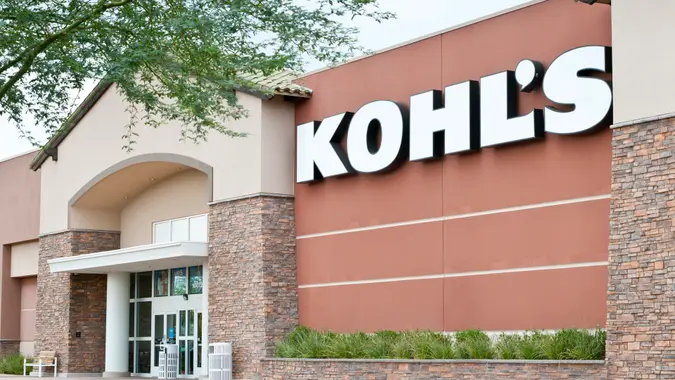 Lokibaho / Getty Images
Kohl's has more than 1,100 stores across the country. Kohl's offers a wide range of products, from clothing to furniture, electronics, baby supplies and more. If you bought or received something from Kohl's that just isn't working for you, here's how to navigate the Kohl's return policy.
See: 3 Ways Smart People Save Money When Filing Their Taxes
Kohl's Return Policy Overview
Kohl's offers a hassle-free return policy. You can return most items you purchase in Kohl's stores or on the company's website anytime within 180 days of the original purchase — with no questions asked.
A "no-questions-asked" policy means you can return items regardless of why you're unsatisfied with them, as long as you do so within the 180-day timeframe. However, there are some exceptions to the policy:
Premium Electronics: You only have 30 days from the date of purchase to return premium electronics to Kohl's. 
Beauty Products: Beauty products, including Sephora and other wellness and cosmetic products, must be returned within 60 days of purchase.
Holiday Returns: For both premium electronics and beauty products, Kohl's has extended its return policy — purchases made between Nov. 1 and Dec. 25 can be returned until Jan. 31.
Make Your Money Work for You
How Do You Return Online Kohl's Purchases?
Kohl's return policy is the same for in-store and online purchases, but how do you return online purchases? The process is simple. Follow these steps:
Request your refund online or on the mobile app. 
Print your packing slip and fill out the return form.
Pack your items securely.
Ship the items to the address Kohl's provides.
Be sure to include the return form and all tags in the box, and note that you'll have to pay for shipping.
Keep in mind that it may take some time to receive your refund. The company claims it can take up to 30 days from the date they receive your items to process your refund.
Can You Return Things to Kohl's Without a Receipt?
The Kohl's return policy states that its representatives may be able to help you locate your receipt to process a refund. The company doesn't explain the location process on its website, but a Kohl's representative clarified the methods they use for locating a lost receipt:
Rewards Program: If you're a member of Kohl's rewards program, the representative may find your purchase details through your membership. 
Payment Method: If you used a credit or debit card to make your purchase, the representative could use your card details.
Date: In some cases, the representative could find a record of the purchase based on the purchase date and details.
Make Your Money Work for You
Regardless of the method used, if you return items without a receipt, you will receive a store credit for the product's lowest sale price over the past 13 weeks. Kohl's will likely ask for a government-issued ID if you don't have your receipt. 
Keeping records of your receipts for any purchase is always a good practice. However, a six-month return timeframe may mean you've lost your receipt along the road. If so, you're not necessarily out of luck. 
What About Worn and Washed Items?
Kohl's no-questions-asked return policy means that you can return worn and washed items as long as you are within the return period.
How Do Returns Play Into Kohl's Cash?
If you're a Kohl's rewards member, you earn Kohl's Cash every time you shop at the store, both online and in-person. So, how do returns affect your Kohl's Cash? Here's what you need to know:
If you return an item you paid for with Kohl's Cash, you'll be refunded with Kohl's Cash.
If you return an item, Kohl's deducts the rewards value of the purchase from your Kohl's Cash balance.
Returned items always deduct the rewards earned, even if you bought something as a gift with Kohl's cash.
Make Your Money Work for You
What If You Used a Gift Card to Purchase the Items?
If you use a Kohl's gift card to purchase items, you'll receive store credit for those items when you return them. You cannot receive cash in exchange for returns purchased with a gift card.
Additionally, you will not earn any rewards if you pay using a Kohl's gift card.
How Does Kohl's Handle Returns With Gift Receipts?
If you're returning a product with a gift receipt, Kohl's will give you store credit for the value of the product you return. You can also return the product for an even exchange if it needs replacement.
Final Take
Kohl's has one of the most shopper-friendly return policies in the retail industry. If you'd like to return something you purchased from the store or received as a gift, don't hesitate to bring it to your local Kohl's to get the return process started. Look for the customer service desk when you arrive.
FAQ
Find the answers to some of the most common questions about the Kohl's return policy below.
Does Kohl's have a 30-day return policy?

Yes, but it only applies to premium electronics. Other items can be returned within 60 or 180 days.

Will Kohl's accept returns after 180 days?

No, Kohl's does not accept returns after 180 days, which is one of the retail industry's most generous return time frames.

Can I return Amazon products to Kohl's?

Yes. Kohl's has a relationship with Amazon that makes it easy for shoppers to return eligible Amazon items to Kohl's physical locations. You don't even have to worry about packing your return. The company will handle your packing and shipping.
Editorial Note: This content is not provided by any entity covered in this article. Any opinions, analyses, reviews, ratings or recommendations expressed in this article are those of the author alone and have not been reviewed, approved or otherwise endorsed by any entity named in this article.
Make Your Money Work for You