I Work at Costco: Here Are 12 Insider Secrets You Should Know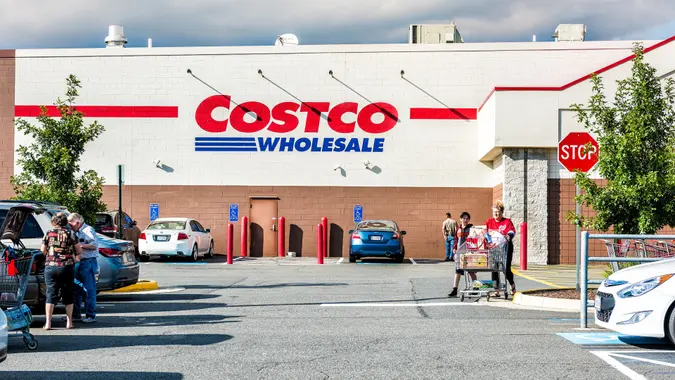 855684128 / iStock.com
Costco, the beloved wholesale warehouse chain, has gained a cult-like following among thrifty shoppers and bargain hunters.
With its vast aisles filled with everything from groceries to electronics, it's no wonder that Costco has become a go-to destination for families, small business owners, and savvy consumers alike. However, behind its towering shelves and endless treasure troves of products, lies a wealth of insider secrets that can elevate your shopping experience to a whole new level.
Well, lucky for you, we've found a Costco employee willing to spill all the secrets to make the most of your shopping experience. From hidden gems within the store to the best times to shop for maximum savings, we'll shed light on the art of navigating Costco.
Timing, Timing, Timing
According to our source, timing of your Costco visits can greatly impact your shopping experience. Weekdays, especially Tuesday through Thursday, tend to be less crowded than weekends.
Additionally, arriving early in the morning or close to closing time can offer a more relaxed atmosphere and shorter lines. 
Samples Are Unlimited
Yes, unlimited. We all know that Costco is famous for its generous sampling stations, allowing you to try out various products before making a purchase.
But what our insider tells us is that you can have as many as you want. Hello, free lunch! To get the most out of the samples, plan your visit around mealtimes (especially lunch) when there tend to be more stations set up.
Make Your Money Work for You
There's More Than Meets the Eye with Kirkland Signature Brands
Costco's Kirkland Signature brand is known for its quality and value. But what a lot of people don't know according to our insider is that many Kirkland products are manufactured by reputable brands, often sold under different labels at higher prices. Be sure to compare prices and consider opting for Kirkland Signature products. 
Costco Expects You to Make Impulse Buys
With its massive selection, attractive displays, and enticing end-of-aisle deals, it's easy to get carried away at Costco. And, according to our in-the-know employee, the store is set up for a reason.
There are ways to combat that, though: Before making a purchase, ask yourself if you truly need the item or if it's simply an impulsive buy. Stick to your shopping list to avoid overspending. 
They Have Bunch of Unique Services
In addition to bulk products, Costco offers a range of services, including travel arrangements, insurance, prescription medications, and even discounted movie tickets. Take advantage of these services to maximize the value of your membership. 
Use the Costco App
The Costco app is a game-changer for shoppers that not a lot of people are taking advantage of, according to our insider.
First off, it makes shopping super convenient, letting you browse and buy from wherever you are. Plus, you get exclusive deals and offers that are just for app users. And check this out, you can even pay with Apple Pay or Google Pay for a smooth checkout experience.
Make Your Money Work for You
Say goodbye to carrying around a physical membership card because the app hooks you up with a digital version. Need to find a Costco nearby? No problem, the app's got your back with store locator and hours. Oh, and if you've got some favorite items you always buy, the app makes reordering a breeze.
Don't forget the pharmacy services and prescription refills too. 
Pay Attention to the Numbers
As per our confidential source, Costco typically assigns a price ending in .97 to items that are heavily discounted. These discounts are consistent nationwide.
However, products with prices ending in .00 are specific to local markdowns and may vary in different regions. Such markdowns are typically initiated by managers to swiftly clear inventory.
Prices ending in a 9 indicate exclusive manufacturer deals, offering exceptional bargains.
Don't Forget the Asterisk
Costco marks some items with an asterisk (*) to indicate they won't be restocked once sold out. If you see an item you love with an asterisk, stock up while you can. 
Yes, Costco Has a Coupon Book
Our source tells us that Costco releases a monthly coupon book filled with mega-deals on tons of items. Keep an eye out for it and plan your shopping accordingly.
Bonus: You can combine these coupons with existing discounts and save even more.
Costco's Return Policy Is Extremely Generous
What many people don't know is that Costco has an exceptional return policy. If you're not satisfied with a product, they will accept returns (with a full refund!) without any hassle — and you don't even need a receipt. That's right, Costco can often look up purchases using just your membership information.
However, there are a few exceptions to be aware of. Certain electronics like televisions, computers, and cameras have a 90-day return window, while mattresses only have a 30-day return period. Major appliances must be returned within 48 hours of purchase, and items like cigarettes and alcohol have a 14-day return period. 
It Pays to Get Price Adjustments
Our source lets us know that if you purchase an item that goes on sale within 30 days, Costco offers price adjustments. Simply bring your receipt to the membership counter to receive a refund for the price difference.
You Don't Need a Membership 
No, really. There are clever ways to get your hands on Costco goods without paying the price.
One option is to consider a Costco Cash Card. By having a member purchase it for you, this card serves as your golden ticket to enter the store and enjoy a shopping spree without needing your own membership.
Alternatively, you can explore the convenience of shopping directly from Costco.com or even utilize popular grocery delivery services like Instacart. It's important to keep in mind that online purchases might come with a premium price tag and additional delivery fees.
So, while there are alternatives to accessing Costco's offerings, it's wise to weigh the potential costs before making a decision.
More From GOBankingRates