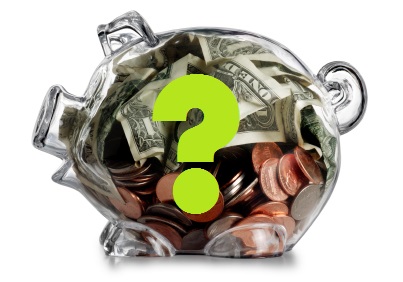 If you're living paycheck to paycheck with little disposable cash, opening a savings account might be the last thing on your mind. But even if you can't set a lot aside each pay period, having a savings account is a crucial tool for your financial planning. Financial experts such as Suze Orman and Jean Chatzky repeatedly drill the importance of having a three- to eight-month safety net.
But as most people quickly discover, saving money is much easier to talk about than practice. Forty-one percent of respondents had less than $500 in their savings accounts, and more than half (54 percent) did not have a specific savings strategy in place to help them reach their goals, according to a survey from CreditDonkey.com.
Between rising living costs and the difficulty many face finding employment after a job loss, saving has taken a backseat to paying one's mortgage, putting food on the table and keeping the lights on. This is understandable given the present economic condition of the U.S., but is it financially wise to sacrifice this financial cushion?
Having a little something in savings is always safer than having nothing. And with banks like Wells Fargo and Bank of America offering programs to help you reach your savings goals, now is an excellent time to jump-start your cash reserve.
Ask These 7 Questions Before Opening a Savings Account
Choosing the best bank to open a savings account with can be tricky. Before you make a decision, ask these seven questions.
1. What are the minimum deposit and minimum balance requirements?
Most banks require an initial minimum deposit to open a savings account. This varies by financial institution, but average deposits range between $5 and $25. Some banks also have rules regarding account balances, in which you have to keep a certain amount in your savings to maintain the account. Inquire about minimum balance requirements before opening a savings account, and then decide whether you can afford a relationship with the financial institution.
2. What is the savings account interest rate?
Getting a higher interest rate on your savings is one way to grow your money. Traditional savings accounts have low rates in comparison to other savings products, such as money market accounts or certificates of deposit. But there are ways to get the most out of your savings. You might earn 0.01% APY on a traditional savings account, but with a high-yield savings account, you can earn 1.00% APY or more.
Discuss your options with your financial institution and compare rates with online banks. Online banks have less overhead and can typically afford to offer higher rates.
3. How accessible are funds?
Maybe you're leaning toward an online bank. These banks can definitely grow your money faster, but since you're not dealing with an actual bank branch, you might not have easy access to funds. Sure, you can monitor and access your account online, but when you're ready to make a withdrawal, you'll have to transfer funds from your online savings account to your regular bank account. It can take several days to complete a transfer. On the other hand, online banks often offer higher savings rates, so weigh your needs carefully.
4. What are the fees associated with the savings account?
Bank fees have made a comeback; before opening any type of savings, make sure you know the cost of having an account. Banks charge a monthly fee for simply having a savings account, but some will waive this fee if you maintain a minimum balance. If you're a low saver, monthly fees, transaction fees and transfer fees can diminish the money in your account. Be picky and choose a financial institution with few fees.
5. How often does interest compound?
Compounding is something that few people think about, but if you're looking to maximize your earnings, this information is worth knowing. Compound interest is interest that you earn from your original deposit and accrued interest. Banks have different schedules for compounding interest, with some compounding daily, weekly or annually. The more often interest compounds, the more you can earn. Look for financial institutions that compound daily, which lets you earn interest on your interest on a consistent basis. This can grow your money faster and help you reach your savings goals sooner.
6. Does the savings account offer overdraft protection?
If you're opening a savings account with the same bank as your checking account, overdraft protection might be an option. This service links your savings account with your checking account and provides protection if you have a returned check.
The bank transfers money from your savings into your checking to cover an overdraft. Not all banks offer this service, and those that do charge a fee per each automatic transfer. Inquire as to whether this is automatically included when you open a savings account and ask about associated fees.
7. Are ATM and branch locations convenient?
Big banks typically have a bank branch on every corner, whereas local banks and credit unions might only have one or two branches in your area. Smaller financial institutions might offer higher interest rates and other perks, which can be appealing. But when choosing a bank, you should take into account the locations of branches and ATMs. If you have to drive a distance each time you need to make a deposit or speak with a banker, having the account becomes a hassle. Keep location in mind and select a bank that has a branch close to home or work.
What Do You Need to Open a Savings Account?
Opening a savings account is simple and can take less than 10 minutes to set up. There are two ways you can open a savings account: you can visit a bank branch in-person or open an account online. The financial institution will ask for your address, phone number and date of birth; and you will need your social security number and driver's license on hand.
Complete your application, and if applying in-person, provide the banker with your initial deposit. If you decide to open a savings account online, you can visit a local bank branch to fund your account or transfer funds from an existing account.