Banking has come a long way, especially with the emergence of online and mobile banking. Chase QuickPay is admittedly pretty impressive — on the surface anyway.
However, with technological advancements come new bugs and complications, as well.
So does the Chase QuickPay option offered by Chase Bank really save time and hassle, or does it simply create a new host of problems?
Check out these 9 free ways to transfer money to friends and family >>>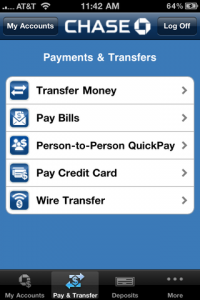 What is Chase QuickPay?
Imagine this scenario: You're with a big group of friends at a restaurant when the server hands over the bill. Immediately, you all start asking, Who can pay cash? Who only has a card? Should we ask for separate checks?
Dining out with a large party is usually an inconvenience for diners, as well as the server who's stuck divvying up the bill. That's where Chase QuickPay comes into play. With this mobile banking feature, everyone in your group can pull out their phones and use Chase QuickPay to transfer money from their checking accounts to the designated payee.
How Chase Person-to-Person QuickPay Works
Chase QuickPay is a great mobile finance tool in many ways. In order to sign up for Chase QuickPay, all you need is a valid email address or mobile phone number and a bank account that you want to use with the service. You can even be a non-Chase customer to transact with Chase customers without enrolling in Chase QuickPay — your bank just has to be in the clearxchange network.
Once your email (or phone number) and account have been verified, you can transfer money to a Chase account or anyone else who has QuickPay enabled and vice versa.
Sounds super simple, right? Not so fast.
Disadvantages of Chase Online QuickPay
It takes about 30 seconds to set up a Chase QuickPay money transfer, but the actual transfer between accounts isn't instant. Much like depositing a check at the ATM, that deposit must be cleared before going through. And unfortunately, unlike the ATM, Chase doesn't clear a portion immediately and hold the rest.
According to the Chase website, the bank promises a transfer the same day and not later than the next business day, as long as it's scheduled before the cutoff time and is between two Chase customers. But it can take one to five business days when non-Chase accounts are involved.
Still, there are a number of perturbed customers who don't enjoy waiting. One commenter on a Chase QuickPay review entitled Chase "QuickPay" Really Isn't laments:
"Come on – give me a break. My business partner, a Chase account holder, sent a QuickPay payment to me two days ago and it still hasn't posted to my account which is also a Chase business account. QuickPay is ***. If you want a really quickpay scenario, use PayPal and pay the 6%."
Then there are the random technological malfunctions that can happen. For instance, one Chase QuickPay user scheduled a money transfer on the same day Chase was making upgrades to the service. This resulted in the rather large transfer going through not one, not two, but three times, significantly overdrawing his checking account in the process.
After calling Chase to report the problem, he received this email: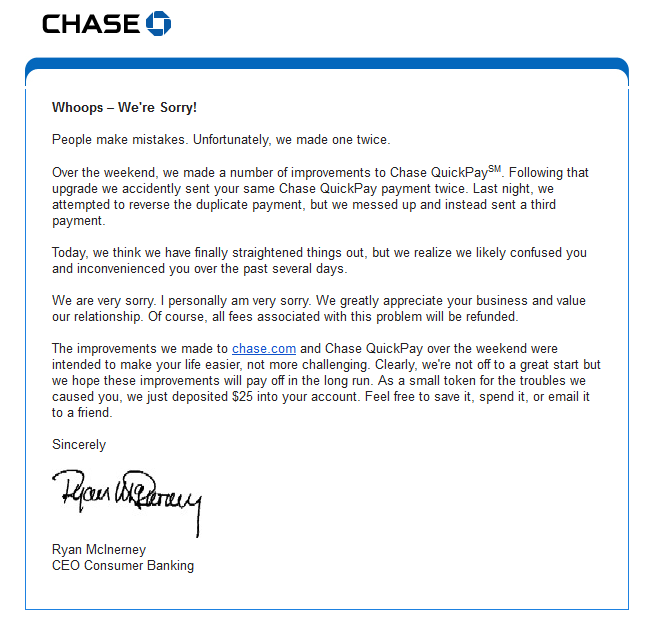 It was nice of Chase to send an apology in a day and age when simply getting a human on the phone is a feat in itself. Then again, a "sorry" and $25 don't do much good when your account is currently negative several hundred dollars.
Benefits of Chase Online QuickPay
Despite the issues QuickPay users have experienced, it still has plenty to offer. For example:
Convenience. Why do we opt to do anything on our smartphones instead of in person? As long as you're not strapped for cash or late on a payment, it's nice to know there are easy ways to send and receive money without having to find time to visit the bank.
Anyone Can Use It. Unlike many bank-specific web tools and services, anyone can sign up for Chase QuickPay. That's especially useful if you regularly send money to a non-Chase customer, like your child or a roommate.
It's Free. There are no Chase QuickPay fees, so complaining about a service when you don't even have to pay to use it is a little silly. After all, there are plenty of alternatives to Chase QuickPay — you just might have to pay fees to use them.
Chase QuickPay Limits
Depending on the type of account you are using to send and receive money, there are different Chase QuickPay limits.
Transferring money from external accounts or consumer Chase checking accounts has a QuickPay limit of $2,000 per transaction and a maximum of $2,000 per day.
Transferring money from Chase business checking accounts also has a limit of $5,000 per transaction and a maximum of $5,000 per day.
Is Chase Person-to-Person QuickPay Worth It?
Unfortunately, "QuickPay" doesn't really live up to its name. Even if transfers go through without a hitch, you might have to wait at least 24 hours to get your hands on your money. If you need to send or receive funds in a hurry, you're better off visiting an ATM, sending money via PayPal or setting up a wire transfer.
Of course, there are plenty of people who would do anything to avoid standing in line at the bank and paying fees. For them, Chase QuickPay is a fine alternative.
If you're regularly faced with emergency financial situations or are so tight on money that you can't afford to wait a day or two for a transfer, you probably have bigger problems than the inconveniences of QuickPay.
As this tool gains users and popularity, Chase is making it faster and more reliable. Of course, it is difficult for those who expect to send money fast with mobile banking, but they can always just visit an actual bank for instant gratification.
Disclaimer: This content is not provided or commissioned by the bank advertiser. Opinions expressed here are author's alone, not those of the bank advertiser, and have not been reviewed, approved or otherwise endorsed by the bank advertiser. This site may be compensated through the bank advertiser Affiliate Program.
Photo credit: Jeff Keyzer