Zelle Limits at Top Banks: Daily and Monthly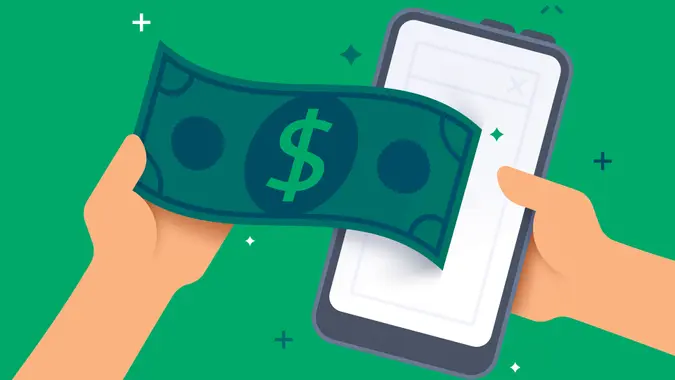 Mobile payment tools make it faster and more convenient for you to send and receive money for personal, professional or small business purposes. Along with PayPal, Cash App and Venmo, Zelle is a platform that allows you to send money from your bank account to an intended recipient with no fees attached.
Here's a closer look at how Zelle works, its limits at many of the country's top banks and what you can do if you reach these monthly and daily limits.
What Are Zelle Limits at National Banks?
Each bank has its specific daily and monthly transfer limits for Zelle. Here's a look at the daily and monthly Zelle limits at some of the country's largest banks
Financial Institution
Daily Limit
Monthly Limit
Wells Fargo
Up to $3,500
Up to $20,000
Capital One
Up to $2,500
Varies
Bank of America, Member FDIC
Up to $3,500
Up to $20,000
Chase
-For personal checking accounts: up to $2,000
-For private client and business checking accounts: up to $5,000
-For personal checking accounts: up to $16,000
-For private client and business checking accounts: up to $40,000
TD Bank
-Instant transfers: up to $1,000
-Scheduled transfers: up to $2,500
-Instant transfers: up to $5,000
-Scheduled transfers: up to $10,000
Citi®
-New enrollment accounts: up to $500
-Existing accounts: up to $2,500
-New enrollment accounts: up to $2,500
-Existing accounts: up to $15,000
Please note that these limits may vary depending on your account status. 
Good To Know

Many person-to-person payment methods set limits for users because it's difficult to recoup money if it's sent to the wrong place.

Zelle limits how much you can send in 24 hours and during a 30-day period. These limits are relatively easy to meet, especially if you use Zelle for business purposes.

If you feel hindered by the limits, you might have to get creative with the ways you send money.  
What Are Some Alternative Options if You Hit Your Zelle Limit?
There are other ways to send money if you hit the Zelle limits. Here are some alternatives to consider.
Try another payment platform: Some popular payment platforms include Venmo, PayPal and Square. Many of these services charge a small fee to send money, and users need an account to receive the money.
Write a personal check: While personal checks may seem outdated, they are an excellent alternative to peer-to-peer transfer apps if you need to send a large sum of money.
Withdraw cash: People typically do not have a lot of cash on hand because of the popularity of debit cards, but you can always make a trip to the ATM to withdraw some money.
Use a payment retailer: Western Union and MoneyGram allow you to send money by visiting an authorized retailer and funding the transaction with cash or a debit card. Your recipients can pick up the money by visiting a retailer and providing their name and the transaction number. 
Wait a few days: Waiting 24 hours or 30 days until you are back under Zelle's payment limits is the slowest strategy, but it may be necessary if you want to send a large payment.
How Does Zelle Work?

Here are the steps for sending or receiving money through Zelle.

Step 1: Choose your recipient. Due to increasing Zelle fraud, you should only send money to people you know and trust, like repaying a family member or friend or paying a service provider. 
Step 2: Obtain the recipient's phone number or email address. Anyone with an account at a U.S. financial institution can receive money through Zelle with their phone number or email. 
Step 3: Decide your payment amount. Your Zelle limit depends on your bank or credit union. If you want to send a large amount consistently, you may need to find an alternative payment option.
Step 4: Send the money. Your recipient will typically receive the money in minutes if they are already a member of Zelle. They'll receive instructions on obtaining the funds via email or text if they are not enrolled. 
What Are the Benefits of Using Zelle?
One of the biggest benefits of using Zelle is that it is free and there are no fees to send or receive money. Most competitors charge a small fee if you use a Visa, Mastercard, debit card or credit card to send money, while others charge to transfer funds received to a bank account. Zelle can offer the service at no cost to customers because money is sent directly between bank accounts with no middleman. 
While there's no cost to use Zelle, you can only use your checking, savings or debit card to send or receive money, and you can't make credit card payments. To be sure, you should check with your bank or credit union to make sure it doesn't charge extra fees for using the Zelle feature. 
An additional benefit of using Zelle over another payment application is the instant nature of the service. The money is immediately transferred to your recipient's bank account because there's no intermediary. It takes a few days to transfer funds from the app to a bank account with other services. Other platforms that do offer instant transfers charge a fee for the service.
Final Take To GO
Your bank must have a partnership with Zelle for you to access its features. More than 1,000 financial institutions in the U.S. offer Zelle to their customers. Financial institutions typically incorporate Zelle's capabilities into their mobile banking apps.
If your financial institution offers Zelle, you should contact it directly to inquire about its daily and monthly sending limits. If your bank or credit union does not provide the service, you must download the Zelle app to send and receive payments.
FAQ
Here are the answers to some of the most frequently asked questions about Zelle.
Can I get paid with Zelle?

While Zelle is a popular way to send money, it's also an easy way to receive money from individuals, companies, government agencies and even academic institutions. For instance, it may be possible to request payment via Zelle if you are owed a refund from a university or government agency. Sending money through Zelle is free for both parties and quickly ensures you get the funds.

Can businesses use Zelle?

Just like PayPal, any individual or business with an account at an institution that uses Zelle can use the feature to send or receive money. Many business owners use the service to send and receive money because there are no fees involved. You may want to encourage your customers to send payments via Zelle if the amount is within their daily Zelle transfer limits. It may be necessary to accept other methods for large payments.

What is the maximum you can send with Zelle?

The maximum amount you can send through Zelle depends on what bank you use as the cap will vary both daily and monthly by each financial institution. For example, Bank of America and Wells Fargo have a maximum daily limit of $3,500 whereas TD Bank has a daily limit of $2,500.

Can you send $5,000 through Zelle?

Yes, you can send $5,000 through Zelle if you have a private client or business checking account with Chase.

Can you send $10,000 through Zelle?

The amount you are able to send through Zelle depends on your bank's set limits. Many banks allow you to send $10,000 in a month, but not in one day. Check with your financial institution to find out your daily and monthly sending limits.

How do I increase my Zelle limit?

There is no way to increase your Zelle limit. If you find their limits to be too confining for your needs, you can try another payment platform such as Venmo or PayPal.
Caitlyn Moorhead contributed to the reporting for this article.
Data is accurate as of April 18, 2023, and is subject to change.
The article above was refined via automated technology and then fine-tuned and verified for accuracy by a member of our editorial team.
Our in-house research team and on-site financial experts work together to create content that's accurate, impartial, and up to date. We fact-check every single statistic, quote and fact using trusted primary resources to make sure the information we provide is correct. You can learn more about GOBankingRates' processes and standards in our editorial policy.