What Is MoneyGram? How Does This Major Competitor To Western Union Stack Up?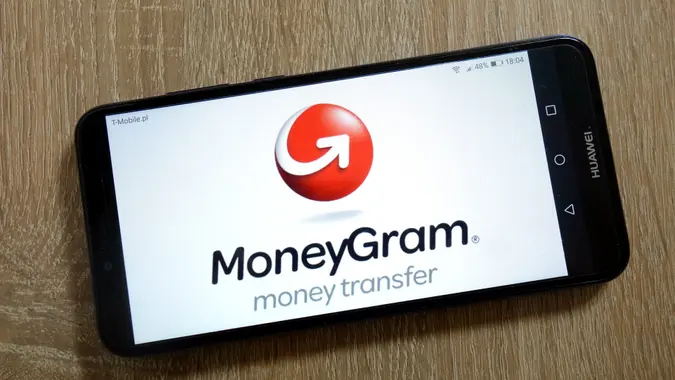 Piotr Swat / Shutterstock.com
When you think of money transfer services, MoneyGram might not be the first name that comes to mind. But that's not because it doesn't have tremendous standing in the industry. So, what is MoneyGram and how does it work? 
What Is MoneyGram?
MoneyGram is a money transfer service that allows various payment methods including cash, credit, debit card or a bank account.
MoneyGram offers online and in-person domestic and international money transfers, as well as mobile phone top-ups, bill payments, money orders and prepaid-card loading — making it a major player in the world of online money transfers.
How Does MoneyGram Work?
MoneyGram allows you to send money to a mobile wallet or bank account in select countries. You can access the MoneyGram service by making a transfer online or by visiting a MoneyGram branch. To find the nearest branch, use the locator tool on MoneyGram's website.
Required Information To Send Money
Whether you're sending money online or completing an in-person transaction, you'll need this information at the ready: 
Government-issued ID, such as a driver's license
Recipient's full name, which matches the name on the person's identification
Recipient's location
Transfers to bank accounts require recipient's bank name and account number
Transfers to mobile wallets require recipient's mobile number and, if applicable, international dial code
Required Information To Receive Money
When you're receiving money in person, you'll need the following information:
A valid form of ID, such as a driver's license or passport
The reference number associated with your transfer, which you can get from the sender
Completed receiver form, which is available at the pickup location
Upgrade Your Checking Account
Fees
So, what fee does MoneyGram charge? MoneyGram fees depend on various factors, including the destination of the money, how much you're sending and the method of payment. Choosing to pay with a U.S. checking account can result in lower fees, but if you pay with a credit or debit card, you can expect the fees to be slightly higher. Fortunately, the MoneyGram website offers a tool to estimate fees on money transfers, so you'll have an idea of what each transfer will cost you.
What Is MoneyGram Best For?
MoneyGram has a vast global network, with about 350,000 agency locations in more than 200 countries. Their service is best for people who want a wide variety of money transfer options, either online or in-person to domestic and international locations. It's also beneficial for people who need to make an immediate transfer because many MoneyGram transfers are complete within minutes.
In addition, MoneyGram offers a MoneyGram Plus Rewards Program, which offers these benefits:
Faster transactions
Notifications when money has been picked up
Personalized exclusive offers
MoneyGram vs. Competitors
Here's a look at some of the options to send money domestically and internationally via a transfer service and how they compare to MoneyGram.
| Money Transfer Service | Transfer Methods Offered | Transfer Maximums | Transfer Speed | Transfer Fees |
| --- | --- | --- | --- | --- |
| MoneyGram | Online and in-stores | $15,000 | Many within minutes | $1.99 and up |
| Western Union | Online, by phone and in-stores | $500-$10,000 or more, depending on service | In minutes to up to five business days, depending on service | $0.99 and up |
| Wise | Online | Varies by origin and destination; $1 million if sending from the U.S. | In minutes to up to two business days | Varies by country |
| XE | Online or by phone | $500,000 | Majority of transactions completed same-day | Varies by country; no fee for bank transfers |
| Xoom | Online | Up to $100,000, depending on sender's level | Minutes to a few days | $2.99 and up |
Upgrade Your Checking Account
Final Take
MoneyGram is a trustworthy service that offers a wide variety of money transfer options. If you don't need to complete transfers by phone and you plan to complete money transfers on a regular basis, you might want to opt for MoneyGram over other services. 
FAQ
Here are the answers to some of the most frequently asked questions about MoneyGram.
How much does it cost to send $1,000 with MoneyGram?

MoneyGram fees will vary based on your location and destination. As an example, a $1,000 domestic U.S. transfer to California may cost $3.99 using a debit card and $32.99 using a credit card.

How much does MoneyGram charge to send $100 internationally?

MoneyGram fees change based on factors like payment methods and destination. For example, a $100 international transfer to the U.K. may cost $1.99 using a debit card and $6.99 using a credit card.
Chris Ozarowski contributed to the reporting for this article.
Data is accurate as of March 22, 2023, and is subject to change.
Editorial Note: This content is not provided by any entity covered in this article. Any opinions, analyses, reviews, ratings or recommendations expressed in this article are those of the author alone and have not been reviewed, approved or otherwise endorsed by any entity named in this article.