Why Are so Many Credit Card Companies Offering High-Yield Savings Accounts?
0

Comments
September 23, 2013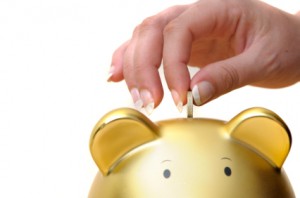 In a world of ever-increasing bank fees, it's the credit card companies who are responding to the outcry of consumers by offering high-yield savings accounts with better rates and no fees. It's certainly a table turner, as credit card companies are often known for their high rates and hefty fees. In fact, American Express, Capital One and Discover are among a just few of the credit card companies who offer more than just credit cards and are now providing these high-yield savings accounts.
Why High-Interest Savings Accounts?
If you haven't yet opened an online savings account, some might consider you to be behind the times. After all, everything from paying bills to finding a date can be done online, so why should banking be any different? The less personal approach to money management might be somewhat of a deterrent, but once you see you're getting more bang for your buck, it's hard to resist.
Unlike traditional banks and credit unions that provide physical locations for their customers, online banks are able avoid this costly expense. This translates into higher rates and a no-fee environment customers appreciate. It makes perfect sense — the card companies are stepping in to fill a void and the banks aren't able to compete in this arena.
Take, for example, the American Express Savings Account, which currently offers .85% APY with no fees and no minimums. With the national savings average right around 0.11% APY, the banks are sitting on the sideline while the credit card companies are out competing.
Benefits Beyond High-Yield Savings Accounts Rates
Credit card companies are luring consumers by offering these great high-yield online savings account rates. One of the main advantages of using a credit card company is that you can manage your credit card accounts in the same place as your other finances. This can make budgeting and day-to-day financial planning much easier. It's important to note that credit card companies that are not associated with major banks do not have the array of financial services, loans and investment products, but they do offer some non-credit-card services that are worth talking about.
American Express, which we know best for their high end credit cards, also offers a variety of savings options. The card company has both standard savings accounts and CDs neither of which require a minimum deposit and have no fees.
Discover Card, another issuer that not associated with a major bank, has even a wider variety of savings accounts. They offer both savings and money market accounts that give interest payments above the national average. The company also offers CDs and they even offer an IRA CD.
It's worth mentioning that these credit card companies also bring to the table well developed websites and apps which also makes their products favorable. As a result, transferring funds to your savings account is easy and convenient. It's safe to say the big credit card companies have taken the cake when it comes to high-yield savings accounts, and by recognizing what consumers want — a better savings return with fewer fees.