This article comes from Donna Freeman.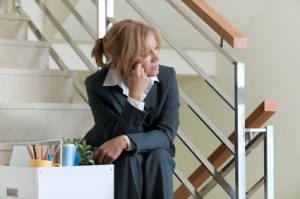 Financial golden rule: "A 40-hour-a-week job is essential for long-term security."
Status: Busted!
When the 2007 recession hit I was newly divorced and back in college. It had been five years since I'd held a regular full-time job. My previous profession (print journalism) was dying and I figured that a college degree would help me get into some other field. Which field, I couldn't have said; I just wanted a full-time job, which I'd always been told was the ultimate security.
Yet as the recession ground on I met and read about a lot of qualified, intelligent folks who'd been laid off. Unemployment stretched past 99 weeks and people sold belongings on Craigslist, walked away from their mortgages, trained for new careers with no assurance they'd find employment in those fields either.
I'd been raised with a strong work ethic. A job was something you got as soon as you were old enough and held onto as long as you could. Work hard and you'd be taken care of: decent wages, health insurance, employee banquets and a pension. The glass factory that employed my mother even hired a guy dressed as Santa Claus to listen to our childish whispers, then hand us each a gift and a candy cane.
Before falling into journalism I'd done various kinds of work: tomato picking, child care, housecleaning, typesetting, clerical and a stint in the glass factory. Newspapering suited me: It was fascinating, challenging, and full of folks as nosy and sarcastic as I was. You did something different every day, you knew what was going on before anybody else, and you met the most fascinating (and occasionally scary) people in the community.
Thus if you'd asked me a dozen years ago what I'd be doing in 2012, I'd have replied: "What I'm doing right now. It's a great job, and a secure one – people will always need newspapers."
Ahem.
What I saw in the new millennium indicated that job security no longer existed. By December 2009, when I got my degree, I'd begun thinking truly seditious thoughts:
After spending four years on a dead run – working several part-time jobs and going to school – I was freaking tired. Did I really want to dive right into the search for a 9-to-5 right away?
Or ever? Even if I found a job, I'd likely spend my remaining work years worrying about whether my department would be the next one cut.
Why not remain a freelance writer? It would mean living frugally (I prefer to think of it as "creatively") but I was used to that.
I was 52 years old. When would I be able to allow myself the luxury of life's surprises if I didn't do it now?
Still not working a regular job. Still happy.
And wary: One or both of my two contract gigs could (technically) go away at any time. That's why I'm developing what the kids call "alternative income streams" — because freelancers won't ever have job security, either.
What we do have is the freedom to choose when and where we work. (I've written everywhere from a South Jersey tree farm to a McDonald's in Cardiff, Wales.) The money I might be spending on a work wardrobe and commuting goes instead to an HMO and a Roth IRA.
Sure, I could have taken a full-time job upon graduation (assuming I could have found one). If I had, here are some of the things I wouldn't have been able to do:
Travel for the best part of the past three years: attending conferences (and speaking at two of them), visiting friends, spending time with a terminally ill family member, helping my dad out on that tree farm.
Watch my great-nephews open Christmas presents.
Have a philosophical discussion with a couple of drunken London lawyers.
Sit up until 4 a.m. talking shop with other PF writers at last year's FinCon.
Write about the Talkeetna Bachelors Auction and Wilderness Woman Competition in Talkeetna, Alaska.
The old me would have shrieked to hear that the future me would go 10 years without a square job. Such a move would have seemed foolhardy and dangerous, a direct contradiction to my work-till-you-drop mentality.
The current me knows that it was the right choice. Not that life in the past decade has always been easy. But it has always been mine.
Some of it felt like stumbling around in the dark, hoping to find a light switch before I ran into a wall. Where once I was exhausted and broke, now I'm exhausted and exhilarated.
In hindsight, any hard times I suffered were actually blessings: They either taught me something I needed to learn or served as object lessons to make the good times seem that much better.
I've found ways to live richly on a budget, to embrace the world fully and joyously whether the paychecks were large or small. That's my new definition of security: the knowledge that life is a series of risks, and that I have the ability – and the privilege – to face those unknowns.