These Are the Worst Days of The Week To Buy Groceries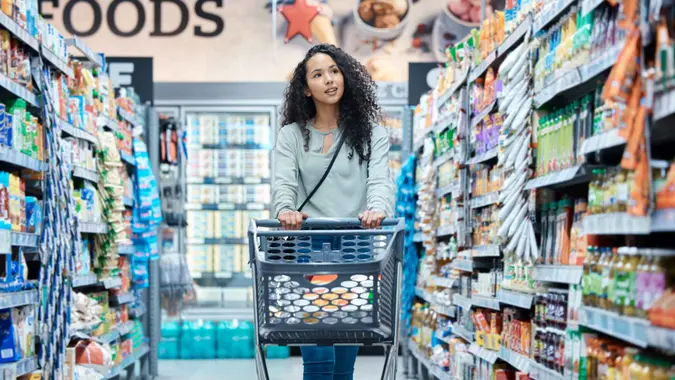 PeopleImages / Getty Images/iStockphoto
If you work a regular 9 to 5, then grocery shopping during the middle of the week can be tricky.
This means that just like millions of other people you will be stuck fighting the crowds on the weekends to ensure that your kitchen is fully stocked for the days ahead.
Research shows, however, that if you can squeeze in a midweek grocery shop, your wallet and your sanity may be greatly rewarded.
Avoid Weekends
According to Drive Research, 59% of consumers surveyed do their grocery shopping Friday, Saturday or Sunday. Therefore, waiting until the end of the week or going on the weekend could mean big crowds and less selection. You may be stuck paying a higher price for an item because the less expensive version is unavailable. 
Avoiding weekends is a good rule of thumb regardless of which retailer you are visiting. One slight exception might be hitting up Aldi on a Sunday. The discount grocer is known for putting new items in its Hot Deals section on this day, according to Delish. Hot Deals tend to be limited in inventory, so if you really want to score big on one of these trendy products, then you'll want to break the weekend rule.
Unless it is unavoidable, do not buy groceries on Saturdays and Sundays (except maybe a quick trip to Aldi).
On Wednesdays We Buy Groceries
Wednesdays should be the day you buy groceries. As explained by Instacart, most grocery stores start their weekly specials on Wednesday.
Make Your Money Work for You
The grocery delivery company also says shoppers may be able to take advantage of "double discounts" since retailers may honor the previous week's deals. The article further recommends shopping later in the day to try and get last-minute price reductions on perishable items.
Therefore, switching your weekly shop to midweek could save you significant amounts of money and help you avoid crowds. 
Plan Based on Restocks
Nearly every grocer restocks products during the middle of the week in anticipation of higher traffic on the weekends. Instacart notes that most of the bigger stores do daily restocking, but smaller grocers tend to replenish products twice a week, generally Tuesday and Friday. It will vary, however, depending on the location. You can always ask when new products come in so that you can be the first to take advantage of the fresh inventory. 
Thus, if you truly want specific items that tend to sell out, find out the retailer's restock schedule and adjust accordingly. 
Plan Ahead
The reality for many of us is that shopping on the weekend simply can't be avoided. Between work, school, youth sports, homework and, well, life, midweek shopping doesn't fit into the mix. So, if you are stuck with the masses waiting in the checkout lines on Saturday or Sunday, you shouldn't worry too much. There are still ways to save. 
If you can get out of the door pretty early, you can reduce your wait time since the stores aren't as likely to be crowded in the early morning hours. The same goes for later in the evening. You can also cut costs by preparing a detailed list so that you don't buy as much on impulse. Finally, you can look for free pick-up or delivery services that might help you avoid the headache altogether. 
Make Your Money Work for You
More From GOBankingRates