6 Best Budget Apps for Couples for 2023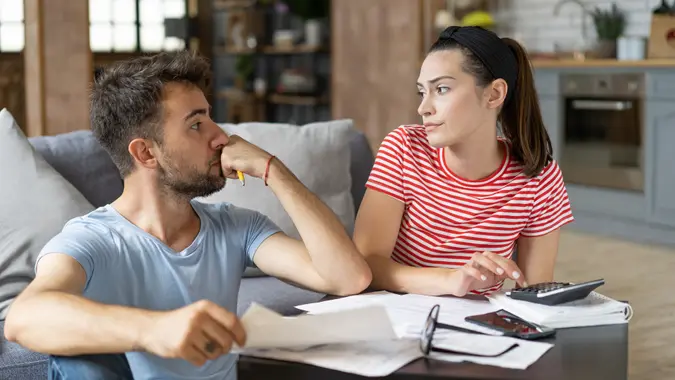 valentinrussanov / Getty Images
Keeping track of your own spending can be difficult enough without having to think about someone else's habits. If you are sharing a life with someone, your financial decisions now affect more than just you. Whether it is keeping track of your mutual spending, saving or financial goals, having an app you both can use might be the budgeting tool you can take to the literal and figurative bank.
See: 3 Ways Smart People Save Money When Filing Their Taxes
Best Budget Apps for Couples
When your personal finances become joint finances, it is about more than just splitting expenses — it's also about creating savings goals together to build your future. In order to start painting a better financial picture for you and your partner, here are six budget apps to consider:
Goodbudget: Best for spending categories
Mint: Best for linking accounts
Monarch: Best for user-friendly interface
Personal Capital: Best for full financial planning
Tiller: Best for integration with your existing programs
YNAB: Best for budgeting from scratch
Make Your Money Work for You
1. Goodbudget
Best for: Couples who want to try the virtual envelope system
With Goodbudget, you can sync and share your budgets with the tried and true envelope system but in an efficient virtual setting. With this system, you and your partner can divide what you need into separate spending categories and allocate the funds accordingly.
Essentially, you budget out your combined funds into different envelopes, so you can avoid any surprises. Your account and budget can be customized and organized into spending categories, including the following:
Groceries
Credit card bills
Gas
Rent
Goodbudget has a rating of 4.7 stars in the App Store and 4.3 stars on Google Play.
2. Mint
Best for: Couples who want to link bank accounts to better budget their spending
Not only is Mint a free budget app, but you can also link multiple accounts, such as your checking account and your partner's bank account, to help keep track of everyone's spending habits. It reduces the need for multiple apps for you both by giving you a complete financial picture through features including the following:
Lets you know when bills are due
Lets you know if any subscriptions increase in price
Customizable budgets
Personalized insights for smarter spending with Mintsights
Free credit score updates
Make Your Money Work for You
Mint has a rating of 4.8 stars in the App Store and 4.5 stars on Google Play.
3. Monarch
Best for: Couples who want a user-friendly interface
Monarch makes it easy to store all of your accounts and investments in one place, which is great for getting you and your partner on the same page. It has a free version for the first 30 days you use it, then charges $9.99 per month after that point.
It is compatible with over 11,000 banks and other financial institutions, so you can collaborate with your significant other without having to switch banks. This way, you can do all of the following from one easy-to-use location:
Track all of your accounts
Get personalized advice
Create a long-term plan for financial goals
Get notifications when you exceed your customized spending limits
Monarch has a rating of 4.8 stars in the App Store and 4.5 stars on Google Play.
4. Personal Capital
Best for: Couples who need fuller financial planning
Personal Capital separates itself from other budget apps with a wide variety of money management software you cannot find anywhere else. You and your partner can manage your budget while also monitoring the balances of your various portfolios.
You can get a 360-degree view of your entire financial situation through specific software specializing in the following areas:
Savings Planner
Retirement Planner
Education Planner
Investment Checker
Fee Analyzer
Financial Roadmap
Personal Strategy
Employer Plan Analysis
Smart Withdrawal
Make Your Money Work for You
Personal Capital has a rating of 4.7 stars in the App Store and 4.3 stars in Google Play.
5. Tiller
Best for: Couples who want to use familiar programs
If you and your partner are people who often work with or can easily navigate spreadsheets in programs like Excel or Google Sheets, then Tiller might be the budget app for you. It lets you update and transfer your financial information without having to complete excessive data entry.
Though Tiller isn't technically an app, it is compatible with computer programs you may already be using. Tiller's pre-built sheets allow a flexible foundation platform template which allows you both to easily track the following:
Expenses
Income
Net worth
Personal budgets
Account balances
6. YNAB
Best for: Couples who need to start their budget from scratch
YNAB, which stands for You Need a Budget, has a patented Four Rule program that promises to help you change your relationship through better money management. It is a zero-based budgeting system that you can try for free for the first 34 days.
The Four Rules of YNAB's system are as follows:
Rule One: Give every dollar a job
Rule Two: Embrace your expenses
Rule Three: Roll with the punches 
Rule Four: Age your money
YNAB has a rating of 4.8 stars in the App Store and 4.6 stars in Google Play.
Final Take
Next time you swipe your debit card or wonder if your partner paid a credit card bill, consider combining your efforts and your finances into one convenient budget app. Not only will this help save you money, but probably a few arguments, as well.
FAQ
Is there a budgeting app for couples?

Many budgeting apps have features that are compatible with couples' needs in areas such as linking accounts and joint financial tracking. Apps with these features include the following:

–

Goodbudget

–

Mint

–

Monarch

–

Personal Capital

–

Tiller

–

YNAB

–

Honeydue

How do I track my couple's expenses?

It's a good idea to get a budget app with your partner, especially one with expense tracking software for multiple accounts for both you and your partner.

Is Mint good for couples?

Mint has many couple friendly features for many financial areas such as alerting you when bills are due and allowing you to customize your budget. It also offers Mintsights and credit score updates to keep you both on financial track.

How do you budget with a joint account?

Budgeting apps allow you to link not only bank account or credit card information, but also your partner's information as well. This allows you both to track how you are spending and saving from your joint account.
Make Your Money Work for You