20 Ways to Save Up $1,000 Quickly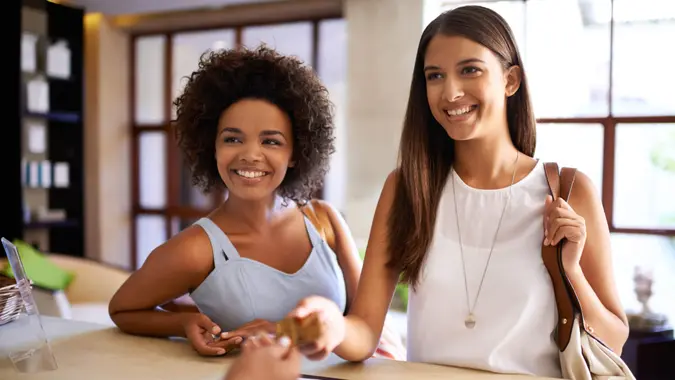 PeopleImages / iStock.com
Who wouldn't want to know how to save 1000 fast? Whether it's to catch up on bills, replenish your emergency savings or save money for the holidays, $1,000 could come in handy.
Read: How To Get Cash Back on Your Everyday Purchases
20 Ideas To Help You Save Up $1,000 Fast
GOBankingRates hunted down tips from top personal finance experts as well as our own experience to find 20 easy ways to save money.
1. Find Your Motivation
It helps if you know exactly why you want to save money. Are you planning a vacation? Paying down debt? Saving for a purchase? Once you know your why, place it somewhere you will see it every day as a reminder to stay disciplined with your spending.
2. Create a Plan
You're more likely to reach your goal if you give it a specific time frame. Do you want to save $1,000 in a week? A month? Three months?
If you have three months to save $1,000, you'll want to set a target of saving roughly $84 per week or $334 per month. You'll probably have to look past eliminating your latte habit to reach your goal.
If you have less time, you'll have to get even stricter about not spending money and maybe even find some ways to earn extra cash, too.
3. Review Your Budget and Reduce Variable Expenses
You have a monthly budget, right? That's a good place to start when you want to save money. First, review your variable expenses and see where you can cut costs. Can you try grocery shopping at Dollar Tree? That could save hundreds of dollars a month.
Make Your Money Work for You
4. Negotiate Fixed Expenses
Don't stop with your variable expenses, though, when you're looking for ways to save money. Expenses you think are fixed — like your cell phone bill or auto insurance — could be flexible. Shop around and negotiate for lower rates.
For instance, you could save $356 per year on auto insurance, according to a J.D. Power study. That's about $30 per month in savings. While that single change won't get you to $1,000, it puts you about 10% of the way there.
5. Set Aside 10% of Your Income
Once you've reduced your household budget, you should make a commitment to set aside 10% of every paycheck you receive, if you aren't already doing so. This change alone can kickstart your savings habit. The average salary in the U.S. is $59,428, according to Forbes Advisor, or $4,952.33 per month.
$495.23 amounts to 10% of that, which means if you set aside 10% of your pay for just two months, you'd have nearly $1,000 in savings. If you double your savings goal to 20%, you can save $1,000 in one month. Of course, salaries vary widely so these figures only apply to someone making an average income this year.
If you are living paycheck-to-paycheck (even after reducing expenses) and can't find an extra 10% of your income to save, consider some of the following tips to make saving money easier or earn extra cash that you can put toward a savings account.  
6. Round Up Your Purchases into a High-Yield Savings Account
Financial experts recommend making savings automatic. You can download an app like Acorns, which rounds up all your credit and debit card purchases and puts it into your Acorns investment account.
Make Your Money Work for You
Many traditional banks and online banks also have "round up your change" savings programs. For instance, Bank of America's Keep the Change Savings Services rounds up your debit card purchases to the nearest dollar and transfers that money into your linked Bank of America savings account.
7. Download Money-saving Apps
The best cash-back apps, like Rakuten, SwagBucks, CapitalOne Shopping and GasBuddy give you cash back on purchases. This is like free money in your pocket. Transfer the money into a high-yield savings account when you earn it and watch your money grow.
8. Save Your Sign-up Bonus with a New Bank Account
With so much competition between traditional banks, credit unions and online financial services today, banks are willing to pay you for your business. You can earn between $100 and $1,000 by opening a new bank account at one of these banks offering sign-on bonuses right0 now.
Just make sure to read the fine print carefully and ensure you can meet all the qualifications, including direct deposit and minimum deposit requirements.
9. Refer Friends to Your Favorite Bank or Credit Card
Likewise, you can earn referral bonuses when you share a link with your friends and they sign up with your bank or credit card of choice. Chase Bank, for instance, has a generous referral program for banking customers, as well as credit card account holders. Chase Freedom Unlimited cardholders, for example, can earn up to $500 cash back by referring five friends to the card once their applications are approved, according to GOBankingRates.
10. Do Your Own Nails — Or Scale Back on Services
A full set of gel nails costs an average of $50 at a nail salon, according to AirTasker, while nail art and designs add another $5 per nail. Gel nail polish manicures tend to last two to three weeks. You could save $50 to $100 (or more!) per month just by polishing your nails at home.
If you aren't willing to give up fancy nails, you can scale back to a regular manicure for an average of $20, still saving $30 to $60 per month.
11. Hold Off on a Haircut
The average price for a haircut, according to YouProbablyNeedaHaircut.com, is $56. Men's cuts cost an average of $43, while it costs women an average of $56. If you go for a haircut every six to eight weeks, you could save more than $100 toward your goal of saving $1,000 by holding off and letting your hair grow out for a little while.
12. Cancel Subscriptions You Don't Need
How many online publications, streaming video services, and streaming music services does your household have? The average household had 12 paid entertainment and media subscriptions in 2021, according to figures from Statista reported by SellCoursesOnline.com.
But it's not just streaming services that eat away your potential savings. The same article shared that 31% of people polled have a food subscription, while 37% have a "box subscription," and 33% have another type of subscription not related to media consumption.
Significantly, a survey from C&R Research found that consumers spend an average of $219 per month on subscriptions. If you canceled all of these for just three months, you'd be more than halfway to your goal of saving $1,000.  
13. Bike, Walk, or Use Public Transportation
If you can go without a car for a few months, you could save $150 to $200 per month, according to JDPower.com. That's how much the average American spends on gas.
Of course, choosing not to drive may not be practical for everyone, depending on where you live and what you do for work. But there are ways to reduce how much you drive to save money. You can:
Carpool to work
Negotiate with your employer to work remotely a few days a week
Consolidate grocery shopping trips and errands into one day a week
Consider walking or biking for nearby trips.
14. Hold a Garage Sale
If you're like most Americans, you have lots of clutter in your house and items you no longer use. Take the opportunity to hold a garage sale and earn some extra cash. The amount you'll earn depends on the items you have available to sell, of course.
15. Sell Items on eBay or Facebook Marketplace
For higher value items, including designer handbags or collectible comic books and baseball cards, consider selling on eBay, instead. You may also try selling fashion items at a consignment shop, where you may get more money for them from knowledgeable buyers who understand their value. Poshmark is another good option to sell name-brand luxury clothing and accessories.
16. Go Through Your Old Bills and Change
Old coins and bills can sell for hundreds of thousands of dollars if they are rare and in excellent condition. Some things to look for include bills and coins with printing errors, high denomination bills ($500 and over), and bills with serial numbers that are "solid," or all the same number.
If you find a bill or coin that may be worth more than its face value, take it to an expert to find out, GOBankingRates previously advised.
17. Wrap Your Change
As you're going through your old coins, take the time to wrap them and deposit them into your savings account. You might be surprised at the amount of money you have lying around in a piggy bank, change jar or between your couch cushions.
Most banks allow customers to deposit rolled coins for no fee; some banks allow you to cash in your coins even if you don't have an account at the bank. Alternatively, you can visit a Coinstar machine and pay a fee for the convenience of not having to roll the coins.
18. Turn Off Lights You Aren't Using
It turns out your parents were right: Turning off lights when you're not in the room really can save on your electric bill. It's less true today than in your parents' time, since compact fluorescent bulbs, or CFLs, and LEDs have replaced power-hungry incandescent lights.
But the savings still adds up. According to MrElectric.com, if you leave 10 CFLs on for just an hour a day when you don't need them, you're adding $6 to your electric bill each year. LEDs will cost you an extra $5 per year for just one extra hour of use. But if you're leaving LEDs on for 24 hours because they are energy-efficient, you're wasting money.
Over the years, people have disputed the money-saving benefits of turning off lights. That's because CFLs can burn out faster if you switch them on and off frequently. The U.S. Department of Energy recommended that you turn off any CFLs if you plan to be out of a room for more than 15 minutes. With LEDs, you should turn off the lights whenever you're not using them, since LEDs aren't subject to the same effects of wear-and-tear.
19. Keep Your Thermostat at the Right Setting
Likewise, you can reduce your home energy costs by keeping your thermostat at the appropriate setting. The U.S. Department of Energy said that you can save 10% per year on heating and cooling if you set your thermostat seven to 10 degrees higher (in the summer) and seven to 10 degrees lower (in the winter) than your usual settings.
You should try to maintain a winter temperature in your home between 68 to 70 for a balance between comfort and cost-savings, and as high as 78 degrees in the summer.
Americans spend an average of $1,346 on space-heaters and air conditioning, according to Self.inc. If you could reduce that cost by 10% per year, or $134.60, you'd save a little more than $10 per month to put toward your savings goal.
20. Go on a Spending Freeze
Speaking of temperature, what would you do if you desperately needed $1,000 fast? You might try a combination of these tips to save money.
You could also go on a spending freeze. For a full month, try not to spend any money other than your fixed household bills and credit card minimum payments. Cook foods that are already in your refrigerator or pantry. Hold off on buying those new shoes. Say, "no," when friends ask you out for drinks after work.
It may not be sustainable to eliminate all your flexible expenses for months, but it can help bolster your savings or give you cash you need in an emergency. Ultimately, the financial security you feel from having money in the bank will make it easier to forget the sacrifices you made to get there.
Final Take
Whether you look for ways to save money on everyday purchases, "pay yourself first" with automatic savings into a high-yield account, or find ways to earn extra cash, it's possible to save $1,000 fast.
FAQ
Here are some answers to questions about the many ways to save money.
How can I save $1,000 in 3 months?

You can save $1,000 in three months by saving roughly $334 per month or just $84 per week. Take a look at the list above to find ways to save money weekly and money to reach your goal.

How long does it take to save $1,000 dollars?

Depending on your daily expenses and willingness to consider alternative streams of income on top of your regular job, you can save $1,000 in a week or a month -- or even faster. Most people can save $1,000 in three to four months by reducing some of their variable expenses, such as cancelling subscriptions or eating meals at home, for a short time.

How can you save $1,000 in 4 weeks?

If you wanted to save $1000 in four weeks, you'd need to save $250 per week. Some of the ideas on how to save $1,000 fast include saving 10% of your income, going on a spending freeze and even holding off on haircuts and visits to the nail salon to trim out extra expenses every so often.
Our in-house research team and on-site financial experts work together to create content that's accurate, impartial, and up to date. We fact-check every single statistic, quote and fact using trusted primary resources to make sure the information we provide is correct. You can learn more about GOBankingRates' processes and standards in our editorial policy.