Where Can You Cash Coins for Free?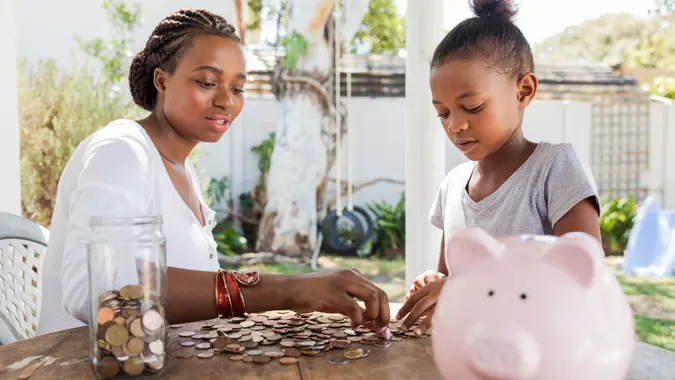 AfricaImages / Getty Images/iStockphoto
People have saved money by keeping their cash and coins in clay pots, metal boxes, piggy banks and more for years. Whether you find it between the couch cushions, stuffed in jeans pockets, or gathered at the bottom of a purse, change adds up over time. In fact, saving it may be the easiest part. Finding a place to change loose coins for cash can be a bit trickier.
Read: If Your Credit Score Is Under 600, Make These 3 Moves ASAP
The rise of direct deposits, automated bill pay, and credit card transactions makes it possible for people to live cashless lifestyles. As many as 41% of Americans say they don't use cash at all during a regular week. You can cash coins in for free at Coinstar kiosks, banks, credit unions and more. Read on for more on how and where you can cash in your coins for free.
Do Any Banks Offer Free Coin Counting?
The short answer is yes. Some banks and credit unions offer free coin-counting services for their customers and members. The following list includes a sample of some of the places where you can deposit coins and get cash:
JBT Bank
Manasquan Bank
Penn East Federal Credit Union
Republic Bank
Make Your Money Work for You
Most of these places limit this service to customers, and you'll find some variations in how the services work. Some have self-service coin counters on site. Others restrict the amount of change you can convert in a single visit. Many banks expect you to sort and roll the change on your own before you show up.
Of course, you can visit your local bank or credit union in person to ask how to change your coins. Or you can check out the list below to see some of the places we've identified that provide this service.
1. Coinstar
Coinstar kiosks are easy to use. Pour your loose change into the receiver and let the machine do the work of sorting and counting the coins. The company operates close to 20,000 kiosks in grocery stores, gas stations, and other retail centers around the world. You'll pay a fee if you want to receive your money as cash, but the eGift card option is free. Choose an eGift card from a Coinstar partner merchant, including Amazon, the Apple Store, Outback, Nike and Southwest Airlines, and you won't pay a penny to convert your change.
Make Your Money Work for You
2. Credit Unions
A number of credit unions around the country accept coin deposits, and some offer coin-counting services at no charge for customers. For example, Suncoast Credit Union has self-service coin-counting machines in each branch lobby. Members of Penn East Federal Credit Union have access to complimentary coin-counting services. If you're already a member of a credit union with physical branches, this can be an easy way to convert your change to cash or deposit it in a checking or savings account.
3. Community and Regional Banks
Many community and regional banks offer services like coin counting to distinguish themselves from larger banks. JBT Bank and Manasquan Bank provide self-service coin counters for customers to use free of charge. Non-customers can use the counters for a fee that the bank donates to a local charity. Republic Bank's branches feature Magic Money coin-counting machines available for customers to use. Citizens Bank accepts up to $20 in loose change as well as rolled coins for deposit.
Make Your Money Work for You
4. National Banks
The big national banks may not have coin-counting machines in branch lobbies, but many of them do accept coin deposits. Don't show up with a bag of loose change, though. Bank of America and Chase accept deposits of rolled coins.  While you're at the teller's window, you should be able to withdraw the deposit as cash or head over to the ATM. U.S. Bank offers customers coin-counting services at select branches, which can help ensure you add up the change correctly.
5. Self-checkout Line
The final place on this list is unconventional, but some customers use the self-checkout line to convert coins into cash. For this to work, you have to find a store that accepts cash payments in the self-checkout line. After scanning your purchases, deposit the coins in the coin slot and let the machine count them. If you overpay, the machine may give you your change in bills. However, some stores have a limited number of registers that accept cash payments, and some only accept debit and credit cards, which makes a bank or credit union a better option.
Takeaway
It is still possible to convert your spare change to cash, and you can do this for free if you know where to look. The easiest way to do this is at a bank or credit union with coin-counting machines that do the work for you. Otherwise, buy some coin wrappers and set aside some time to sort, count, and roll the change before depositing it in your account. You'll be able to avoid paying a service fee and can keep more of your cash.
FAQ
Here are the answers to some of the most frequently asked questions about converting your spare change to cash.
Is Coinstar free at Walmart?

Coinstar charges up to 12.5% and a $0.50 transaction fee if you want to walk away with cash in your hand. If you deposit $100 in loose change, you'll receive $87. You can avoid the fee by converting your change to an eGift card, which can be an appealing option if you frequently shop at Amazon, Lowes, Domino's Pizza, or one of the other partner businesses.

How can I turn coins into cash without fees?

If you want to turn your coins into cash without paying a fee, be prepared to roll up your sleeves and roll up your change. Many banks accept rolled coins as a deposit. You'll need to sort the change, count it out, and insert it into coin wrappers. A single coin wrapper can hold $0.50 of pennies, $2 of nickels, $5 of dimes, and $10 of quarters. Deposit the rolled coins into your checking account and withdraw the money as cash.
Our in-house research team and on-site financial experts work together to create content that's accurate, impartial, and up to date. We fact-check every single statistic, quote and fact using trusted primary resources to make sure the information we provide is correct. You can learn more about GOBankingRates' processes and standards in our editorial policy.
Make Your Money Work for You