Should You Search Your Change Jar for Rare Coins? Your Chances of Cashing In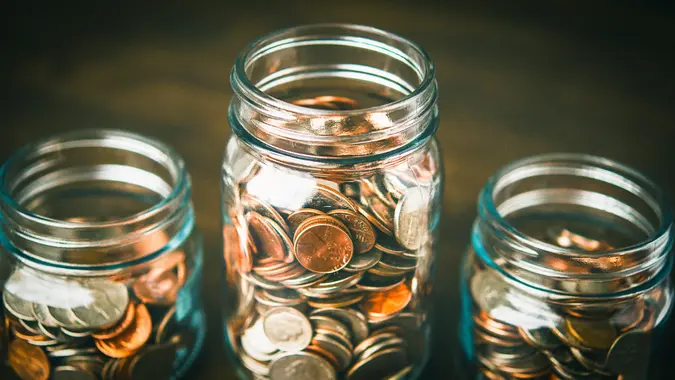 CatLane / Getty Images/iStockphoto
If you still have a coin jar sitting around, you might be thinking it's time to take it to Coinstar and get a few bucks for your change. But before you do, you might want to inspect your coins to see if there are any rare or valuable examples in there.
There are many sought-after coins that are still in circulation, with some worth $500 or more, and they might be sitting in your drawer collecting dust. But you need to know what to look for.
GOBankingRates found 15 valuable coins in the form of pennies, nickels, dimes, quarters and half dollars. Values were sourced from online auction data from the PCGS website. These coins are somewhat rare, but you can still find them in change jars around the country if you look closely enough.
Rare Pennies — Worth $1 or More
Pennies are probably the easiest coins to find, and you might have more pennies than anything in your change jar. Pennies have been in circulation since 1793, though the current iteration with Lincoln has only been around since 1909.
There are many rare pennies still in circulation today, with some going for hundreds of dollars. Here are a few coins that can still be found, with some minted as recently as 1999. Check your change jar for the right markings, and you might be able to make some money from your penny collection.
1909-S VDB ($700+): The original Lincoln head penny was released in 1909, and the creator of this penny, Victor David Brenner, stamped his initials on the back of the coin initially, but public outcry had it removed. These coins are rare, but can fetch over $700 in good condition.
1922 plain cent ($500+): There were a lot of pennies minted in 1922, all of them minted in Denver with a "D" mark on the penny. But due to heavy use, the minting plates wore out, and some pennies don't have the letter "D" at all. These rare coins are worth over $500 each!
1999 wide "AM" ($50+): This 90-year memorial penny had two versions, with the more common version minted squishing together the "A" and "M" letters on the word AMERICA on the back. The rare version has the letters farther apart, hence "wide AM." In decent condition, it can fetch over $50, up to $500.
Make Your Money Work Better for You
Rare Nickels — Worth up to $1,000
Nickels have been around a while, but the most recent version of the nickel has Thomas Jefferson on the front. The Jefferson nickel has been in circulation since 1938, making them probably the easiest to find in circulation, but there are a few rare versions to be on the lookout for:
1943-P Doubled Eye ($275+): Wartime nickels from between 1941 and 1945
1943/2-P ($600+): Another wartime nickel, this coin's rarity comes from the fact that the "3" in the 1943 date was stamped over the number "2."
1949-D/S ($300+): Another double stamped nickel error, this specimen shows a "D" stamped over the letter "S" for the mint location.
Rare Dimes — Easy To Find
Dimes are fairly common, but finding a rare one could be lucrative. While many dimes were made with silver back in the day, this doesn't actually increase their value by a ton. Finding specific rare dimes can be very valuable, though, so check your coin collection thoroughly for any of these:
1964-P Roosevelt Dime: Special Mint Set: While the Roosevelt dime isn't too uncommon, this special mint set is rare, and finding this coin can net upwards of $10,000 for a coin in good condition.
1901-S ($60+): Known as one of the "Barber dimes," this mint set was particularly rare. Good condition coins with the "S" stamp go for $60 or more.
1982 no-P Roosevelt dime ($75): The minting stamp in Philadelphia for this dime wore out the letter "P" at some point, causing a misprint. If you find a 1982 dime with no location stamp, it could be worth $75 or more.
Make Your Money Work Better for You
Rare Quarters — Minted as Recently as 2004
The first quarter made an appearance in 1796, though George Washington wouldn't appear on them until 1932. There have been many different quarter designs over the years, and some of them are worth quite a bit more than 25 cents.
1925 – 1930 "dateless" quarters ($5+): Many quarters minted between 1925 – 1930 didn't have a date stamp. These examples are worth about $5 a piece.
1932-S ($300+): The Walking Liberty half dollar was minted from 1916 – 1947, but this specific model only saw around 200,000 in circulation. This coin can easily fetch upwards of $300 in good condition. 
2004-D "Wisconsin Extra Leaf" ($125+): As part of the 50-state quarter collection, the Denver mint accidentally added an extra leaf on the back of the Wisconsin quarter. With very few in circulation, this has become a collector's item, netting over $100 for a specimen in good condition.
Rare Half Dollars — Worth up to $300
Half dollars are not as widely circulated as other coins, but you might find a rare piece in your coin collection that is worth significantly more than the face value. While older versions of the half dollar from the 1700s and 1800s can fetch tens of thousands of dollars, you might actually find these coins from the 1900s:
1921-D Walking Liberty Half Dollar ($300+): The Walking Liberty half dollar was minted from 1916 – 1947, but this specific model only saw around 200,000 in circulation. This coin can easily fetch upwards of $300 in good condition. 
1998-S Matte Finish Kennedy Half Dollar ($150+): This recent half dollar was part of a collectible set with another coin that has Robert F. Kennedy on the face. The low circulation has given the coin a value of $150 plus, depending on the condition.
1955 "Bugs Bunny" Franklin Half Dollar ($55+): This Roosevelt half dollar was accidently created because of a die issue when minting, giving the president a "buck tooth" look — hence the name. These have been sold for $50 or more in good condition.
Make Your Money Work Better for You
Bottom Line
While finding these rare coins could net you a few hundreds dollars, the mint numbers may not be in your favor. The more rare a coin is, the higher the value, so you're unlikely to actually find these. You might be better off searching quickly for coins that contain silver — pre-1964 nickels, dimes, quarters, etc. — or wartime coins minted between 1941 – 1945.
You can also simply do an online search or take a picture of your coin to see if it's valuable, though you need to calculate if the potential payoff is worth your time.
More From GOBankingRates