Chase Refer-A-Friend: How Referrals Work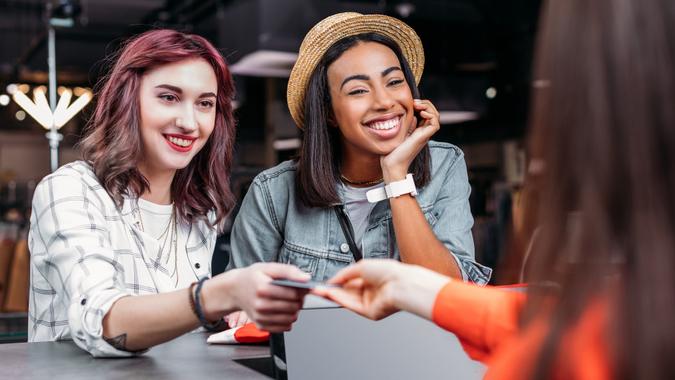 LightFieldStudios / iStock.com
Do you love your Chase credit card? Do you love getting free perks? Then you might want to take advantage of the Chase Refer-A-Friend program. It doesn't cost cardholders a penny to get involved. All Chase members need to do is send their referral link to a friend and rake in the rewards.
Read: This Credit Score Mistake Could Be Costing Millions Of Americans
What Is the Chase Refer-A-Friend Program?
The Chase Refer-A-Friend program is a referral rewards program that pays members in cash back, miles or rewards points on their credit cards each time a friend they refer is approved for a new credit card. The company offers referral programs for all its credit cards, so all Chase cardholders can earn extra rewards.
The rewards Chase offers are specific to the credit card the cardholder has. For example:
Cash back credit card referrals earn extra cash.
Travel rewards credit cards earn extra miles.
Rewards points credit cards can earn extra points.
How the Chase Refer-A-Friend Program Works
The Chase Refer-A-Friend program is easy to take advantage of. Follow the steps below to get started:
Go to the Chase Refer-A-Friend page. The Chase Refer-A-Friend page lists all offers cardholders can send to their friends.
Find the credit card you want to refer your friend to. The web page lists all credit card offers currently available at Chase. Find the one you want to tell your friend about, and click the "Refer friends now" link. 
Fill out your information. Fill out your information, including your last name, zip code and the last four digits of your credit card number and click "Continue." This is an important step because it gives the referrer credit for the referral.
Fill out your friend's contact information. Now, you will need to include their name, email address or mobile phone number so that Chase can send the referral link. 
Tell your friend. Make sure to tell your friend the email or text message is a referral from you and isn't spam.  
Get rewarded. If your friend is approved for the credit card, you earn rewards.
It's also worth mentioning that reward values differ between offers. For example, cardholders who refer friends to the Chase Sapphire Preferred card earn 15,000 points per referral, while those who refer friends to the Southwest Rapid Rewards credit card earn 20,000 points for each referral.
Limits of the Program
As with many credit card reward programs, there are some limitations to the Chase Refer-A-Friend program. First and foremost, each different card has a limited number of points cardholders will earn per friend. Also, cardholders can refer as many friends as they'd like, but Chase rewards cardholders for only the first five referrals they send per year.
Popular Chase Credit Cards
Those who want to take advantage of the Refer-A-Friend program but don't have a Chase credit card should consider the following options to get the most bang for their buck: 
The Bottom Line
The Chase Refer-A-Friend program is an effective way for cardholders to boost their rewards earnings, although cardholders with more than five friends to refer may want to limit their referrals to five per year to get the most rewards for their referrals.
Chase Refer-A-Friend FAQ
Find the answers to some of the most frequently asked questions about the Chase Refer-A-Friend program below.
Does Chase have a referral program?

Yes. Cardholders can earn additional rewards by referring up to five friends to Chase per year.

Why can't I refer a friend to Chase?

In most cases, you can't refer a friend because that particular credit card is no longer open for applications. You must also be a cardholder of that card to take part in the program.

How does Chase Refer-A-Friend work?

The program is simple. Use a unique link to refer a friend and earn extra rewards when they're approved.

How long does it take Chase to post referral bonuses?

Chase typically takes up to eight weeks from the application approval to post referral bonuses.
Information is accurate as of Sept. 21, 2022.
Editorial Note: This content is not provided by any entity covered in this article. Any opinions, analyses, reviews, ratings or recommendations expressed in this article are those of the author alone and have not been reviewed, approved or otherwise endorsed by any entity named in this article.