The Realities of Living Paycheck-to-Paycheck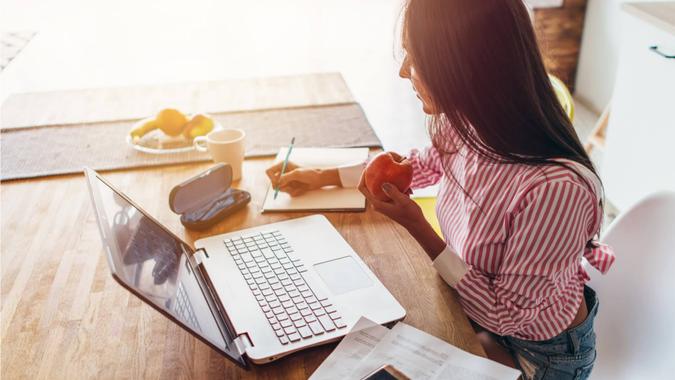 ©iStock.com
The cost of living has gone up in the United States, according to the Wall Street Journal, but wages have not kept up. This, in addition to the economic shocks of the pandemic, has left many people living paycheck-to-paycheck. Those with discretionary income, retirement accounts and savings don't necessarily realize how much easier that financial buffer makes life. For the folks who live every month hoping they can afford all their bills, their lives look a lot different.
Learn More: How To Save When You Live Paycheck to Paycheck
See: 50 Easy Things You Should Do To Save Money
Breaking the Cycle Is Difficult
"Getting out of a cycle of living paycheck-to-paycheck is incredibly hard," said Carter Seuthe, CEO of Credit Summit. "You either have to make more money or spend less. Making more money is often difficult when wages aren't keeping up with inflation. You're often forced to take a second job, likely gig work, just to make ends meet."
Additionally, for many people in this situation, spending less isn't really an option either, especially for such things as housing, where prices continue to soar (both rents and mortgages), he said. "You can cut back to the bare necessities for a while and hope to get ahead, but for most people, one emergency will wipe them out."
Follow Along: 31 Days of Living Richer
Busting Myths
There are many myths about what it means to live paycheck-to-paycheck, but according to Jake Hill, CEO of Debt Hammer, "The biggest misconception–and one we as a society desperately need to move away from–is that someone living paycheck-to-paycheck must be fiscally irresponsible by default."
Given that the federal minimum wage hasn't been raised since 2009 and rents can take up to 70% of take-home pay, he said, "What can we expect?"
Many people in this situation end up seeking out a "side hustle" to get ahead, Hill said. "Even being able to get a few hundred dollars more a month can help. Others become obsessive about budgeting and living well below their means until they can build up savings and improve their situation."
Location Matters: States Where You're Most and Least Likely To Live Paycheck-to-Paycheck
Additionally, living paycheck-to-paycheck can affect anyone, said Rebecca Brooks, owner and financial coach at R&D Financial Coaching, points out, "…if you would endure financial hardship because of a missed payday, you are indeed living paycheck-to-paycheck. This hardship can manifest as being unable to cover your bills, incurring debt, having to sell something, or needing to borrow money from friends to cover necessities."
Folks in this situation are not all low-income, either. "It can affect people on any income level," said Ben Reynolds, CEO and founder of Sure Dividend. "This is because they don't budget their money, which means you're overspending and not accumulating savings."
Be Aware: 35 Useless Expenses You Need To Slash From Your Budget Now
Emotional Stress
Tiffany, a 33-year-old California mother of a 2 1/2-year-old son, who is pregnant with her second child, left her job as an office manager right before the pandemic to raise her son full time, citing the prohibitively high costs of child care. Her partner works full time as a fitness manager and personal trainer at a gym, and the shift from two incomes to one was challenging.
"Emotionally it's stressful seeing my bank account reach below a certain threshold because it means I need to really go into survival mode and be very judicious with every penny spent," she said.
Helpful Advice: 37 Life Hacks That Will Save You Money
There are months where she has to decide which bills to pay and which she will have to put off to the next month. Other times, she chooses between which grocery stores to shop at, stretching her dollar as far as it can go. At the moment, she and her partner are several months behind on their gas and electricity bills so they can keep up the car payment, a necessity.
Their rent is $1,700, which is considered "cheap" for the area they live in, the car payment is $404, groceries are around $600 per month, utilities are $80, water and garbage between $50 and $70, and baby-related items such as diapers, wipes and baby food pouches run her another $200-$300 per month.
"Nobody likes living this way," she said. "It's incredibly stressful, but ultimately it was cheaper for me to stay home than to put my son in daycare." With another baby on the way, she is unlikely to return to work soon.
Discover: Parents Quit Jobs, Build Debt to Pay for Child Care
No Wiggle Room
Julia, a 23-year old teaching assistant in California, lives with four other family members in a two-bedroom apartment that rents for $1,600 per month, sharing expenses. She is frustrated by the misconception that people who live paycheck-to-paycheck "must be spending their money on frivolous things because everyone should be making enough to live. A lot of jobs that are necessary for everybody to function–especially labor jobs or customer service focused jobs–are not providing a livable wage or providing the other things necessary to live well, such as health insurance."
Important: 17 Surprising Ways Penny-Pinching Costs You More
Julia earns about $1,600 each month and pays her share toward rent, food, gas, a car payment plus car insurance, Wi-Fi, utilities and other household expenses. "You don't eat out, you don't buy that thing you want," she said. "You learn how to operate and live in those parameters."
If not for the ability to live with family, she said, "None of us could afford to live on our own at this moment."
For the first time in her life, she has $800 in savings, thanks only to unemployment funds she received during the pandemic, creating a cushion that is a relief. "When you're living on a budget there is not a whole lot of wiggle room. If you miss a couple of payments, you're in trouble."
See: Tips To Keep Your Finances in Order Without Sacrificing What You Want
Getting Ahead
It can take time, luck and no unexpected expenses for people to be able to get ahead of the paycheck-to-paycheck life.
"Although it can feel like a never-ending cycle, the most important thing to remember is that while there are many things you cannot control, how you save and spend is something you can control. First, look to cut out any non-essentials from your budget," said Alissa Van Volkom, head of consumer deposits, products and payments at TD Bank.
Such nonessentials include gym memberships, entertainment subscriptions, eating/ordering out, etc.
"While these might seem like small adjustments, taking these first steps can help put you on the path to financial stability."
More From GOBankingRates
Last updated: Aug. 19, 2021