All you need to Know About Personal Finance Press

To inform taxpayer, GOBankingRates released an infographic illustrating exactly what their income taxes are funding LOS ANGELES, March 18, 2014 — According to new findings from personal finance site GOBankingRates.com, just 20.9% of taxpayers say they are absolutely certain how their income tax dollars are spent, leaving almost 80% of people not knowing what happens...
Read More »

A new study from leading personal finance website GOBankingRates shows car buyers how to turn their tax refund into a down payment on a new car while auto loan interest rates are low LOS ANGELES, Mar. 12, 2014 – This tax season presents the perfect storm of conditions for tax refund recipients who are looking...
Read More »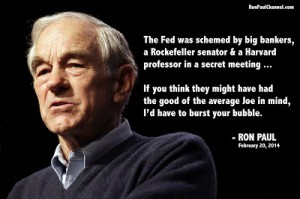 LOS ANGELES, Feb. 24, 2014 – Three-time presidential candidate Ron Paul shares his opinion on the outlook of consumer bank interest rates in 2014 on leading personal finance website GOBankingRates.com Ron Paul's analysis did not shed a positive light on the Fed. "Since becoming chairwoman of the Federal Reserve, Janet Yellen has promised more of the same. This...
Read More »
GoBankingRates.com guide assists those affected by impending year-end layoffs with six tips to ease the shock of getting let go. LOS ANGELES, CA – According to the U.S. Bureau of Labor Statistics, the end of the year is a time when mass layoffs are high. To assist those affected, GoBankingRates.com has developed a guide to...
Read More »
GoBankingRates.com launches monthly financial report examining health of U.S. interest rates and markets. Los Angeles, Oct. 29, 2013 – As the Web's only source of both national and hyper-local interest rate information, GoBankingRates.com has expanded its data aggregation and analysis with the launch of a monthly Markets Report. Key numbers surrounding the health of the...
Read More »
America has raised the debt ceiling 78 times, contributing to Americans' lack of insight into what a default on the country's debts would truly mean. Below is a preview of the investigation: A recent Reason-Rupe survey found 55 percent of respondents prefer a debt ceiling reduction even at the cost of default, while a Gallup...
Read More »
A GoBankingRates.com report investigates the impact of a debt ceiling default on interest rates, projecting future rates for auto loans, mortgages, student loans and credit cards if they were to double. LOS ANGELES, Oct. 08, 2013 – As the United States nears the Oct. 17 deadline to come up with a solution for handling the...
Read More »

From conquering personal debt to increasing family savings, GoBankingRates.com shares their five favorite personal finance books released this fall. EL SEGUNDO, CA, Sept. 19, 2013 – With the average American carrying more than $225,000 in debt and less than $500 in emergency savings, improving personal finances is vital in today's society. To help individuals looking...
Read More »