5 Credit Cards for Strengthening Your Credit in Tulsa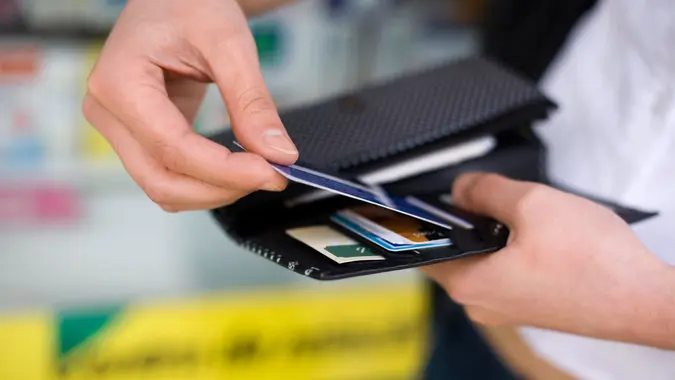 flyfloor / Getty Images/iStockphoto
Even good people can suffer from poor credit; but what you do about it requires knowledge. Missed and late payments happen for lots of reasons like job loss, illness and unexpected emergencies, and when they do it doesn't take long for your credit score to drop far enough that securing credit becomes difficult.
Rebuilding your credit worthiness requires a plan that includes making a budget and staying on the straight and narrow as far as payments go. Staying current with creditors' means more than just maintaining credit cards and loan payments, it even includes bills like utilities. Making sure you make your payments on time every time needs to be your No. 1 priority each month.
Rebuilding Trust
Credit card companies will sometimes cancel your credit card even if you've made a payment arrangement and are sticking to it. It's nothing personal, but as the old saying goes once bitten twice shy, and they are looking at both your record with them and the drop in your credit score. After all, credit card issuers are in business to make money by limiting their risks, and you have now become riskier.
The best course of action is not to give up on credit cards altogether because that won't help restore your credit score. The question becomes how to get a credit card when creditors think you're too much of a risk, and luckily for Tulsa, Okla., residents, there are several secured credit cards available for the purpose of rebuilding your credit score.
Secured Credit Cards
Secure credit cards eliminate the risk for issuers by limiting your credit limit to the amount of money you have on deposit with the card issuer or financial institution. If you want to increase your credit limit, you have to increase the amount of money you have on deposit. By doing this, the bank limits your risk as your payment is guaranteed.
These cards often come with credit monitoring to the three major credit bureaus, helping one strengthen his credit with responsible card use. Plus, the fact that funds are on deposit isn't noted to the credit bureaus, so payments look like they're coming in on time through your own efforts. Put enough on-time payments together in a row and your credit score will start to improve.
It's important, though, to remember that not all secured credit cards are the same; they differ in terms of their interest rates and fees. Here are five secured credit cards to help improve your credit in Tulsa.
Oklahoma Central Credit Union's Visa Secured Card
With branches throughout Tulsa and elsewhere in Oklahoma, Tulsa residents will find the credit union a convenient option for a secured credit card account.
With credit limits from $300 to $5,000, a moderate variable interest rate of 17.99% and a $35 annual fee, this card reports to the major credit bureaus to help your credit score increase quickly.
Navy Federal Credit Union's nRewards Secured Card
Membership is open to active duty and reserve personnel for the Department of Defense and all U.S. military branches, and their families. Navy Federal Credit Union's nRewards Secured Card has low carrying costs, as it charges no annual fee with a variable APR as low as 8.99%, based on your credit history.
Plus you'll earn one reward point for every dollar spent and can redeem points for merchandise, gift cards and travel-related certificates — all while building or repairing your credit.
First Progress' Secured MasterCard
First Progress is exclusively focused on providing secured credit cards to customers with no credit history, requiring no minimum credit score for approval. It offers three card options with annual fees starting at $29, and variable interest rates for purchases starting at a reasonable 11.99% APR.
USAA's Secured MasterCard
USAA is a membership-based organization that is open to U.S. military service members and their eligible family members. Credit limits are based on insured, interest-earning deposits from $250 to $5,000. Its 9.90% APR interest rate is one of the lowest available, and is tied to the prime rate. While there is no application fee there is an annual fee of $35.
U.S. Bank's Secured Visa Card
This card has an annual fee of $35 and its variable interest rate is 20.99% APR. U.S. Bank does offer a fast track to obtain an unsecured card, which can be done in as few as 12 months if you manage all of your credit obligations responsibly and consistently.
As with other secured credit cards your credit limit is linked to the funds you have on deposit and payments are reported to the major credit bureaus.