Is the US Really About To Hit a Spending Wall Due to Debt? Economists Argue Both Sides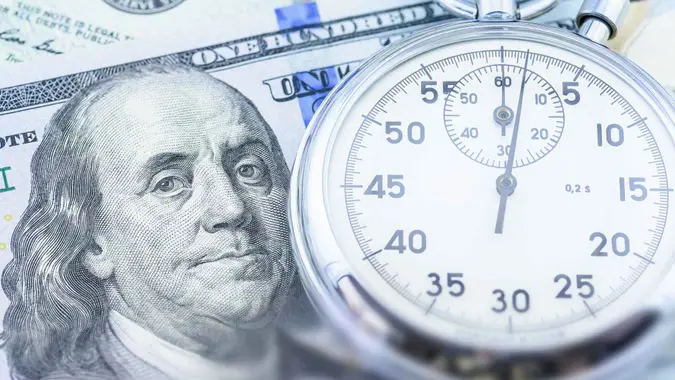 William_Potter / Getty Images
Despite cooling inflation and waning talks about a looming recession, some economists argue that U.S. consumer debt is about to "hit a wall." Meanwhile, others, such as Moody's chief economist Mark Zandi, said that these fears are "overblown."
The argument stems partly from the fact that household debt rose to $17.06 trillion in the second quarter of 2023, led by credit card balances, which saw a huge jump, rising by $45 billion to a record $1.03 trillion, according to the Federal Reserve Bank of New York. 
Against this backdrop, the drying out of pandemic savings coupled with the resumption of student loan payments could put a dent in consumption, slowing the economy. 
And now, a new Bloomberg Markets Live Pulse survey, found that personal consumption, the most important driver of economic growth, will shrink in early 2024, which would be the first quarterly decline since the onset of the pandemic. In addition, 21% said the "reversal will happen even sooner, in the last quarter of this year, as high borrowing costs eat into household budgets while Covid-era savings run down," according to Bloomberg.
Michael Micheletti, chief communications officer, Unlock Technologies, said that a good portion of American consumers have been using credit cards to make ends meet over the past three quarters. 
"We have seen this particularly playing out in spend patterns around everyday expenses like food and transportation," said Micheletti. "Then, during the summer months, we saw overall spending levels drop off as consumers maxed out credit cards and had limited savings to fall back on."
Make Your Money Work for You
According to him, while inflation may be slowing a bit, it does not mean that core items households depend on have come down in price. 
"It is more than likely that (outside of the holiday spending period) we will indeed see consumer spending contract further as people deal with increased debt burdens and the resumption of student loan payments," he added.
Overblown Fears
Meanwhile, other experts argue that fears around the fact that Americans are taking on too much debt, posing a threat to the economy, is "misplaced."
"Total debt is up only 3.5% in the year ending in August according to Moody's data based on Equifax credit files. And the ratio of debt-to-income is low & stable, as is debt service," Zandi wrote on X, the platform formerly known as Twitter. "There was cause to be concerned at the start of the year when borrowing was ramping up on credit cards, unsecured personal and auto loans. But borrowing has since moderated. This goes to slowing inflation, which is lifting household's purchasing power, and tighter underwriting."
Goldman Sachs analysts were also more optimistic, saying in a Sept. 4 note that the continued positive inflation and labor market news has led them to cut their estimated 12-month U.S recession probability further to 15%.
"Our estimate is far below the Bloomberg consensus, which remains stuck at 60%," they wrote in the note. "We are also substantially more optimistic than most other forecasters in terms of our baseline GDP growth forecast, which averages 2% through the end of 2024."
A New Reality
Yet, according to Austin Kilgore, analyst at Achieve Center for Consumer Insights, one of the issues is that the everyday American hasn't yet acclimated to the higher-cost reality that we're living in. 
"As more of consumers' household budgets goes toward essential spending categories, and higher interest rates make it more expensive to service existing debts, nonessential consumer spending is bound to take a hit," he said, adding that the end of student loan forbearance exacerbates the debt problem, and is a significant source of stress for many consumers. 
Make Your Money Work for You
He added that even for those with the means to comfortably resume their payments, the return of this financial obligation is proving to be a mental hurdle that could put a real damper on consumer sentiment and spending. 
"The Biden administration's latest efforts to ease the burden of student loan payments has the potential to offset some of that pessimism, but only to the extent that borrowers pursue these new options," he added. 
In turn, he said that consumers will have to adjust their pocketbooks and their mindsets to this new reality — and those who have been fortunate enough to offset rising inflation with higher wages and new income sources may find that the same student loan payment they were making before the pandemic doesn't put as big of a dent in their budget as it once did. 
"However, there are many others who are already facing dire financial circumstances and will continue to struggle," he added. 
Discover: 6 Household Staples That Are a Waste of Money
Another Parameter: The Fed
Finally, another issue that could switch the course of the economy is what the Federal Reserve will do at its meeting later this month.
William Luther, director of the Sound Money Project at the American Institute for Economic Research, explained that while consumer spending grew much faster in 2021 and 2022 than it had in the pre-pandemic period, it resulted in higher rates of inflation. 
But now, the concern is that the Fed may go too far, he said, if interest rates are held too high for too long, spending will plummet and the economy will enter a recession.
Make Your Money Work for You
"The Fed seems to be balancing the risks of doing too much and doing too little at the moment," he said. "It has slowed the pace of rate hikes over the last few months and may ultimately decide that further rate hikes are unnecessary. But the situation could go sideways in a hurry. Fed officials should be prepared to change course if necessary."
More From GOBankingRates