Downsizing for Retirement? Stay Away From These 7 Homes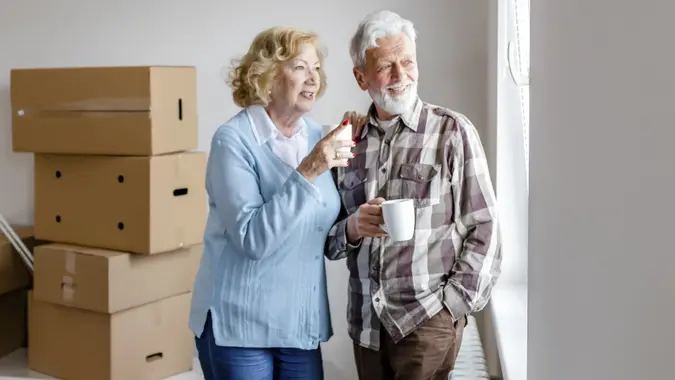 PixelsEffect / iStock.com
Retirement is a time to kick back, relax and enjoy the fruits of your labor. For many, this means downsizing to save money and simplify their lives. Downsizing can free up equity, reduce maintenance costs and provide a more manageable living space.
However, not all homes are ideal for retirees looking to downsize effectively, and some homes can end up costing you more than you anticipated.
The Oversized Mansion
One of the most common mistakes retirees make when downsizing is opting for homes that are still too large. While it's natural to have an emotional attachment to a spacious family home, maintaining and heating/cooling a large house can quickly erode your retirement savings. 
Terry LeBlanc, a real estate agent at Terry Alan Realty Group in the Dallas area, said, "A larger home can mean higher property taxes, increased utility bills and more maintenance. Assess your actual space needs and opt for a smaller, more efficient layout."
Downsizing means choosing a smaller, more manageable space. Retirees should avoid the temptation of buying a large home, even if it seems like a good deal. 
The High-Maintenance House
Homes with large lawns, extensive gardens or complex landscaping can be a lot of work and money that you may not be considering. Instead, consider properties with minimal outdoor upkeep requirements. 
Make Your Money Work Better for You
"Extensive landscaping and large yards can be beautiful but also time-consuming and costly to maintain," LeBlanc said. "Opt for properties with smaller, low-maintenance yards or consider communities with landscaping services included."
Townhomes, condos or apartments often have shared maintenance costs for landscaping, making them attractive options. A lush garden might be lovely, but it can be a money pit when you're in retirement. The upkeep can be physically taxing as well. 
The Home in a High-Tax Area
Retirees looking to save money should be cautious about purchasing homes in areas with high property taxes. Real estate agents often steer their clients away from homes in regions with exorbitant tax rates, as these can significantly impact monthly expenses. 
Zev Freidus, a real estate agent in Boca Raton, Florida, and the founder of ZFC, said, "Homes in higher-tax areas can be far more expensive than similar homes in other locations. Be sure to check out tax rates before signing a contract. I recommend researching local tax rates online or contacting the county assessor's office for more information."
Local property tax rates can vary widely, so it's crucial to do your research before making a move. Consult with a local real estate agent to find out about property taxes in the area you're considering.
The House With High HOA Fees
While homeowners' association (HOA) fees can provide valuable services and amenities, they also can be a hidden expense that retirees should watch out for. High HOA fees can quickly erode your retirement savings, especially if you're not fully utilizing the amenities they offer.
Make Your Money Work Better for You
Brittany Zalkin, a real estate agent with MZB Properties, said, "When looking at a specific community the first two questions I ask on behalf of my clients are: 'Are there going to be any assessments coming in the near future and are there any plans to increase HOA fees in the next five years?'
"In many 55-plus communities, you can have large assessments for upgrades such as new clubhouses, landscaping or any other capital improvements the HOA may be looking at. These assessments can be very big and, if the question isn't asked up front, it can be a very unwelcome surprise after a client has moved in." 
The Old Historic Home
While historic charm can be appealing, real estate agents generally advise retirees to avoid purchasing old or outdated homes. Instead, consider homes that are move-in ready or those that require minimal updates to save time and money.
"While fixer-uppers can offer cost savings initially, extensive renovations can quickly add up," LeBlanc said. "Beware of homes requiring costly repairs or updates that may outweigh any initial savings."
Even if everything is working when you first move in, there may be antiquated plumbing, electrical or HVAC systems that can lead to costly repairs down the road. Choose a home with updated infrastructure to save on future maintenance expenses. Not only can these properties eat into your retirement savings, they can also become a source of ongoing stress. 
The Three-Story House
Stairs might not be an issue now; but, as you age, mobility can become a concern. Avoid homes with flights of stairs, both inside and outside. Single-level living or properties with bedroom and essential living spaces on the ground floor are preferable for retirees.
Make Your Money Work Better for You
"I would advise retirees to avoid multi-story homes and stairs," Freidus said. "Those can prove difficult and dangerous for aging bodies, so seek out single-story housing that meets your needs. Instead, prefer one-story homes or those with an elevator."
If stairs are unavoidable, investing in a chairlift can be a wise choice to ensure accessibility.
The Isolated Rural Property
While rural living can be serene and peaceful, retirees should exercise caution when considering isolated properties. As you age, proximity to essential services and amenities becomes increasingly important. Real estate agents often recommend choosing locations that strike a balance between tranquility and proximity to amenities, ensuring a more comfortable retirement lifestyle.
"Isolation may seem appealing, but it can be inconvenient and costly if it means a longer commute to services, healthcare and social activities," LeBlanc said. "Consider homes near transportation and essential services."
More From GOBankingRates