The Cost To Rent a 2-Bedroom in Every State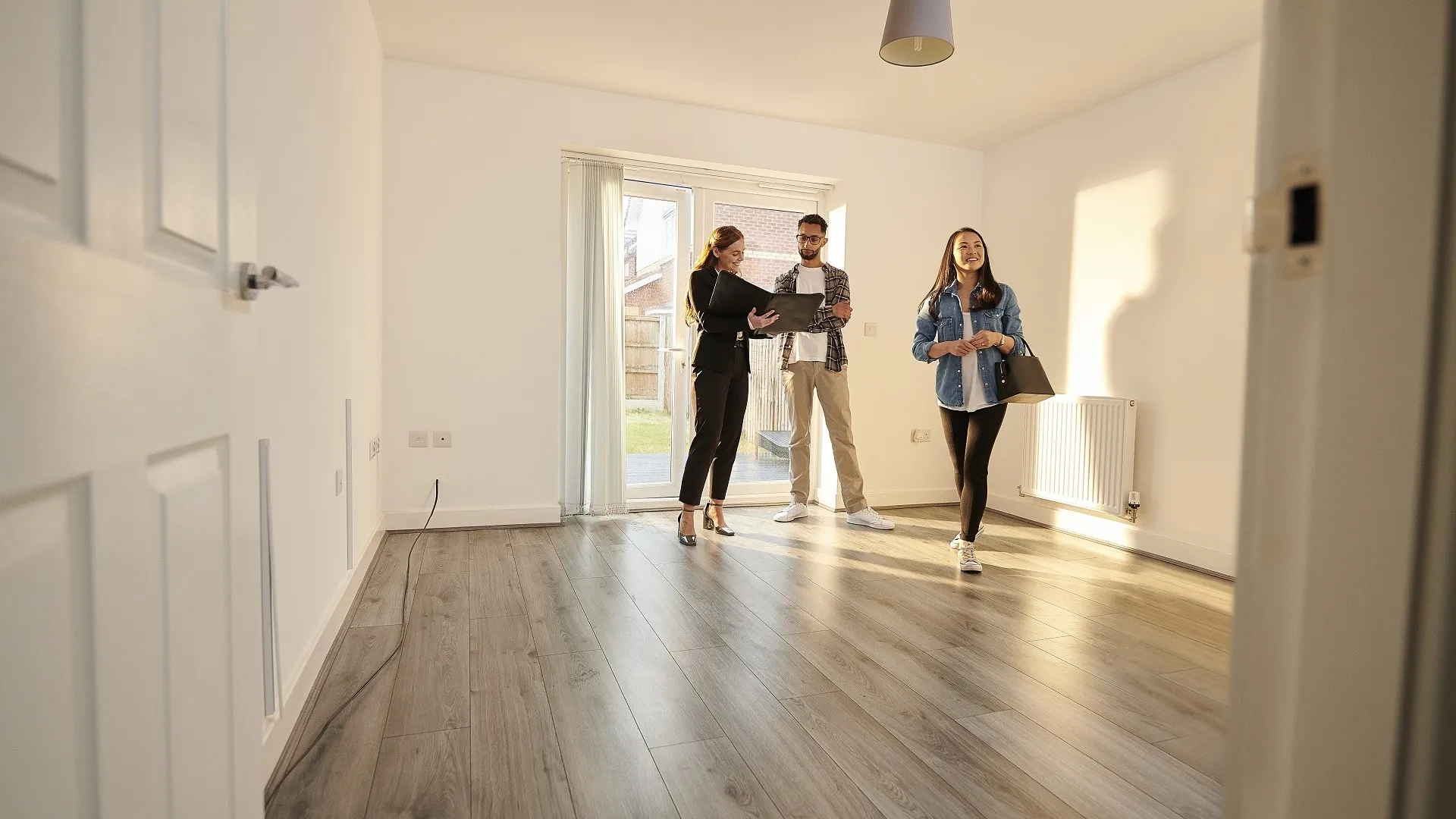 As the cost of living continues to surge across the United States, the dream of finding an affordable rental home becomes increasingly elusive for many Americans. The stark reality is that not only are one-bedroom apartments becoming harder to afford, but the prospects for securing a two-bedroom rental, a necessity for many families or roommates, are even bleaker.
Recent data from a study conducted by the National Low Income Housing Coalition (NLIHC) reveals a concerning trend of rent inflation, demonstrating the widening gap between income and housing costs.
According to the study, the affordability crisis is a pressing issue for individuals earning less than $19 per hour. In fact, only 13 states in the nation offer two-bedroom rentals that are within reach for those with lower incomes. And while rent growth is slowing down, renters are still feeling the impact of rents rising faster than wages. From 2001 to 2021, the median rents in the country went up by a whopping 17.9%, while median household income only saw a measly 3.2% bump. This combination of soaring housing costs, stagnant wages and limited affordable options creates a complex predicament that plagues many communities nationwide.
GOBankingRates looked closer at the study to determine the cost of renting a two-bedroom apartment in every state, and just how affordable it is for the average renter. Here's what we found.
Alabama
Fair market rent for two-bedroom apartment: $943
Wage needed to comfortably afford it: $18.13 an hour
Average renter wage: $16.83 an hour
Alaska
Fair market rent for two-bedroom apartment: $1,368
Wage needed to comfortably afford it: $26.32 an hour
Average renter wage: $23.27 an hour
Arizona
Fair market rent for two-bedroom apartment: $1,556
Wage needed to comfortably afford it: $29.93 an hour
Average renter wage: $22.86 an hour
Arkansas
Fair market rent for two-bedroom apartment: $846
Wage needed to comfortably afford it: $16.27 an hour
Average renter wage: $17.85 an hour
California
Fair market rent for two-bedroom apartment: $2,197
Wage needed to comfortably afford it: $42.25 an hour
Average renter wage: $33.67 an hour
Make Your Money Work Better for You
Colorado
Fair market rent for two-bedroom apartment: $1,671
Wage needed to comfortably afford it: $32.13 an hour
Average renter wage: $25.47 an hour
Connecticut
Fair market rent for two-bedroom apartment: $1,660
Wage needed to comfortably afford it: $31.93 an hour
Average renter wage: $22.29 an hour
Delaware
Fair market rent for two-bedroom apartment: $1,357
Wage needed to comfortably afford it: $26.09 an hour
Average renter wage :$22.42 an hour
District of Columbia
Fair market rent for two-bedroom apartment: $1,838
Wage needed to comfortably afford it: $35.35 an hour
Average renter wage: $40.32 an hour
Florida
Fair market rent for two-bedroom apartment: $1,591
Wage needed to comfortably afford it: $30.59 an hour
Average renter wage: $22.52 an hour
Georgia
Fair market rent for two-bedroom apartment: $1,287
Wage needed to comfortably afford it: $24.75 an hour
Average renter wage: $21.94 an hour
Hawaii
Fair market rent for two-bedroom apartment: $2,175
Wage needed to comfortably afford it: $41.83 an hour
Average renter wage: $21.86 an hour
Idaho
Fair market rent for two-bedroom apartment: $1,120
Wage needed to comfortably afford it:$21.53 an hour
Average renter wage: $17.63 an hour
Illinois
Fair market rent for two-bedroom apartment: $1,279
Wage needed to comfortably afford it: $24.59 an hour
Average renter wage: $22.98 an hour
Indiana
Fair market rent for two-bedroom apartment: $988
Wage needed to comfortably afford it: $19.00 an hour
Average renter wage: $17.86 an hour
Iowa
Fair market rent for two-bedroom apartment: $943
Wage needed to comfortably afford it: $18.13 an hour
Average renter wage: $16.82 an hour
Kansas
Fair market rent for two-bedroom apartment: $973
Wage needed to comfortably afford it: $18.71 an hour
Average renter wage: $18.07 an hour
Make Your Money Work Better for You
Kentucky
Fair market rent for two-bedroom apartment: $931
Wage needed to comfortably afford it: $17.90 an hour
Average renter wage: $17.45 an hour
Louisiana
Fair market rent for two-bedroom apartment: $1,008
Wage needed to comfortably afford it: $19.39 an hour
Average renter wage: $16.99 an hour
Maine
Fair market rent for two-bedroom apartment: $1,286
Wage needed to comfortably afford it: $24.73 an hour
Average renter wage: $16.76 an hour
Maryland
Fair market rent for two-bedroom apartment: $1,616
Wage needed to comfortably afford it: $31.08 an hour
Average renter wage: $22.71 an hour
Massachusetts
Fair market rent for two-bedroom apartment: $2,165
Wage needed to comfortably afford it: $41.64 an hour
Average renter wage: $29.40 an hour
Michigan
Fair market rent for two-bedroom apartment: $1,126
Wage needed to comfortably afford it: $21.65 an hour
Average renter wage: $19.11 an hour
Minnesota
Fair market rent for two-bedroom apartment: $1,254
Wage needed to comfortably afford it: $24.11 an hour
Average renter wage:  $20.51 an hour
Mississippi
Fair market rent for two-bedroom apartment: $895
Wage needed to comfortably afford it: $17.21 an hour
Average renter wage: $14.37 an hour
Missouri
Fair market rent for two-bedroom apartment: $964
Wage needed to comfortably afford it: $18.54 an hour
Average renter wage: $18.65 an hour
Montana
Fair market rent for two-bedroom apartment: $1,002
Wage needed to comfortably afford it: $19.28 an hour
Average renter wage: $16.91 an hour
Nebraska
Fair market rent for two-bedroom apartment: $984
Wage needed to comfortably afford it: $18.91 an hour
Average renter wage: $17.62 an hour
Nevada
Fair market rent for two-bedroom apartment: $1,455
Wage needed to comfortably afford it: $27.99 an hour
Average renter wage: $21.93 an hour
Make Your Money Work Better for You
New Hampshire
Fair market rent for two-bedroom apartment: $1,553
Wage needed to comfortably afford it: $29.86 an hour
Average renter wage: $20.86 an hour
New Jersey
Fair market rent for two-bedroom apartment: $1,742
Wage needed to comfortably afford it: $33.50 an hour
Average renter wage: $24.40 an hour
New Mexico
Fair market rent for two-bedroom apartment: $1,034
Wage needed to comfortably afford it: $19.88 an hour
Average renter wage: $17.77 an hour
New York
Fair market rent for two-bedroom apartment: $2,084
Wage needed to comfortably afford it: $40.08 an hour
Average renter wage: $34.46 an hour
North Carolina
Fair market rent for two-bedroom apartment: $1,120
Wage needed to comfortably afford it: $21.54 an hour
Average renter wage: $20.47 an hour
North Dakota
Fair market rent for two-bedroom apartment: $925
Wage needed to comfortably afford it: $17.79 an hour
Average renter wage: $19.58 an hour
Ohio
Fair market rent for two-bedroom apartment: $993
Wage needed to comfortably afford it: $19.09 an hour
Average renter wage: $18.47 an hour
Oklahoma
Fair market rent for two-bedroom apartment: $936
Wage needed to comfortably afford it: $18.00 an hour
Average renter wage: $17.89 an hour
Oregon
Fair market rent for two-bedroom apartment: $1,545
Wage needed to comfortably afford it: $29.72 an hour
Average renter wage: $22.47 an hour
Pennsylvania
Fair market rent for two-bedroom apartment: $1,228
Wage needed to comfortably afford it: $23.61 an hour
Average renter wage: $20.38 an hour
Rhode Island
Fair market rent for two-bedroom apartment: $1,444
Wage needed to comfortably afford it: $27.78 an hour
Average renter wage: $18.26 an hour
Make Your Money Work Better for You
South Carolina
Fair market rent for two-bedroom apartment: $1,117
Wage needed to comfortably afford it: $21.48 an hour
Average renter wage: $17.08 an hour
South Dakota
Fair market rent for two-bedroom apartment: $909
Wage needed to comfortably afford it: $17.49 an hour
Average renter wage: $17.03 an hour
Tennessee
Fair market rent for two-bedroom apartment: $1,080
Wage needed to comfortably afford it: $20.76 an hour
Average renter wage: $20.69 an hour
Texas
Fair market rent for two-bedroom apartment: $1,303
Wage needed to comfortably afford it: $25.06 an hour
Average renter wage: $24.19 an hour
Utah
Fair market rent for two-bedroom apartment: $1,297
Wage needed to comfortably afford it: $24.93 an hour
Average renter wage: $19.84 an hour
Vermont
Fair market rent for two-bedroom apartment: $1,328
Wage needed to comfortably afford it: $25.54 an hour
Average renter wage: $17.30 an hour
Virginia
Fair market rent for two-bedroom apartment: $1,396
Wage needed to comfortably afford it: $26.84 an hour
Average renter wage: $23.38 an hour
Washington
Fair market rent for two-bedroom apartment: $1,889
Wage needed to comfortably afford it: $36.33 an hour
Average renter wage: $30.32 an hour
West Virginia
Fair market rent for two-bedroom apartment: $865
Wage needed to comfortably afford it: $16.64 an hour
Average renter wage: $14.40 an hour
Wisconsin
Fair market rent for two-bedroom apartment: $1,056
Wage needed to comfortably afford it: $20.32 an hour
Average renter wage: $18.47 an hour
Wyoming
Fair market rent for two-bedroom apartment: $933
Wage needed to comfortably afford it: $17.94 an hour
Average renter wage: $17.04 an hour
More From GOBankingRates