I'm a Financial Planning Expert: Here's How Much the Average Millennial Should Have Saved for Retirement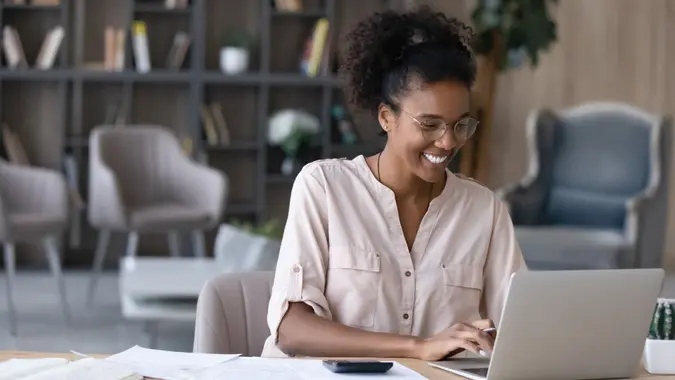 fizkes / Getty Images/iStockphoto
Gen X is next in line for retirement behind the boomers, but what they did and didn't do years ago will determine how, when and if they ever say goodbye to their bosses. Many of them probably wish they could go back and do it over. They can't — but they can live vicariously through their millennial juniors who still have time on their side.
Even the oldest millennials are decades away from retirement, but the clock is ticking. So how far along should they be considering their position between generations Z and X? GOBankingRates asked the experts.
Everyone Is Different, but Age-Based Milestones Are a Guide
No two nest eggs will grow the same way, but your age range and salary can provide a metric for measuring your progress.
"Millennials, also referred to as Generation Y, are generally considered to have been born between 1981 and 1996, which puts them between the ages of 27 and 42," said Thomas J. Brock, CPA, an expert contributor for Annuity.org and a financial professional with more than 20 years of experience in investments, finance and accounting. "The amount of money a millennial should have saved for retirement depends on a variety of factors, including his or her current age, investment objectives, tolerance for risk, current and future spending habits and life expectancy. That said, some age-based savings milestones are as follows."
Brock outlined the following guidelines:
20-30 years old: One to two times your annual salary
30-40 years old: Three to four times your annual salary
Are You Retirement Ready?
Those two groups account for nearly all millennials, but for context, here's a look at later-life milestones:
40-50 years old: Five to seven times your annual salary
50-60 years old: Eight to 10 times your annual salary
"When you are ready to retire, your retirement savings should ideally be about 12 times your salary," said Brock. "This will ensure a comfortable retirement and minimize the possibility of running out of money in retirement."
Millennials With $50,000 to $200,000 Are on Track
Brock cited data from the U.S. Census Bureau that says the median annual income for millennials is roughly $50,000.
"Based on the guidelines outlined above, this means a sound retirement savings range for the average millennial falls between roughly $50,000 and $200,000," he said. "With younger millennials on the low end and older millennials on the high end."
4 Steps to Finding Your Number
Some entrepreneurial millennials might not have saved much because they funneled it all into launching a business. Others might have gotten a late jump because of student loans. Others might be high earners who are behind because of the costs of caring for an aging parent.
No matter the situation, the first step to narrowing down your number is to determine when you plan to retire and how many years you'll need your nest egg to last.
"For instance, I would like to assume that I can retire by age 65 and have enough money until age 95," said Raymond Quisumbing, a registered financial planner with Bizreport.com who specializes in retirement planning.
Are You Retirement Ready?
Step two is to estimate your likely annual expenses in retirement. "One should adjust the spending budget year over year to account for inflation," said Quisumbing.
Step three is to multiply your annual expenses by the number of years — that's the target number for your overall savings goal.
"Finally, compute how much net worth one has now compared to the estimated retirement amount," said Quisumbing. "Although this is a simplified computation, it is better to estimate conservatively than optimistically."
Control the Things You Can Control
It's not always possible to earn more money, but everyone can exert at least some control over their retirement destinies by confronting their finances, taking inventory of their income, assets and liabilities, setting goals and budgeting their money in pursuit of those goals.
"Sticking to a budget is essential for financial success, as it can give you an accurate picture of your current financial situation and help you stay on track with your financial goals," said Samantha Hawrylack, co-founder of How To FIRE, a personal finance site geared toward retiring early.
At any age, spending is the most important variable and the one you can control the most.
"If they live a more frugal lifestyle, they can save more money than someone who lives a lifestyle that is more expensive," Hawrylack said.
If You Haven't Started, Now's the Time
If you haven't already, get started now with whatever you have. Every day you wait is one that isn't spent compounding your contributions.
Are You Retirement Ready?
"In addition to budgeting, it's important to take advantage of the power of compound interest," said Hawrylack. "Compound interest is when your money earns interest on the interest it has already earned — and it can be one of the most powerful tools in your financial arsenal. Investing in a diverse portfolio of stocks, bonds, mutual funds, and other investments can help you maximize the power of compound interest and ensure that your money is working for you."
More From GOBankingRates