Men vs. Women in Retirement: Women Face Significant 'Curveballs' That Crush Their Retirement Dreams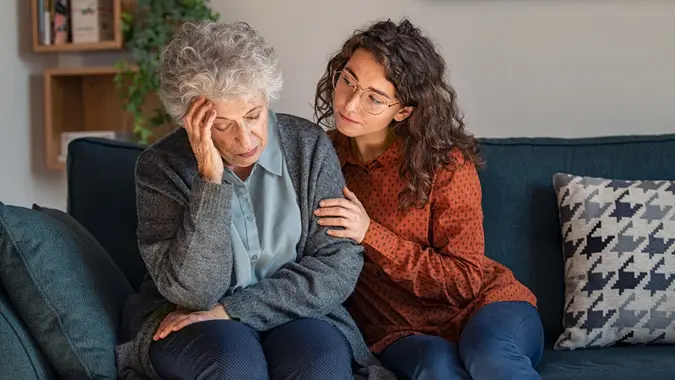 Ridofranz / iStock.com
Gender inequities in the working world have been well-documented, with wages for the average full-time working woman sitting at 82% of what men earn. That gap extends into retirement, as the average Social Security payment for women at age 66 is about 80% of what men get — and that might not even be the worst gender disparity in retirement, according to a study from Edward Jones and Age Wave.
The study, titled "Resilient Choices: Trade-Offs, Adjustments, and Course Corrections to Thrive in Retirement," tracked various "curveballs" and "cannonballs" that occur in retirement. Cannonball events are described as "major challenges that can derail a plan," while curveballs are "relatively minor occurrences that cause setbacks."
About three-quarters of all retirees have experienced cannonball or curveball events, according to the study, which was based on a survey of more than 12,000 North American adults. Here are the most common curveball and cannonball events:
Having a family member or close friend pass away (42% of respondents)
Personal health issues (30%)
Coping with a spouse's or partner's personal health issues (21%)
Significant financial setbacks (20%)
Are You Retirement Ready?
No matter what form they take, women are more likely to experience negative retirement events than men, and in many cases those events have a major negative impact on their senior years.
The most impactful events are widowhood and divorce, which retirees say are "profoundly disruptive" to their lives. Women are nearly twice as likely to be widowed as men, the study found. Retired women are also more likely to lose another family member or close friend, suffer a financial setback or become a caregiver, CNBC reported.
Being a caregiver has an especially big impact on women in retirement — so much so that most women said becoming a caregiver was a "life-destroying event" in terms of both quality of life and finances, according to Lena Haas, head of wealth management advice and solutions at Edward Jones.
"Women are less prepared to begin with for retirement," Haas told CNBC. "[They] are hit with curveballs more frequently and they're less equipped to make adjustments."
A majority of unpaid family caregivers are women, CNBC reported. This is especially burdensome in retirement because roughly half of women are behind on retirement savings vs. 35% of men, according to a 2022 report from Goldman Sachs.
Are You Retirement Ready?
Complicating matters even more is that women is tend to retire earlier than men, even though many women might prefer to spend more years working. According to the Goldman Sachs Retirement Survey & Insights Report, 60% of women retired earlier than they planned, and 66% said their retirement was for "reasons outside their control." Those reasons include health, family care needs, and a layoff or job loss.
More From GOBankingRates